St. Gallen in winter may not be at the top of everyone's bucket list just yet, however for those in the know, this city makes a perfect winter city break during your Swiss vacation.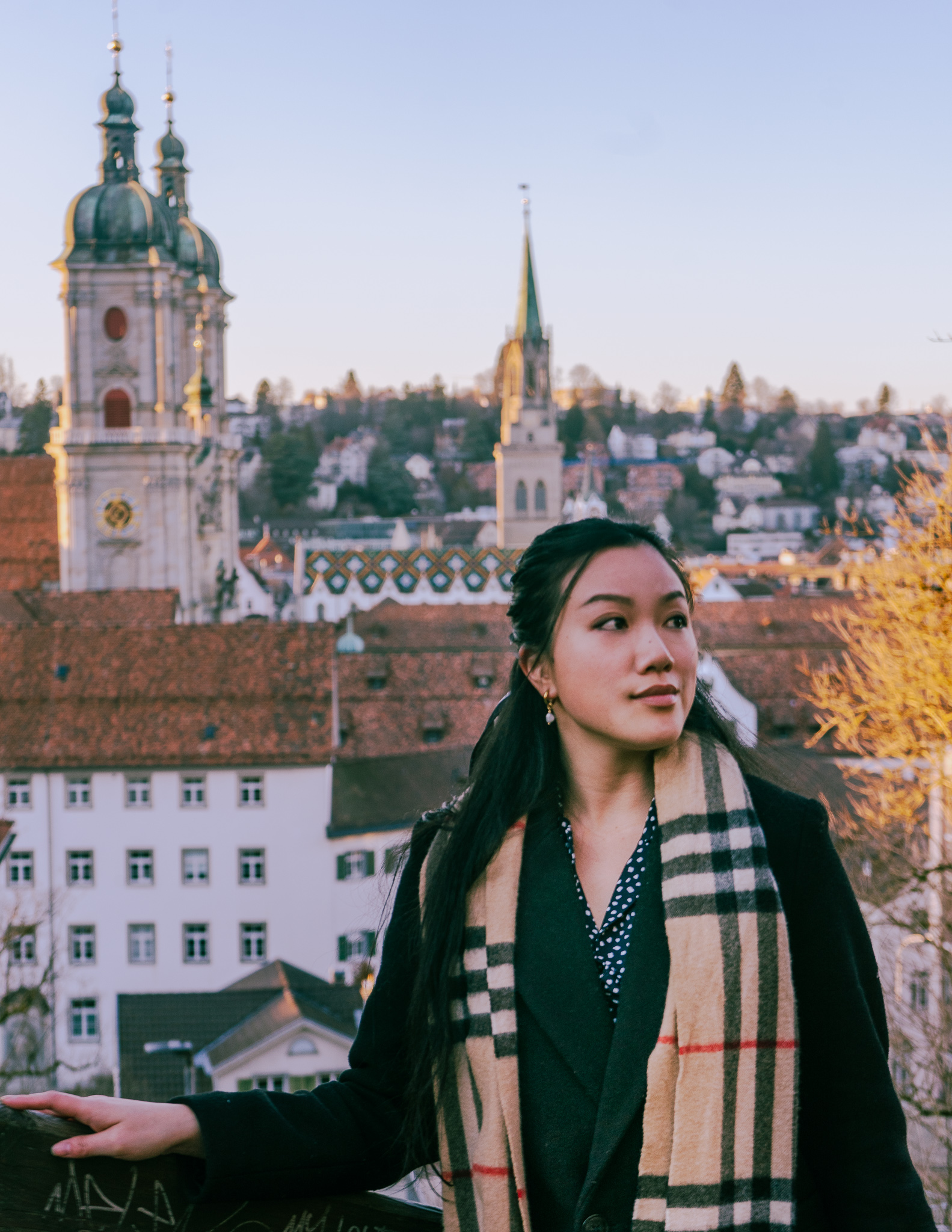 I called St. Gallen home once upon a time, and can tell you first hand that this small city is a hidden gem.
A small city, featuring a picturesque old town, nestled between snow capped hills is what you'll find upon arriving here. Not to mention cozy cafes, trendy bars and restaurants, and impressive history!
Here is a local's guide to visiting St. Gallen in winter.
Is St. Gallen Worth Visiting?
This question is hard to answer, because it depends on aspects specific to each traveler, like their personal interests, duration of their trip, and many others.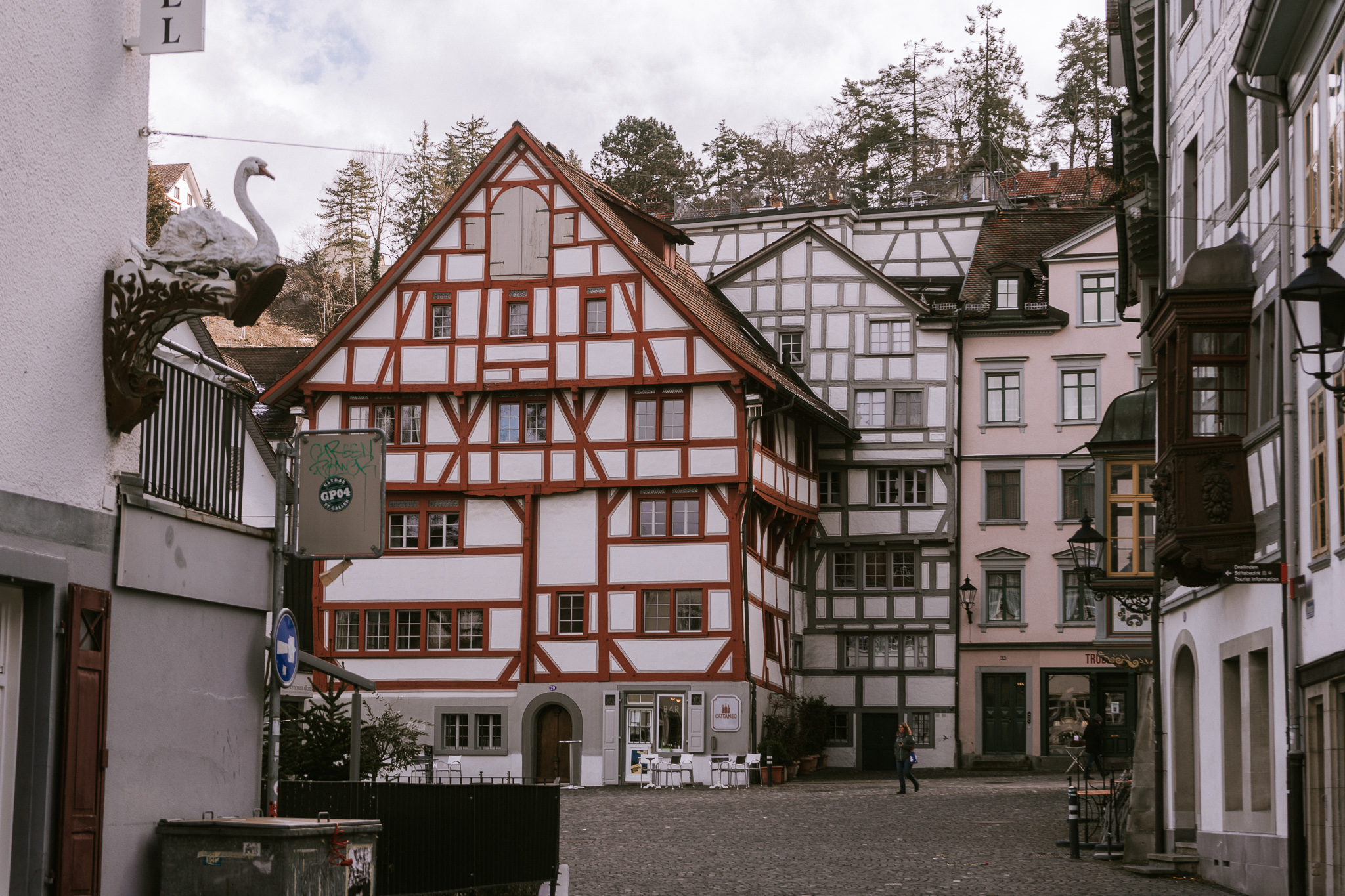 If you like cute old towns, history, cafe hopping, and Christmas, St. Gallen is your city. But, if you prefer big cities with more tourist attractions, you could skip it.
If you are already spending some time in Zurich, then I'd say a day trip to St. Gallen is a great idea. If you plan to head onwards to Appenzell and the Alpstein mountains, then St. Gallen makes total sense as a pit stop.
See more: Best Villages to Visit in Switzerland in Winter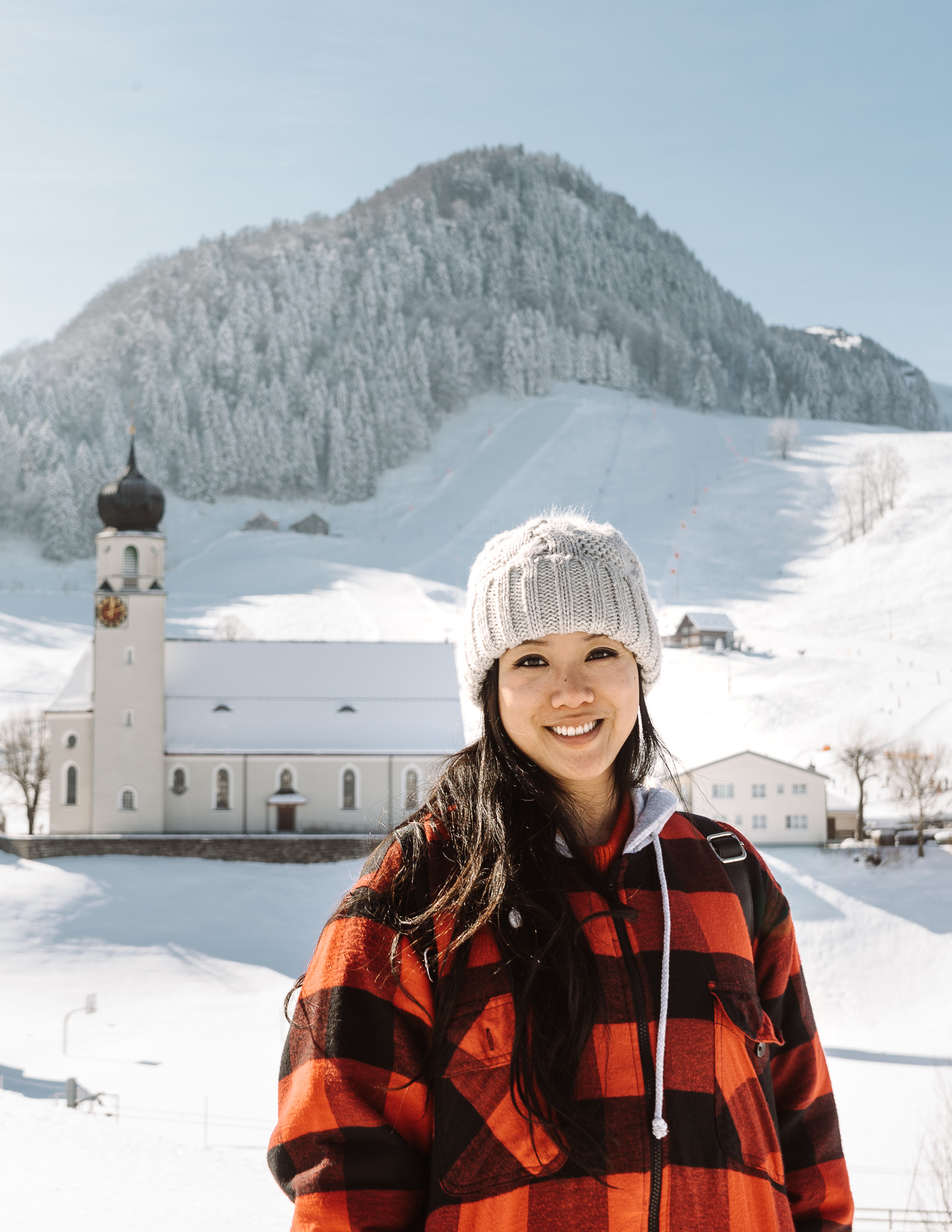 But, if you are limited to a week or less in Switzerland, I'd say you could skip St. Gallen this time and prioritize the more famous destinations, such as Zermatt, Lucerne, Lake Geneva etc.
What is St. Gallen known for?
Before living here, I had no knowledge about St. Gallen and what it offered.
St. Gallen has a rich and long history, even by European standards. The city was founded in the 8th century, and was built more or less around the abbey of St. Gall.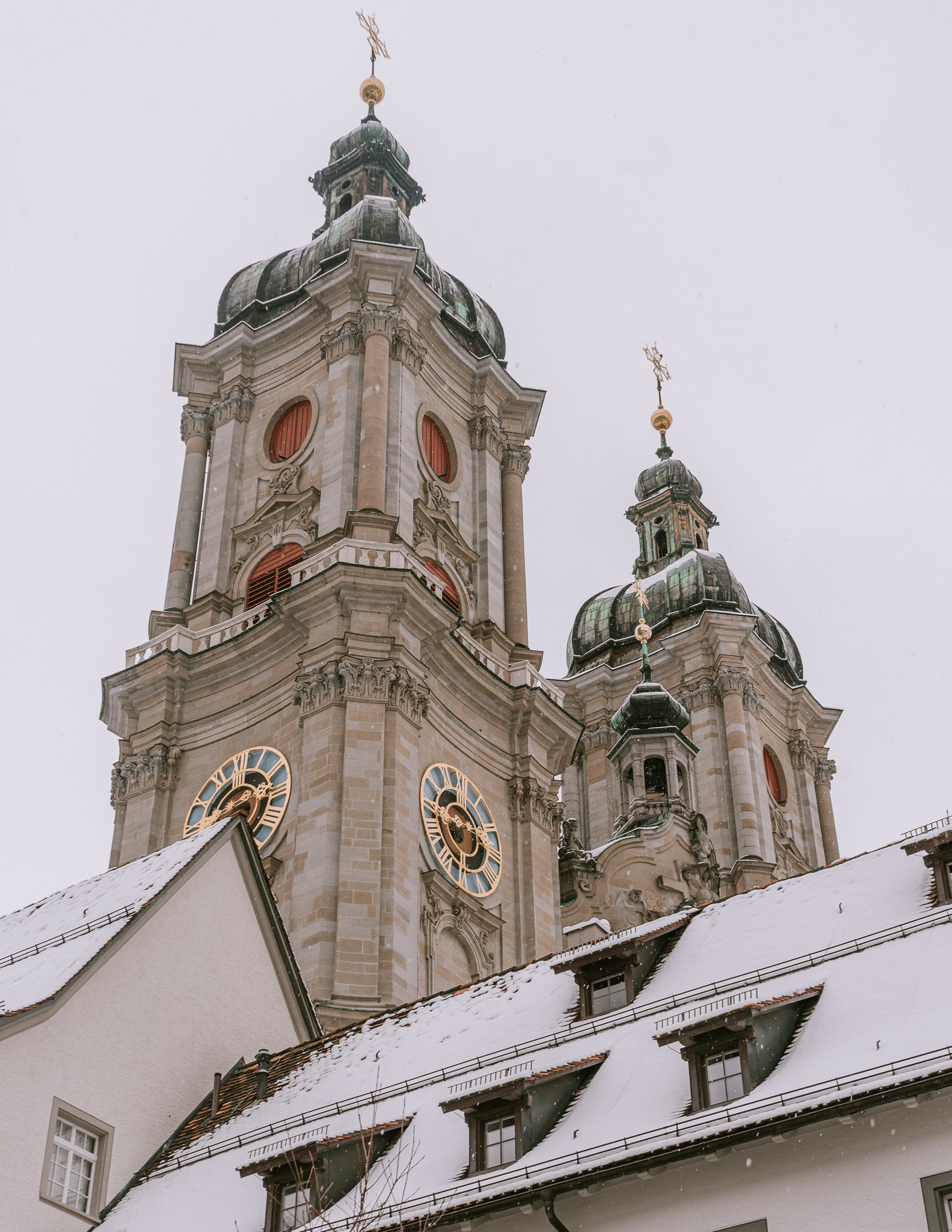 Towering above the city is the Stiftskirche Cathedral, which is now located at this very site.
Gallus, the Irish monk whom the abbey was named after, established a hermitage on the site of where the abbey was built in 608 AD. A couple hundred years later, a monastery was founded on this site, and it became a thriving pilgrimage site.
Today, most visitors to St. Gallen pay a visit to the monastery to see the abbey library housed within. This baroque-style library houses literature from over 1,000 years ago, and is known as one of the most beautiful libraries in the world.
How to Get to St. Gallen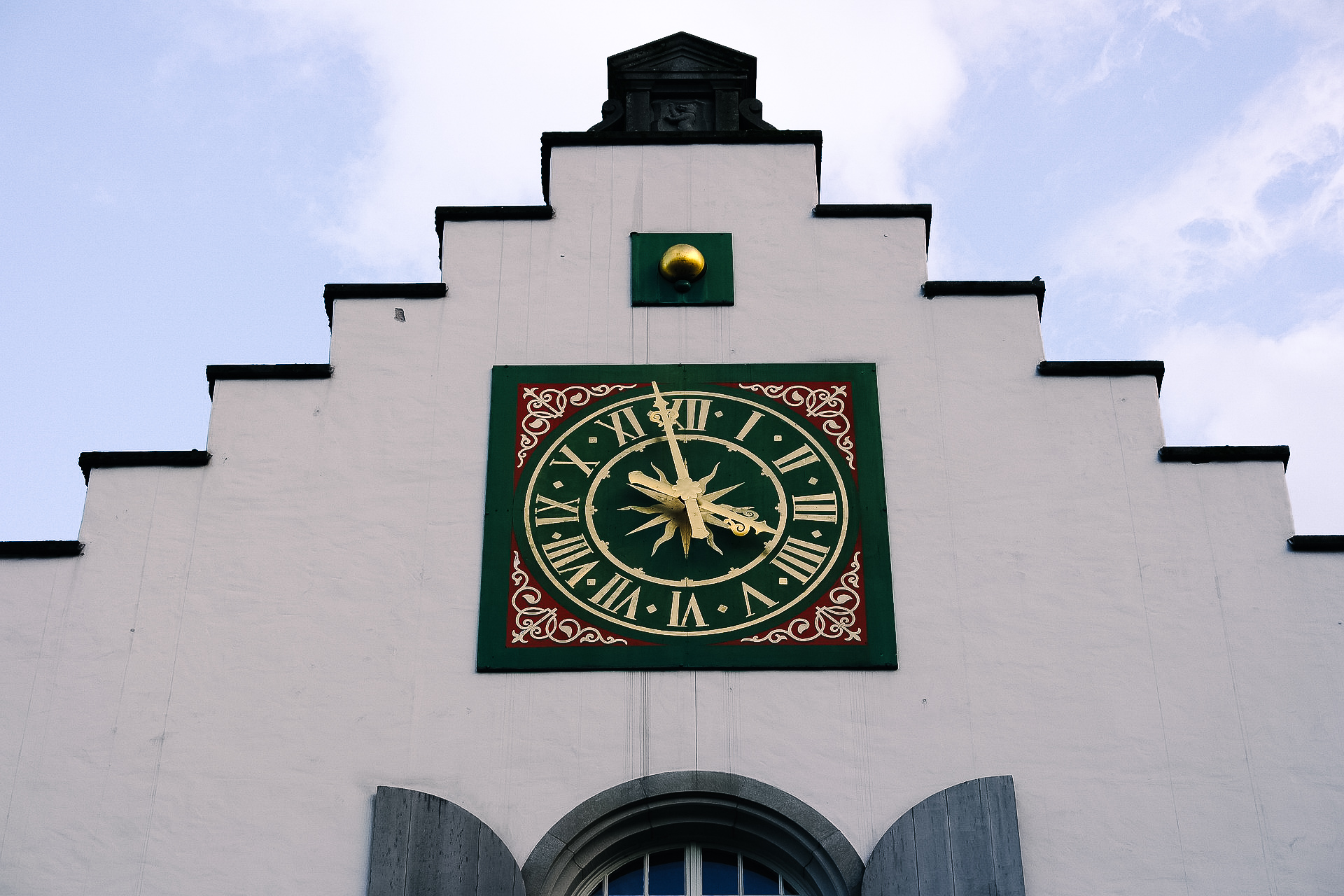 Getting to St. Gallen is simple enough no matter where in Switzerland you are. Since the country is pretty small, you are never more than a few hours away by train or car.
How to Get to St. Gallen from Zurich
St. Gallen makes a perfect one or two day trip from Zurich. You have plenty of train connections throughout the day, or you can choose to drive. Both options take about an hour.
Zurich to St. Gallen by train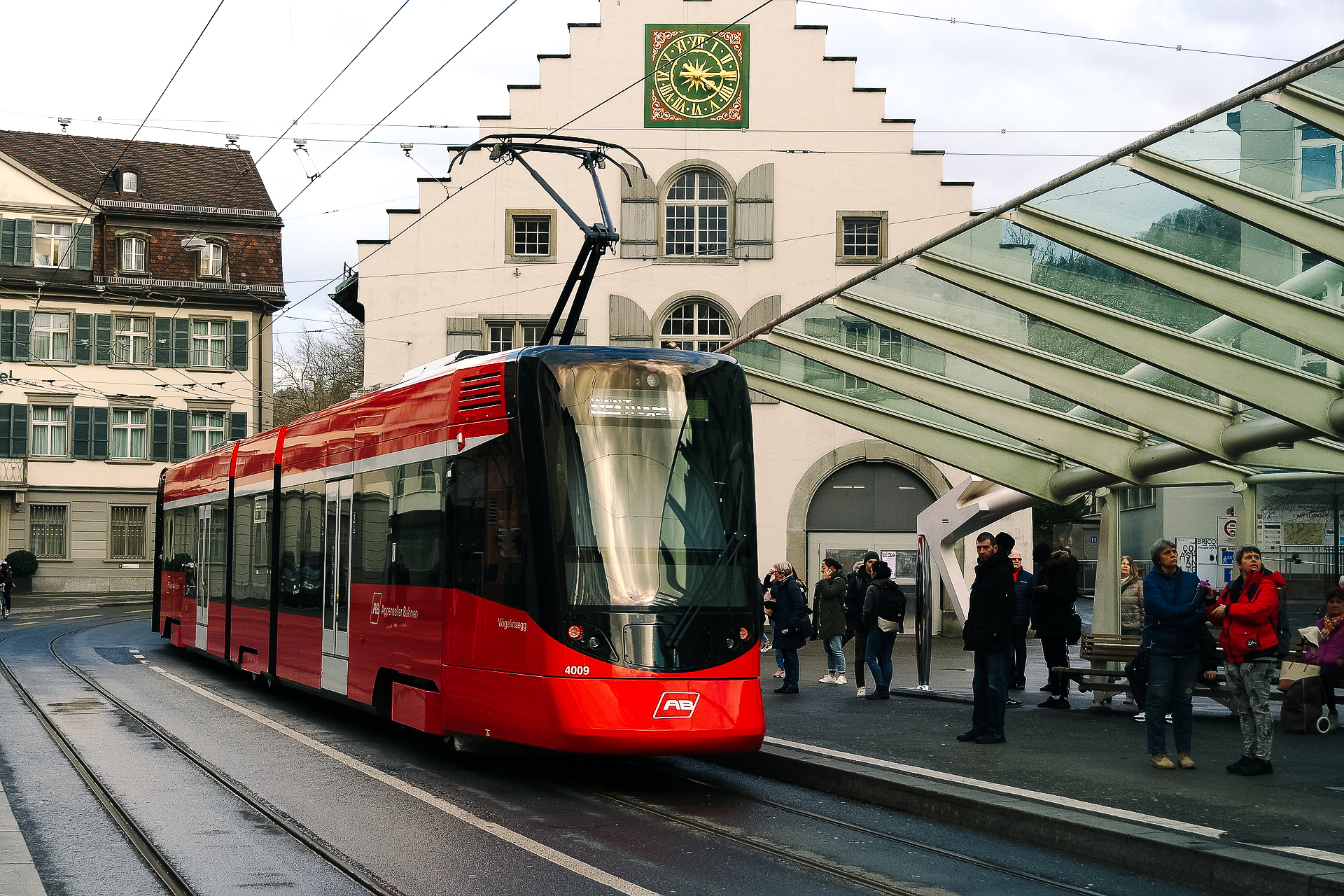 Starting from Zurich Hauptbahnhof (main station), you'll want to buy a ticket to St. Gallen. Train tickets are usually between 19 – 30 CHF.
You don't have to buy a return ticket, since trains rarely sell out. However, buying a ticket in advance allows you to choose cheaper fares and skip the hassle at the train station.
For online train ticket purchases in Europe, I always use Trainline.
Tickets bought on Trainline will let you skip the queues and go straight to your platform. The ticket will be a QR code emailed to you in PDF form.
Trainline tickets can't be refunded, so check the dates and times before buying.
Getting to St. Gallen by Car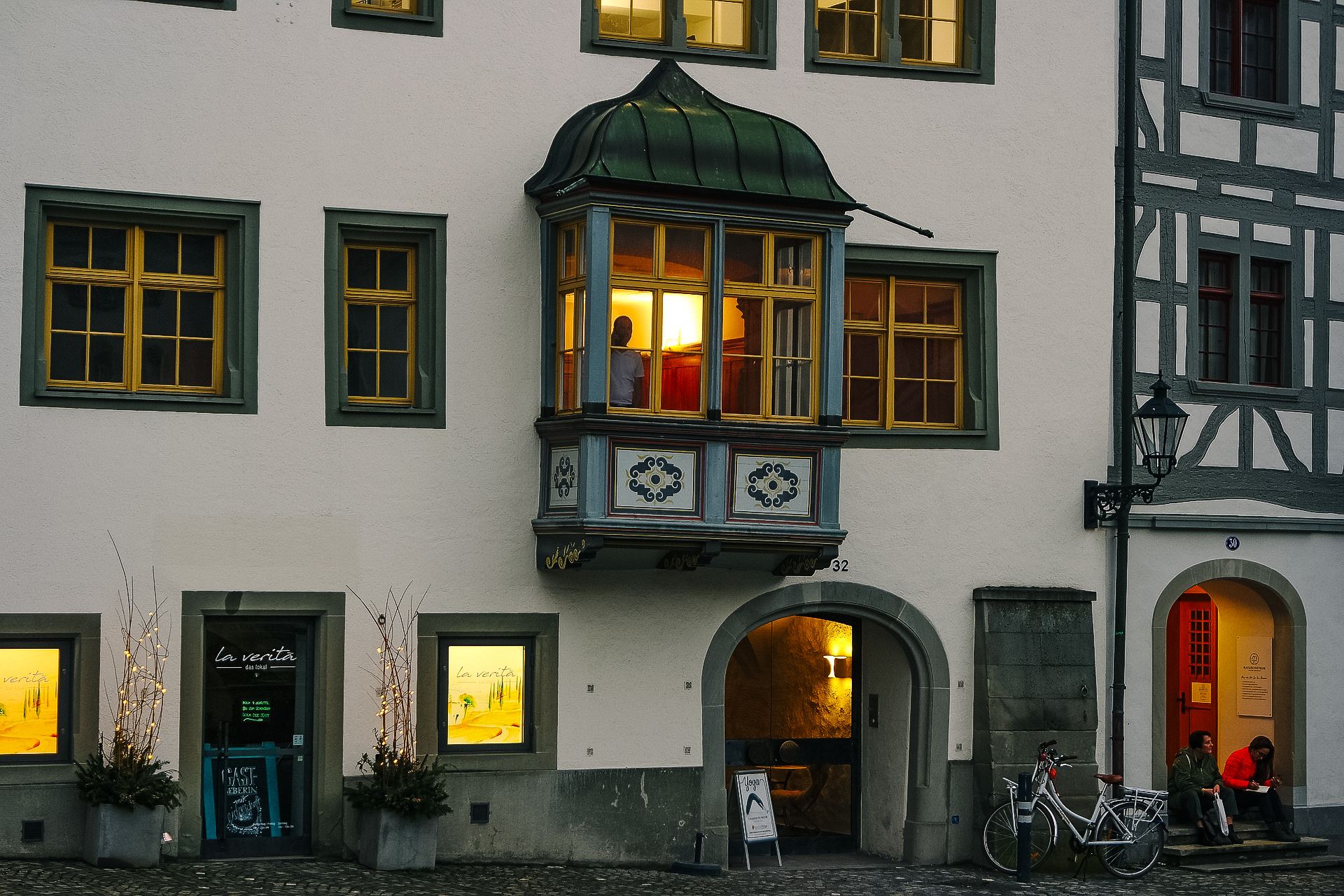 If you are traveling to St. Gallen by car, just note that like everywhere in Switzerland, parking costs a good bit of money.
The most convenient place to park would be at The CityParking Bahnhof in St. Gallen. This will let you start your day in the center of town, within walking distance to most sites and attractions.
If you'd like to try your luck at free parking, try driving up the hills just beyond the city center. This is residential parking, but you can score a free spot in most cases.
The street to look out for is Schneebergstrasse, located here. Keep in mind, you'll do a fair bit of walking down and later up the hill to get to your car!
If you need to rent a car for your Switzerland trip, check out Discover Cars below for good deals!
Best Time to Visit St. Gallen
St. Gallen in winter is a scene of beauty. However, visitors can enjoy St. Gallen at any time of year.
Winter in St. Gallen
As a local, my favorite time of year in St. Gallen was always winter. The hills are capped with snow, the Christmas market comes to town, and the city lights up in full Christmas glory.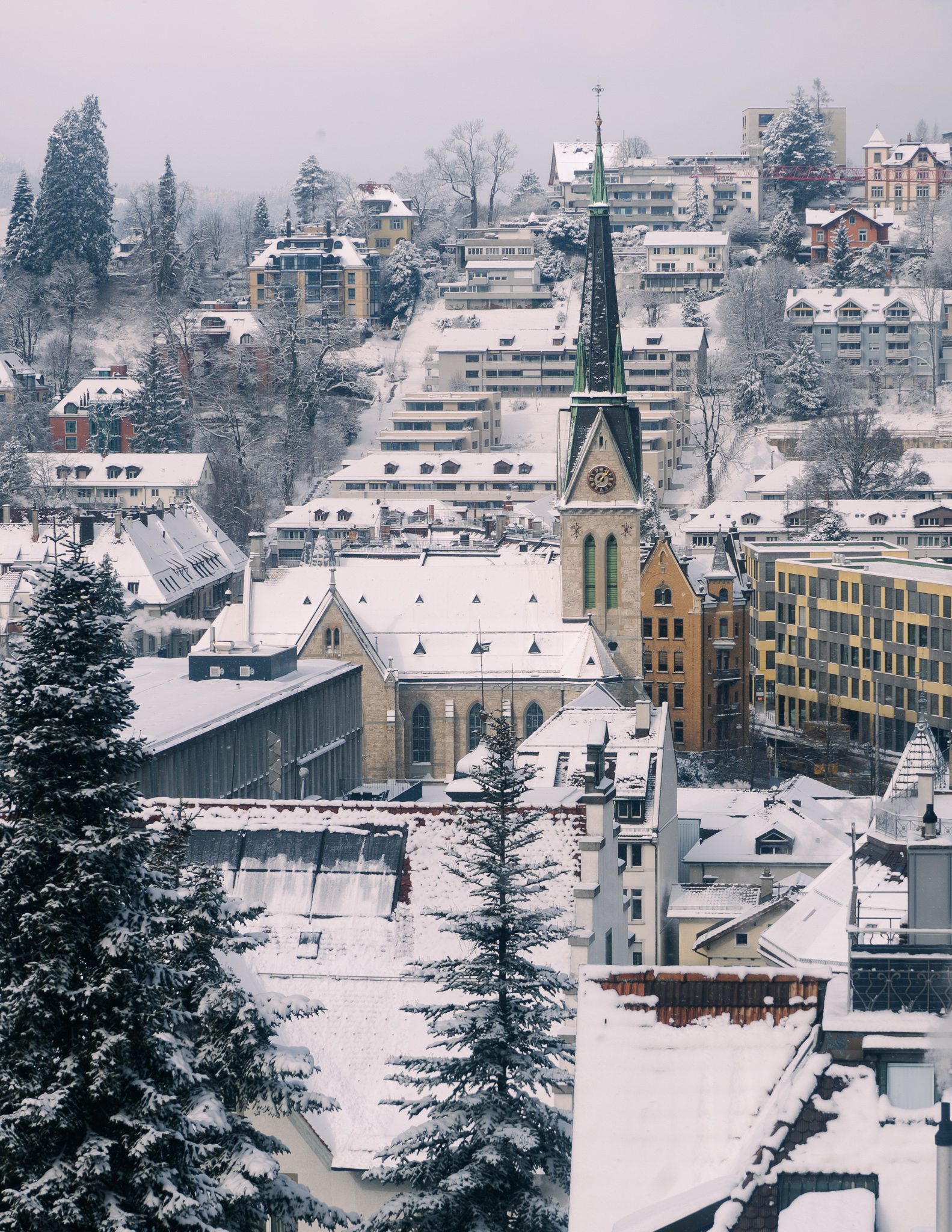 Plus the numerous cozy cafes and bars are better enjoyed when watching the snow fall outside!
If you'd like to visit in winter, plan a visit between December and late February. St. Gallen gets a decent amount of snow, especially in February and sometimes even beyond. So your chances of a winter wonderland here are high.
The Christmas market is open from the last week of November until right after New Years Day.
Summer in St. Gallen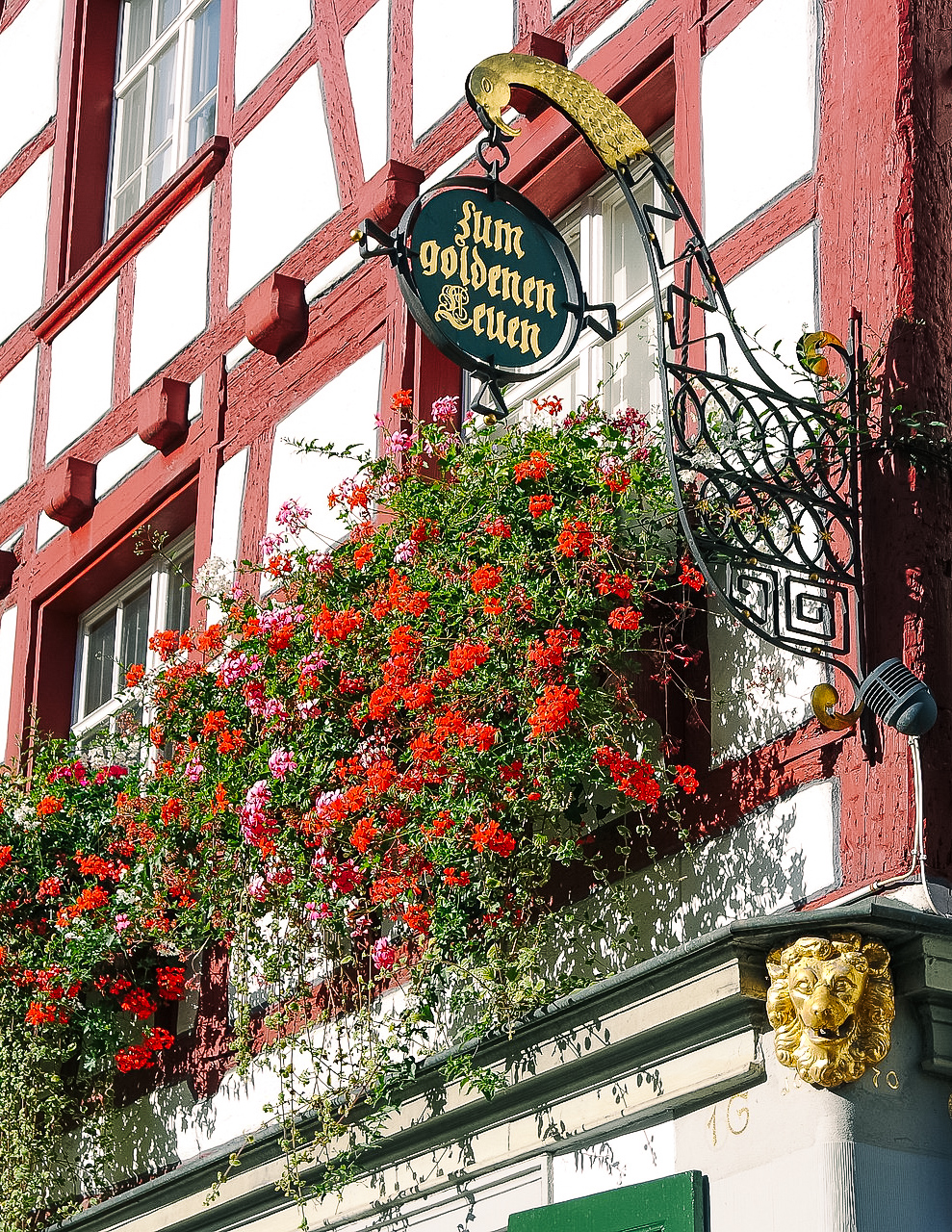 Summers in St. Gallen are a lively and beautiful time to visit too. The flowers are in full bloom, sipping cocktails on the terraces become appealing, and the city lakes and parks are full of locals hanging out.
Autumn in St. Gallen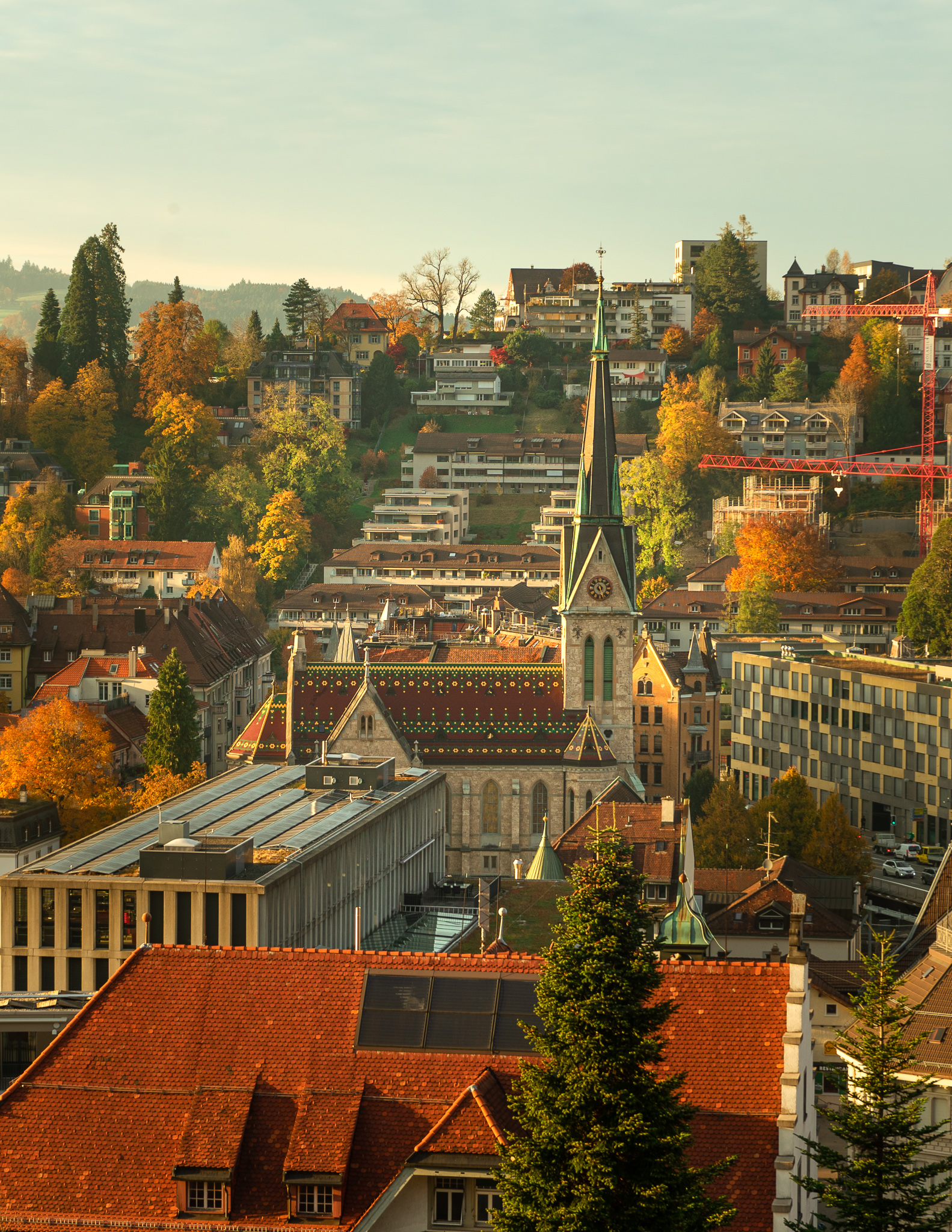 Autumn in St. Gallen is also nice, especially if you plan to venture onwards to Appenzell and hike. The fall foliage is drop dead gorgeous this time of year.
Plus, you can time your visit during Olma, a huge agricultural festival in St. Gallen that's more of a monthlong party for locals.
How Many Days in St. Gallen?
St. Gallen can be done as a day trip from either Zurich, or on your way to or from Appenzell.
The city center itself is compact enough to be seen in a full day of walking around, giving enough time to enjoy the main sites.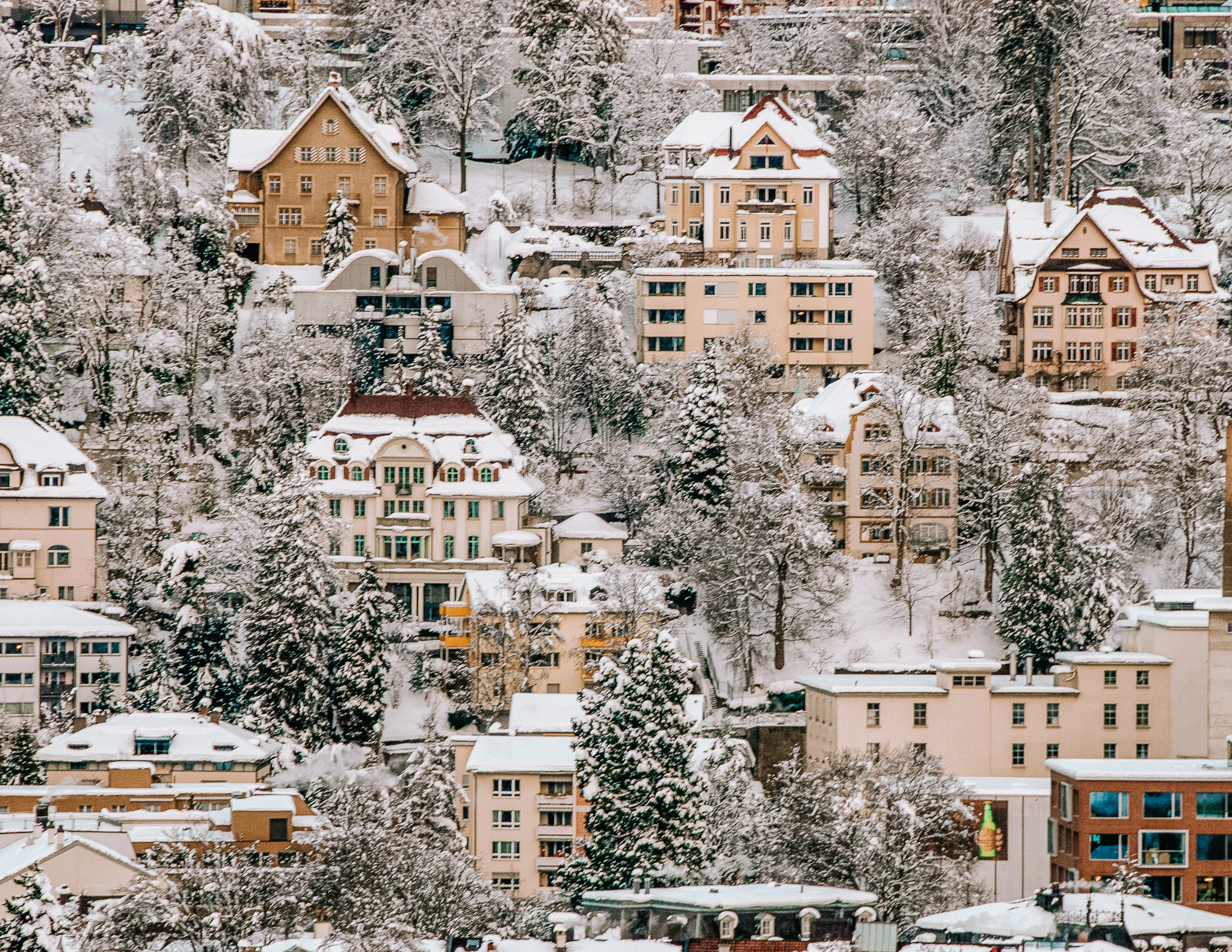 If you'd like to soak in the magical ambience of St. Gallen at night (which I highly recommend, if budget allows), I'd say 2 days and one night is perfect for St. Gallen in winter.
This would allow you more time to enjoy the food and drink scene, as well as some of the more leisurely activities, such as a visit to the sauna or waterpark (more on that later!).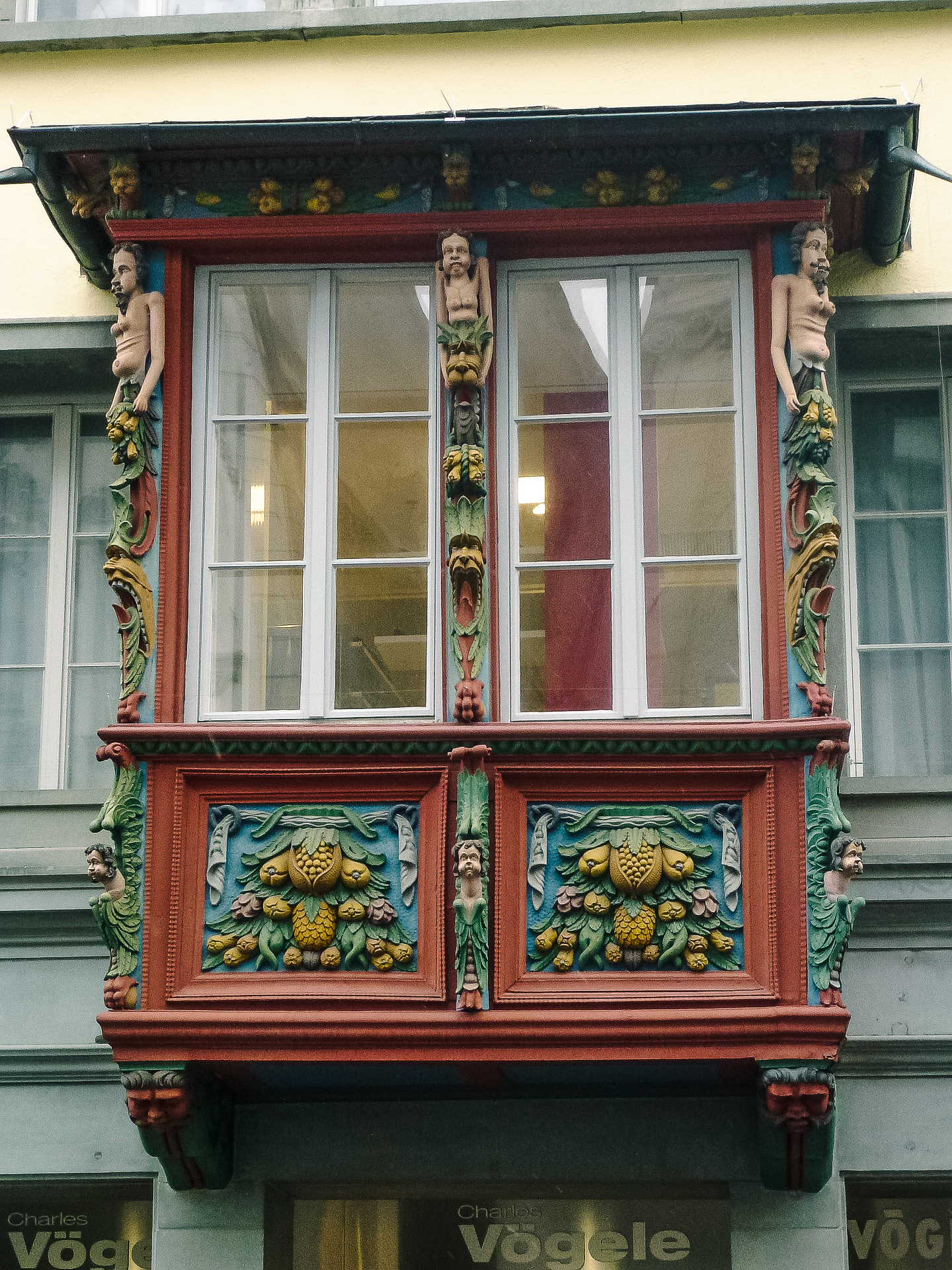 St. Gallen Weather in Winter
If you do choose to visit in winter, you'll be rewarded by the scenic beauty of a snowy old town, and fluffy snow covered hills just beyond.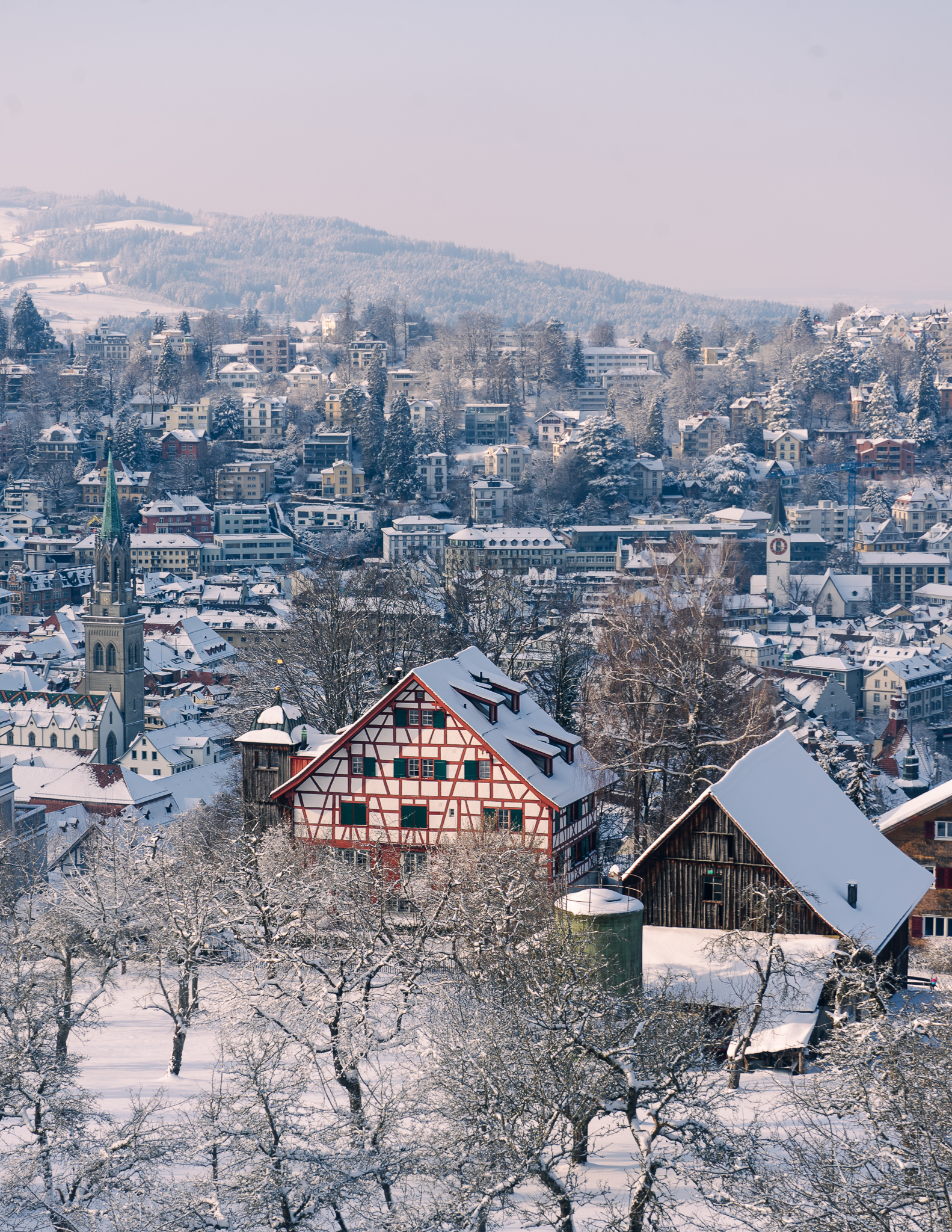 However, St. Gallen in winter is definitely cold. The weather usually hovers around freezing, anywhere between -5 C to 5 degrees Celsius (23 – 41 degrees Fahrenheit).
It's also not unusual for it to dip far lower, with some days as cold as – 17 degrees Celsius (about 1 degrees Fahrenheit – ouch). Planning ahead and wearing proper winter clothing is key to enjoying St. Gallen in winter.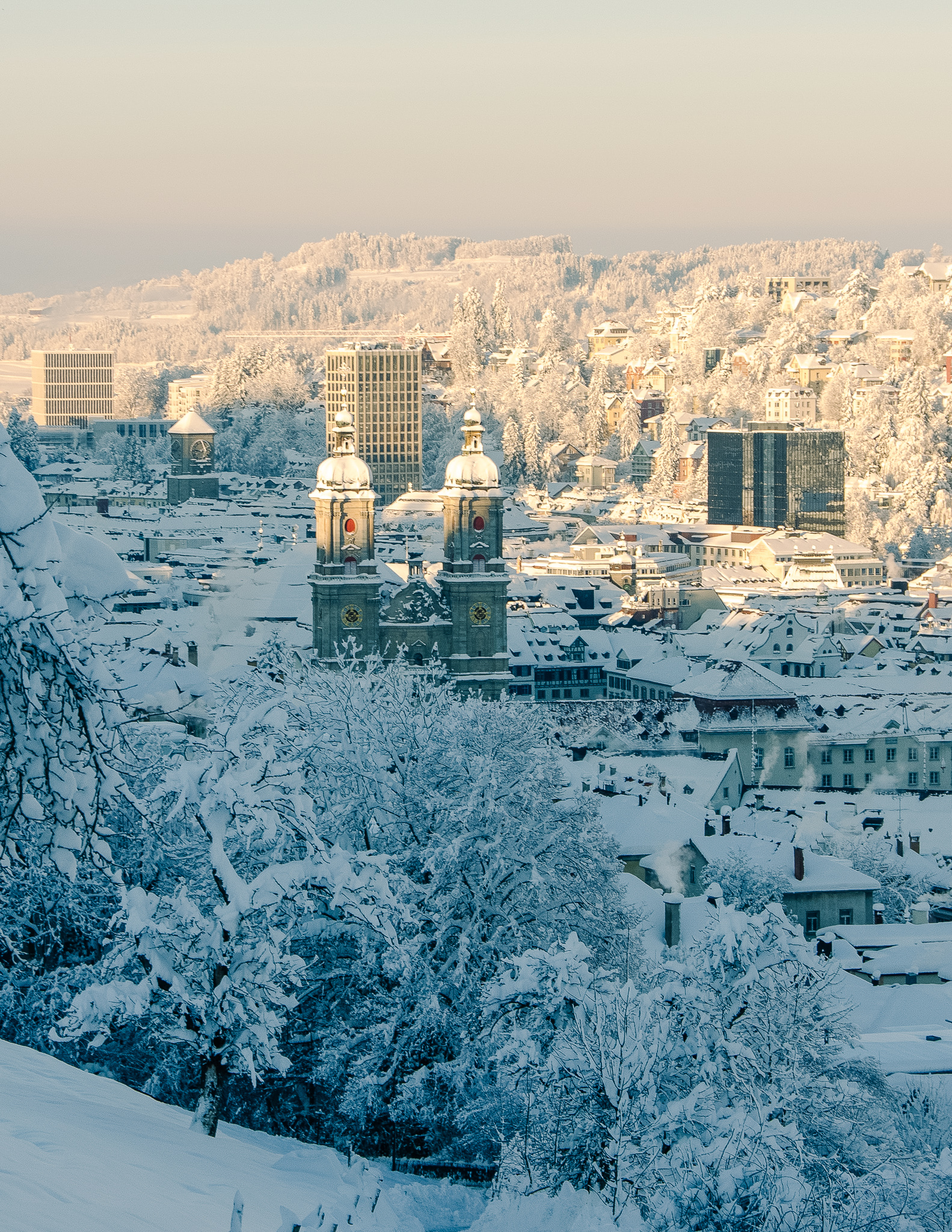 Things to do in St. Gallen Switzerland
Visiting St. Gallen in winter means spending some time exploring outside, and even more time doing indoor activities, like taking ample breaks to cozy up with a warm drink.
Here are the top things to do in St. Gallen in winter!
Visit St. Gallen Cathedral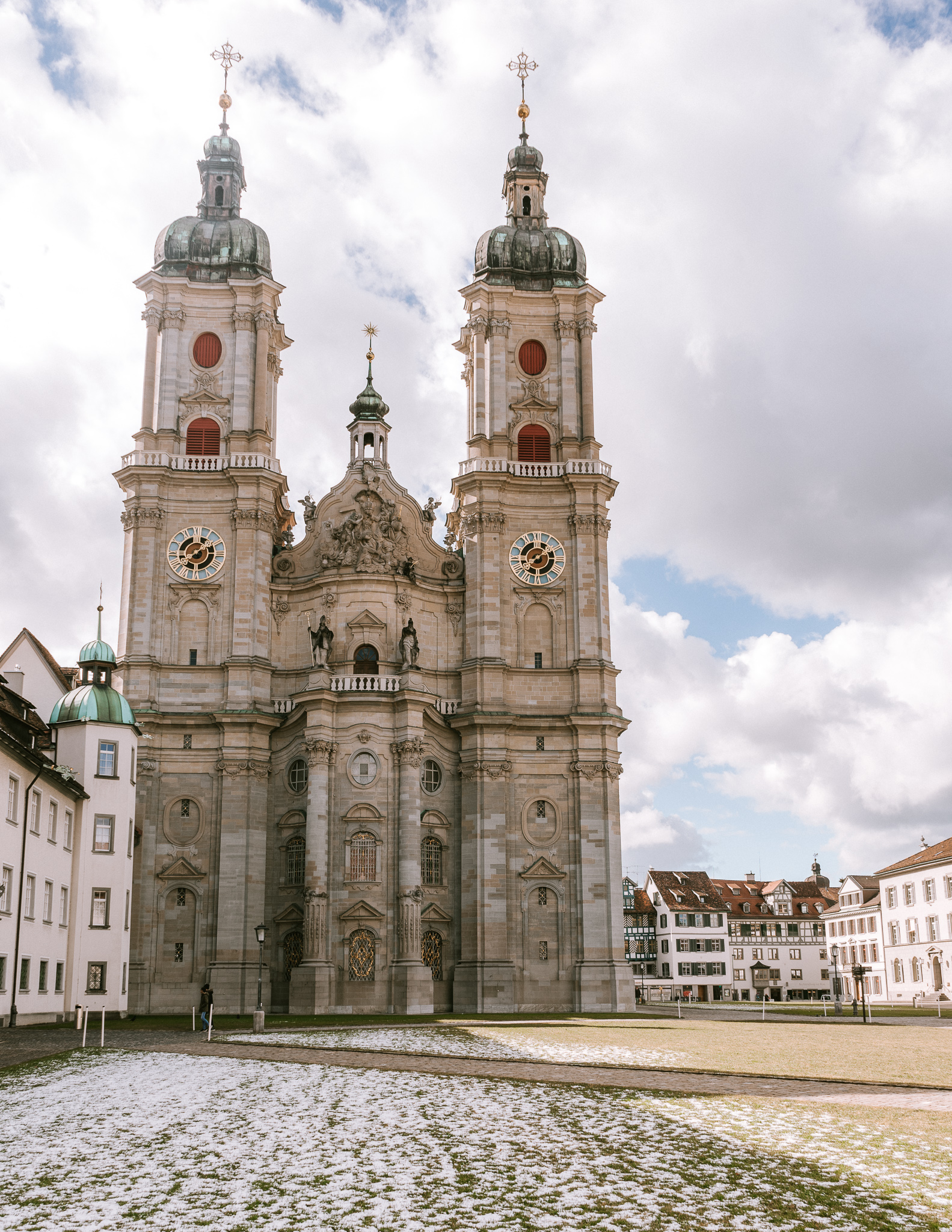 No visit to St. Gallen would be complete without visiting the cathedral, also known as Stiftskirche St. Gallus und Otmar in German.
As the tallest structure in the old town, it towers above the city as the most significant building in St. Gallen's skyline.
Located right at the center of the old town, this is a good place to begin your walking tour of the old town in St. Gallen.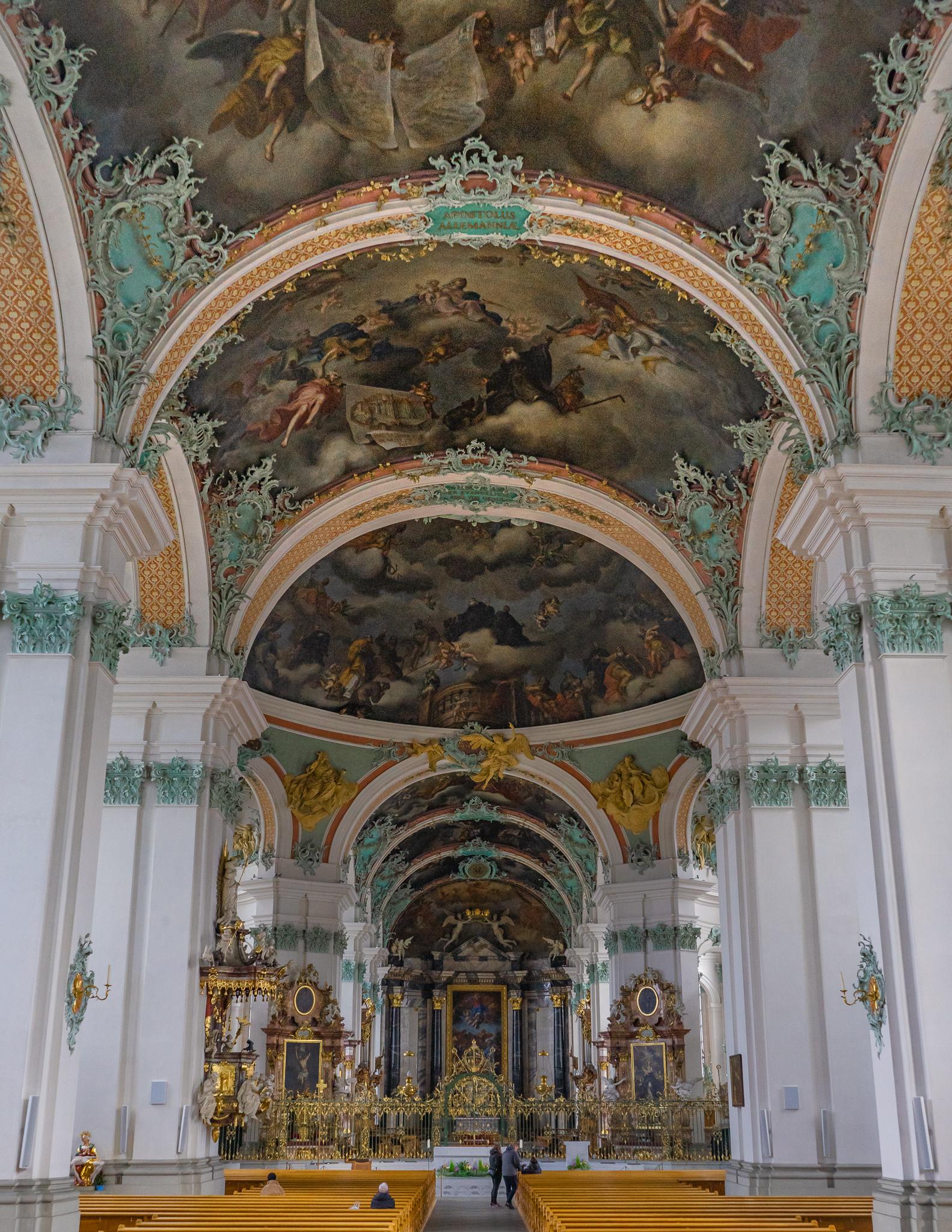 The interiors of the St. Gallen cathedral are both impressive and unique. It's grandeur appearance is definitely worth marveling at when there isn't an active mass going on.
From the cathedral, you have a huge park that in summer, is full of locals sunbathing and socializing. In winter, you'll find the city Christmas tree well decorated and lit up at night here.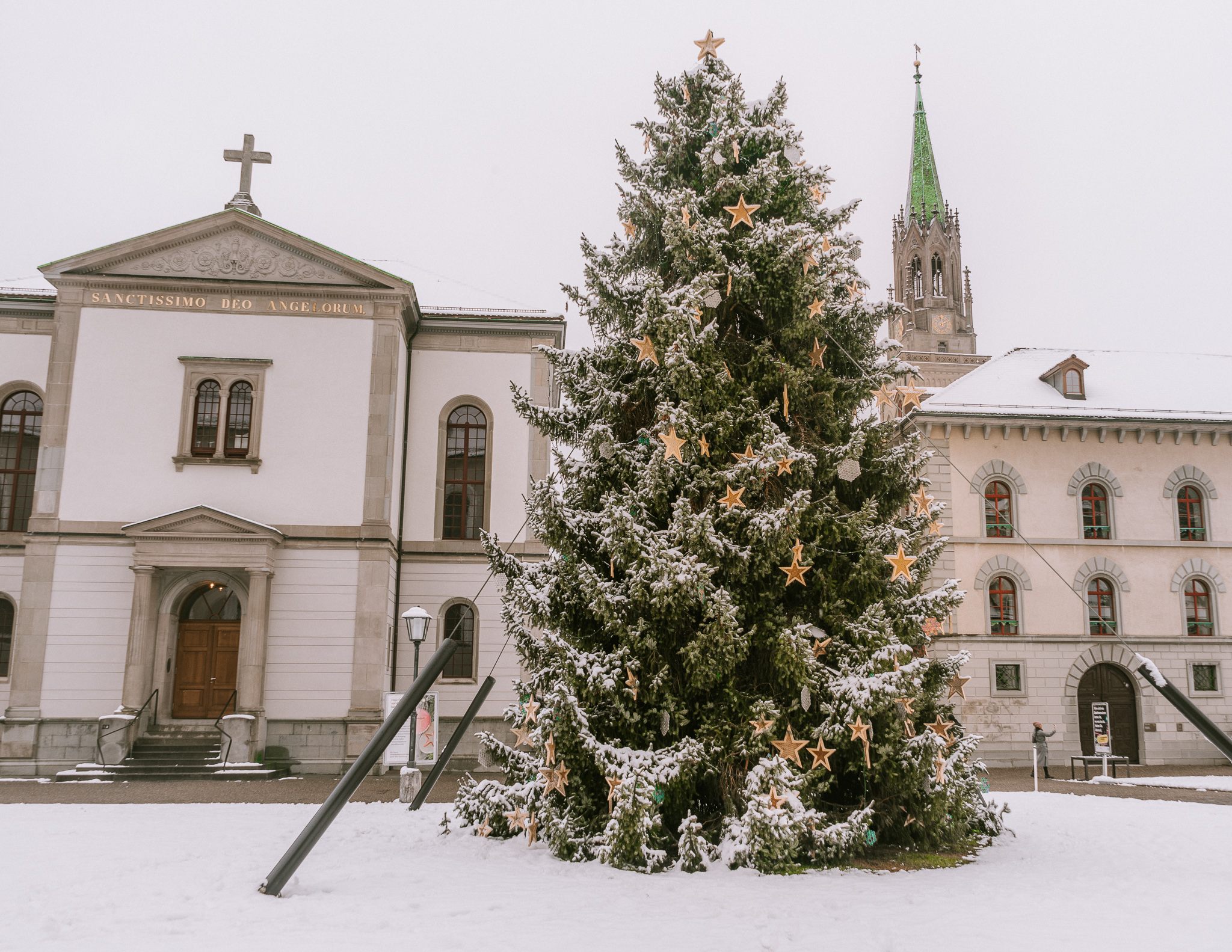 Opening Hours: 7am – 6pm
Fee: free to enter
Visit the Abbey Library
St. Gallen's cathedral is also the site of the historic monastery. Buying a ticket to the monastery will give you access to the museum as well as the Abbey Library of St. Gall.
The Abbey Library in St. Gallen was established as a UNESCO site in 1983 and is likely the main highlight of any visit to St. Gallen.
Easily considered one of the most beautiful libraries in Europe, this library is most known for its ornate and well preserved baroque interiors. With ceilings painted with detailed frescos, and framed with intricate golden framing, this library looks like a scene from Harry Potter.
As one of the oldest surviving libraries in Europe, it also houses very old books, some dating back to over 1,000 years old. There are also a few surprises in here, such as an astrological globe and even a real mummy on display!
The only downside, is that photos are not permitted inside, so you'll just have to feast with your eyes when you visit.
Opening Hours: 10am – 5pm
Fee: 18 CHF
Go for a Walking Tour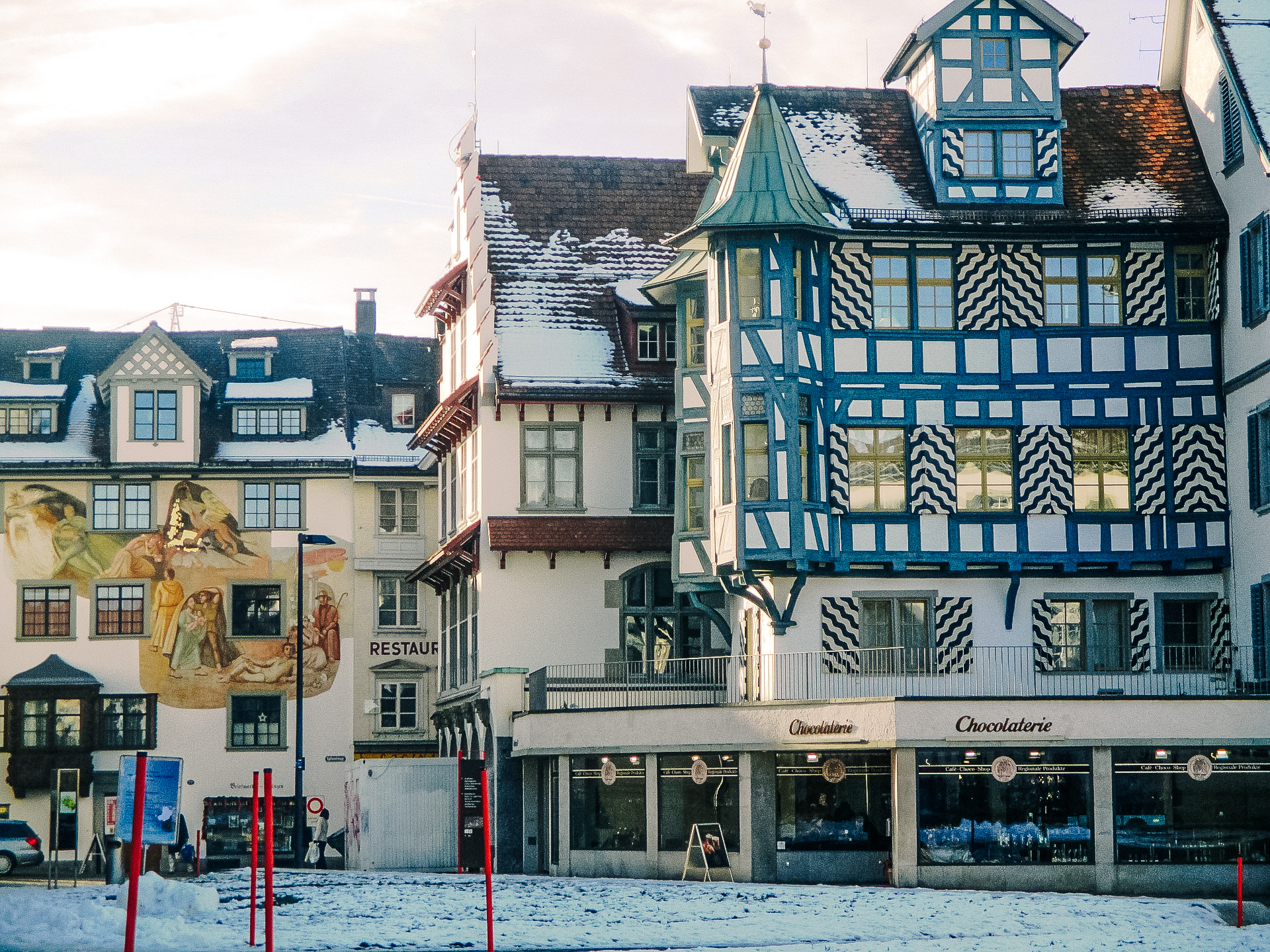 A good way to see St. Gallen is by joining a walking tour. The history of the city is quite fascinating, and can be fully understood with a guide.
A walking tour will take you around the Aldstadt, or old town of St. Gallen. You can admire the charming historic buildings, discover the many fresco painting on the houses, all while the guide tells you the stories behind it all.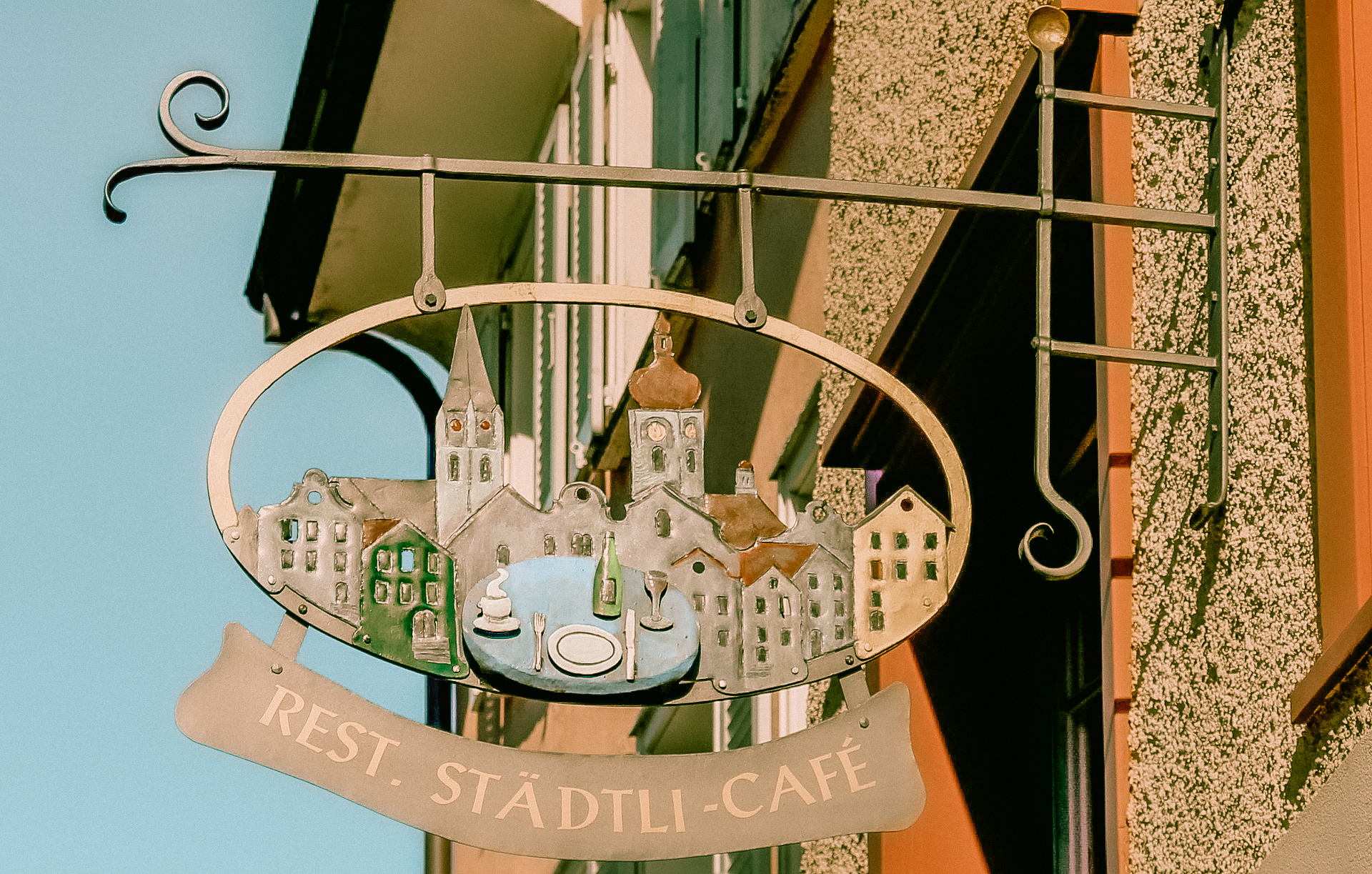 You can join a walking tour by booking one at the St. Gallen Tourism Office. If visiting St. Gallen in winter, tours are usually only available on Saturdays, so do check the schedule online ahead of time!
Opening Hours: Public tours usually start around noon or in the afternoon, and are 90 – 120 minutes. Subject to availability; sometimes public tours aren't available in winter months, so you'll need to book a private tour.
Fee: starting from $8 CHF per person for public tours
Have Gluhwein at the Christmas Market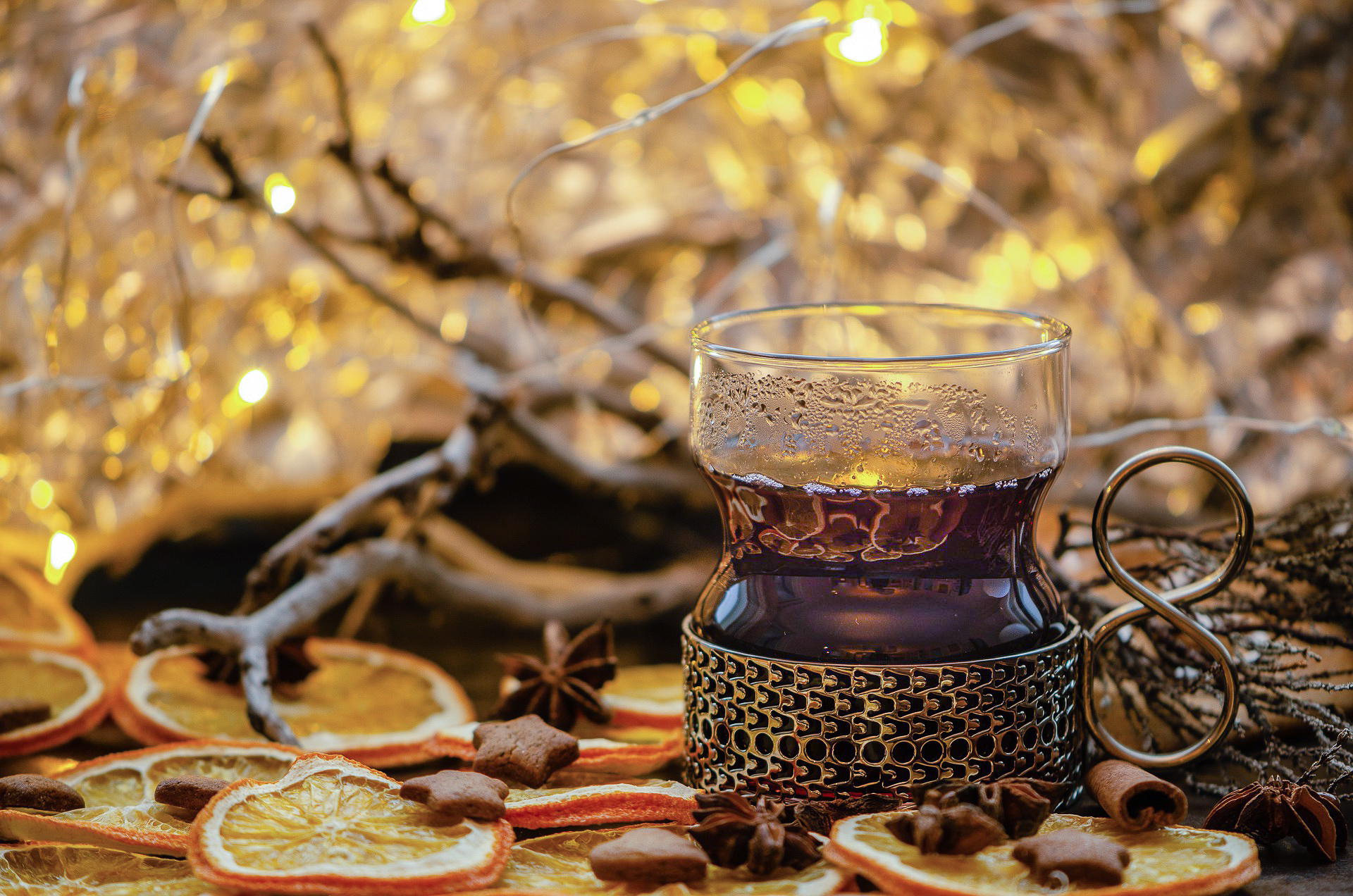 If you are visiting in December, you just HAVE to pay a visit to the St. Gallen Christmas market.
Located dead center in the middle of town in Market Square, this Christmas market would be hard to miss. While not the biggest Christmas market in Switzerland, St. Gallen is well known for its generous display of lights this time of year.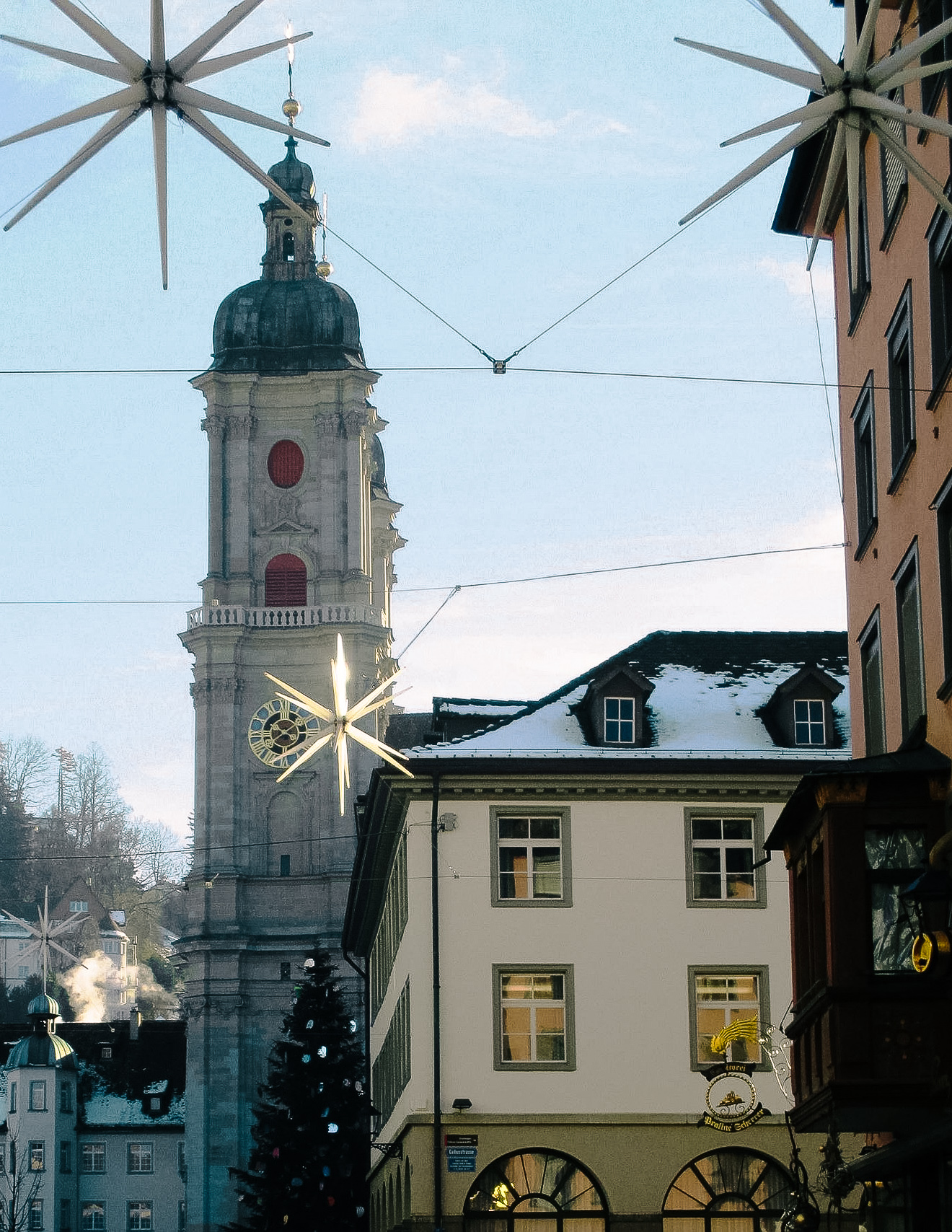 With over 18,000 lights on the Christmas tree, and over 700 stars that decorate the many streets of the old town, St. Gallen sure does set the mood for Christmas festivities.
While at the Christmas market, be sure to pop into the pop-up bar for some gluhwein (hot wine) and check out some of the regional specialties on offer in the stalls.
Try a St. Gallen Bratwurst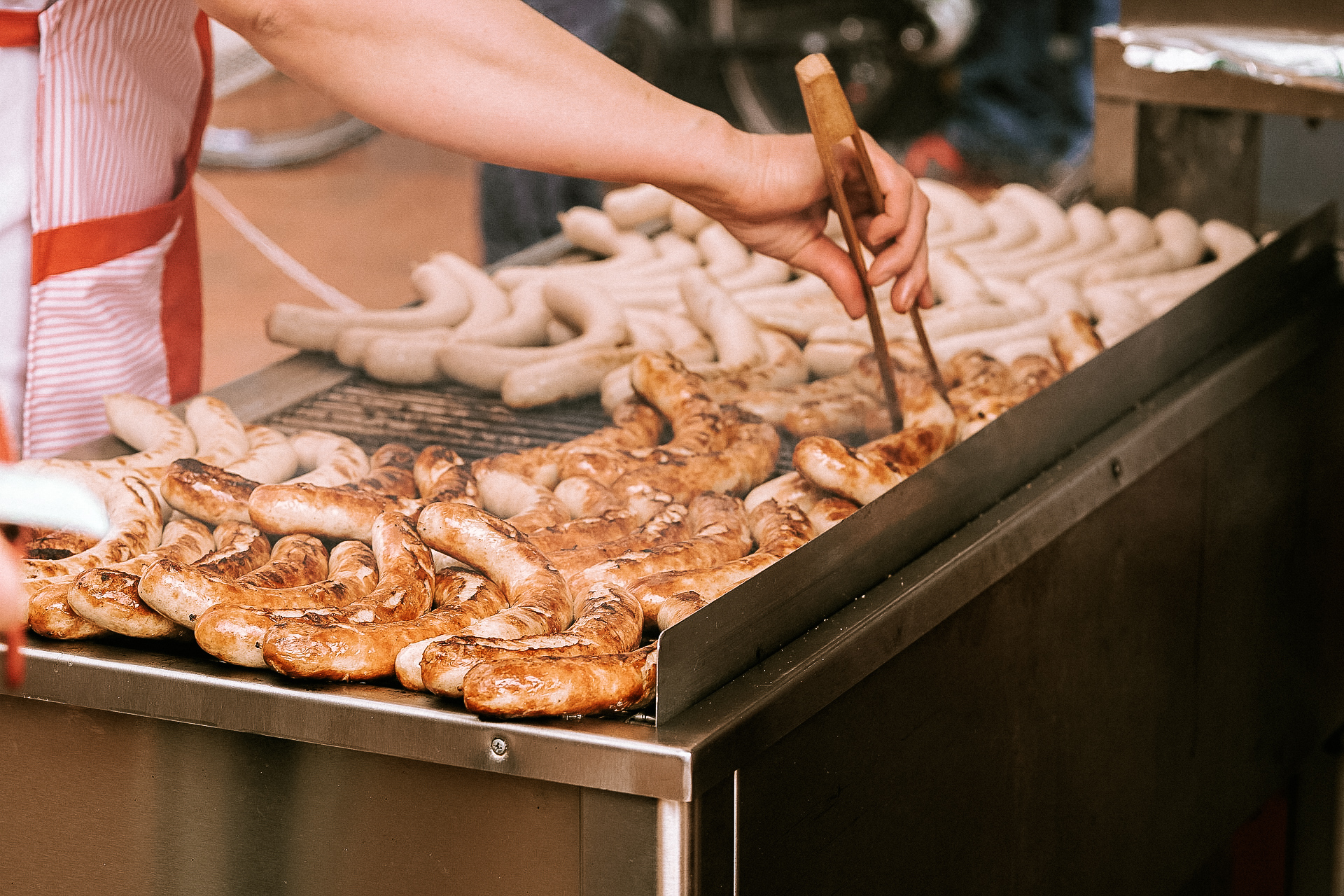 St. Gallen has a certain love affair with bratwursts, a fact made clear from the giant model sausages you'll find hanging from some of the buildings around town.
While you may have tried your fair share of bratwursts elsewhere, St. Gallen's bratwurst is a regional specialty that makes a great afternoon snack.
It pairs well with mustard and some bread. You can buy it at Metzgerei Traiteur Rietmann near Market Square.
Opening Hours: 7:30am – 6:30pm most days, closed on Sunday
Fee: 6 CHF
Admire the Karlstor Gate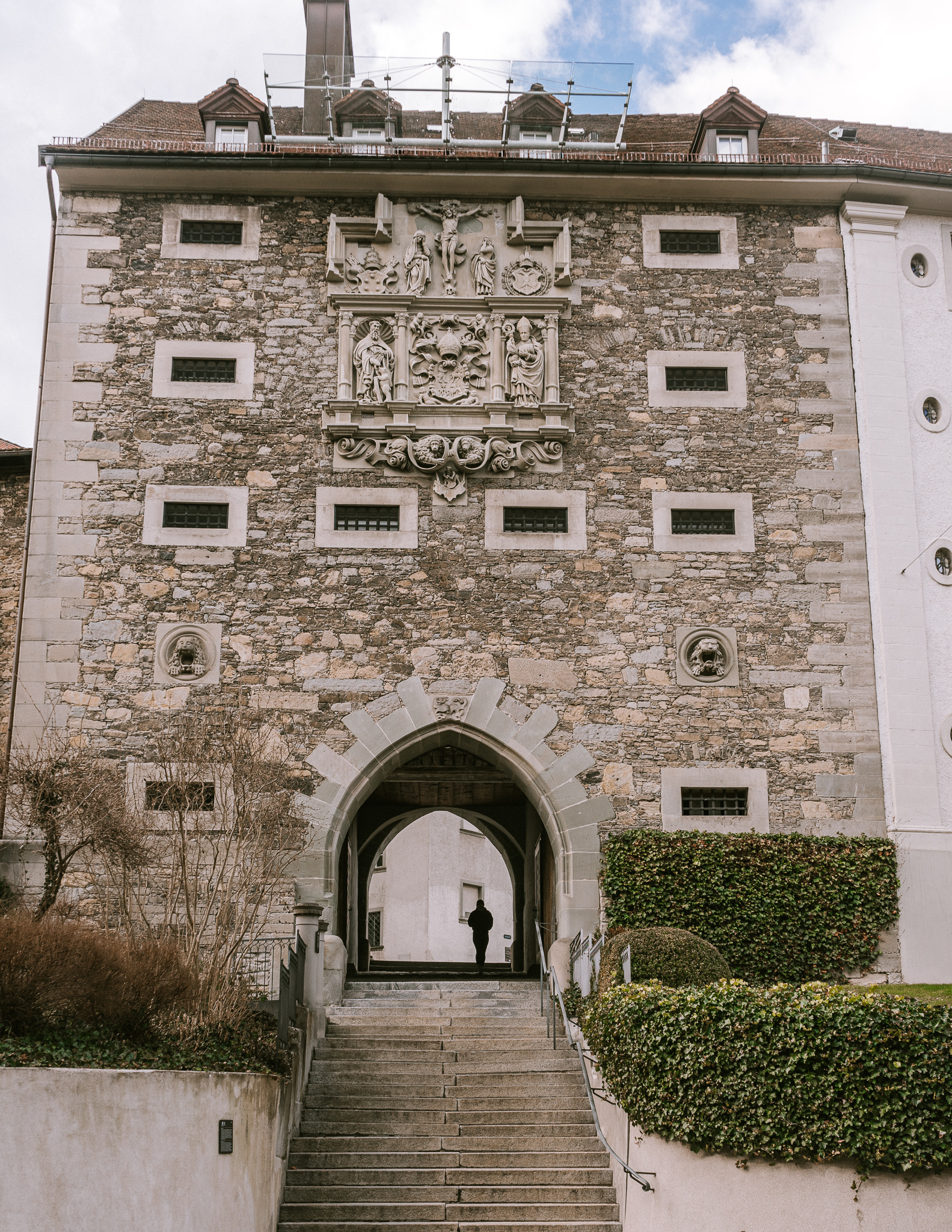 Known as the Gate of St. Charles, this gate is the only one remaining of what used to be eight total gates in the medieval wall surrounding the Abbey of St. Gallen.
The gate was built in 1570, and today, you can still find many of the stone relics and carvings in tact. The gate signifies the entrance/exit to the old town.
Opening Hours: All day
Fee: free!
Visit the St. Laurenzen Church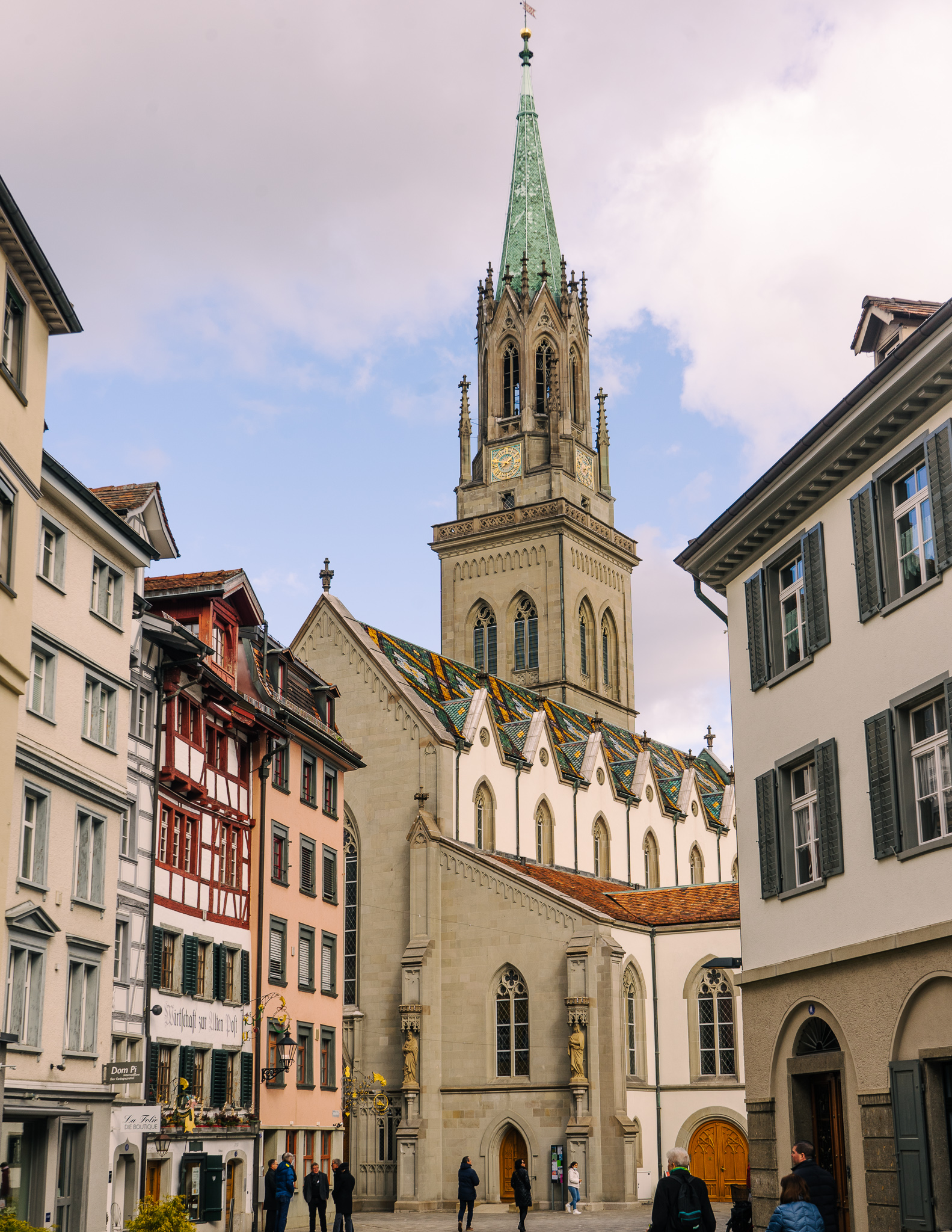 The St. Lawrence Church is not far from the main cathedral, and while much smaller, is still worth a quick visit.
The roof is tiled with a colorful pattern, which can be easily recognized from far away.
The interior of the church is much different than in the cathedral, and atypical in design. Instead of frescoes and white pillars, it features a more geometrical painted pattern throughout.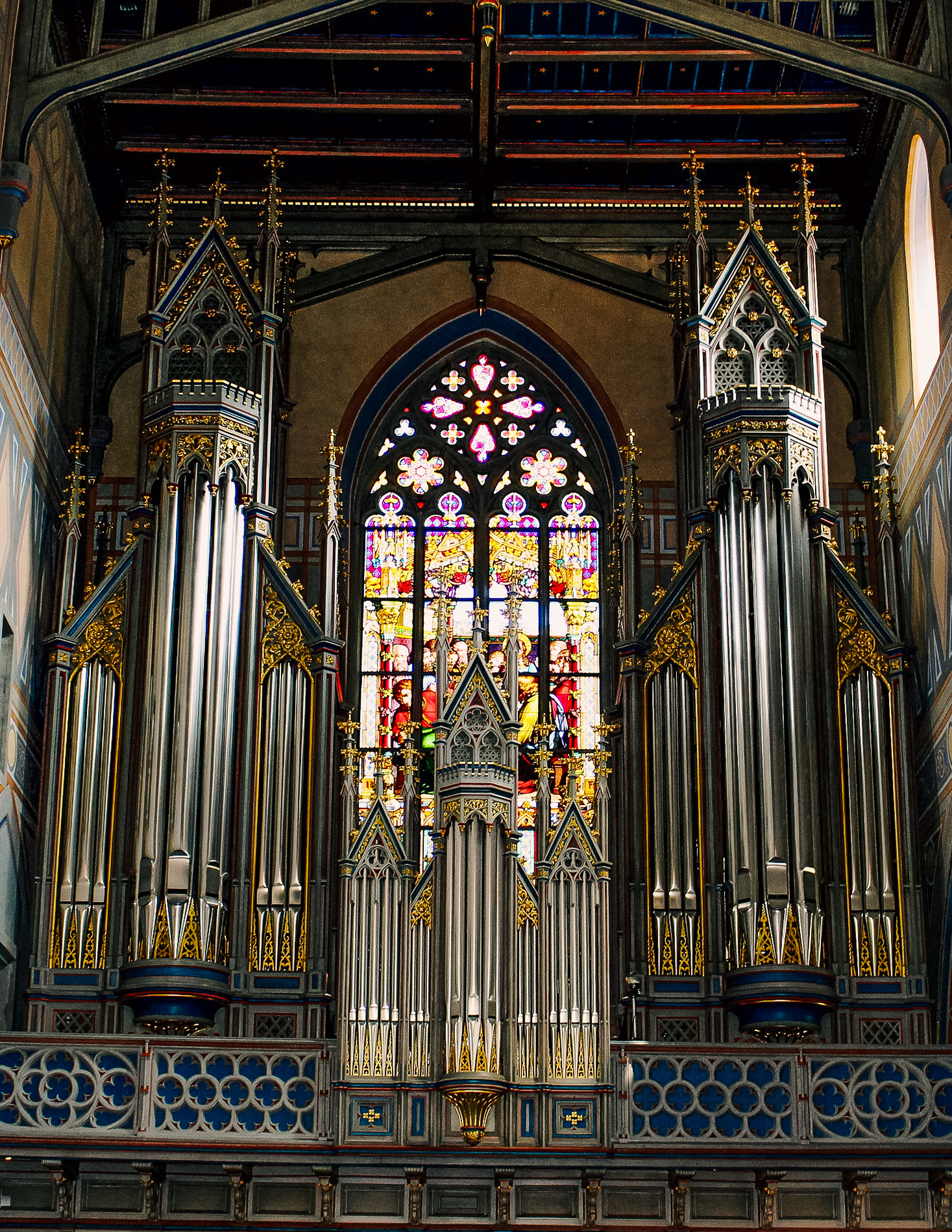 Opening Hours: 10am – 4pm
Fee: free!
Admire the Frescos Around the Aldstadt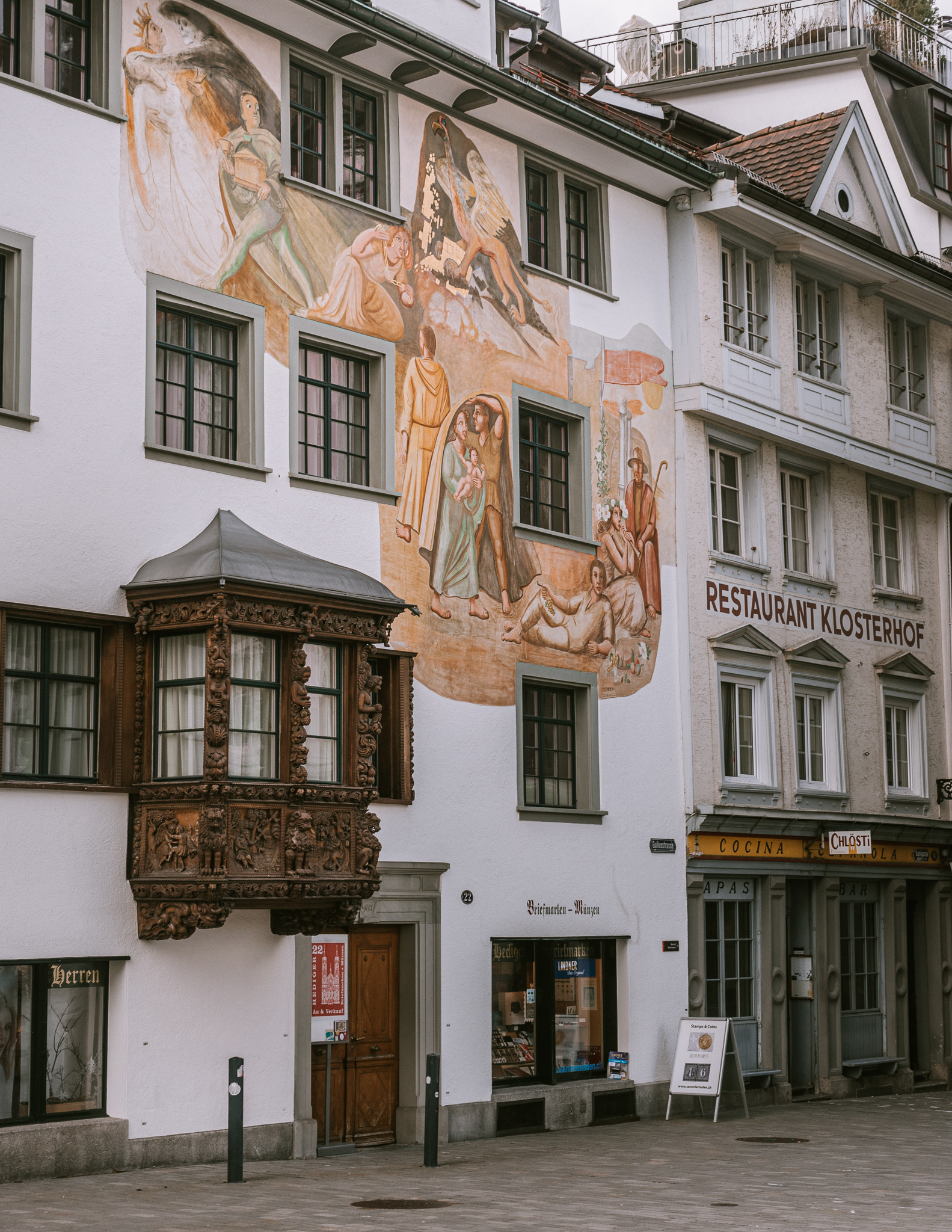 Even if you don't join a walking tour, you can easily admire the old town of St. Gallen by walking around and getting lost.
Many of the buildings feature historic frescoes which are fun to discover. many buildings also feature some wooded carving designs, both of which are from historic times.
Visit the Art Museum
If you love art and have more than one day, the Kunst Museum of St. Gallen may be worth a visit.
This gallery has some permanent artwork on display, but usually features some temporary art exhibitions, mostly of the contemporary genre. If that isn't your cup of tea, this may be a miss.
But, if you are interested in seeing local art, this makes a good 1 hour break from the cold.
Opening Hours: 10am – 5pm most days, closed Mondays
Fee: 12 CHF
Ride the Mühleggbahn
The Mühleggbahn is St. Gallen's very own funicular. It was built in 1893 where it functioned as a water-weight cableway. in the 50s, it was upgraded to a cogwheel rail.
A ride on the Mühleggbahn takes just a couple minutes.
It's how locals bypass having to walk up the steep hills of St. Gallen to get to the residential area of St. Georgen above, or to the Drei Weieren lakes and parks above the city.
You can find the Mühleggbahn station just beyond the cathedral here.
Opening Hours: 5:40 a.m. to 12:50 a.m
Fee: 2.40 CHF one way
See St. Gallen from Above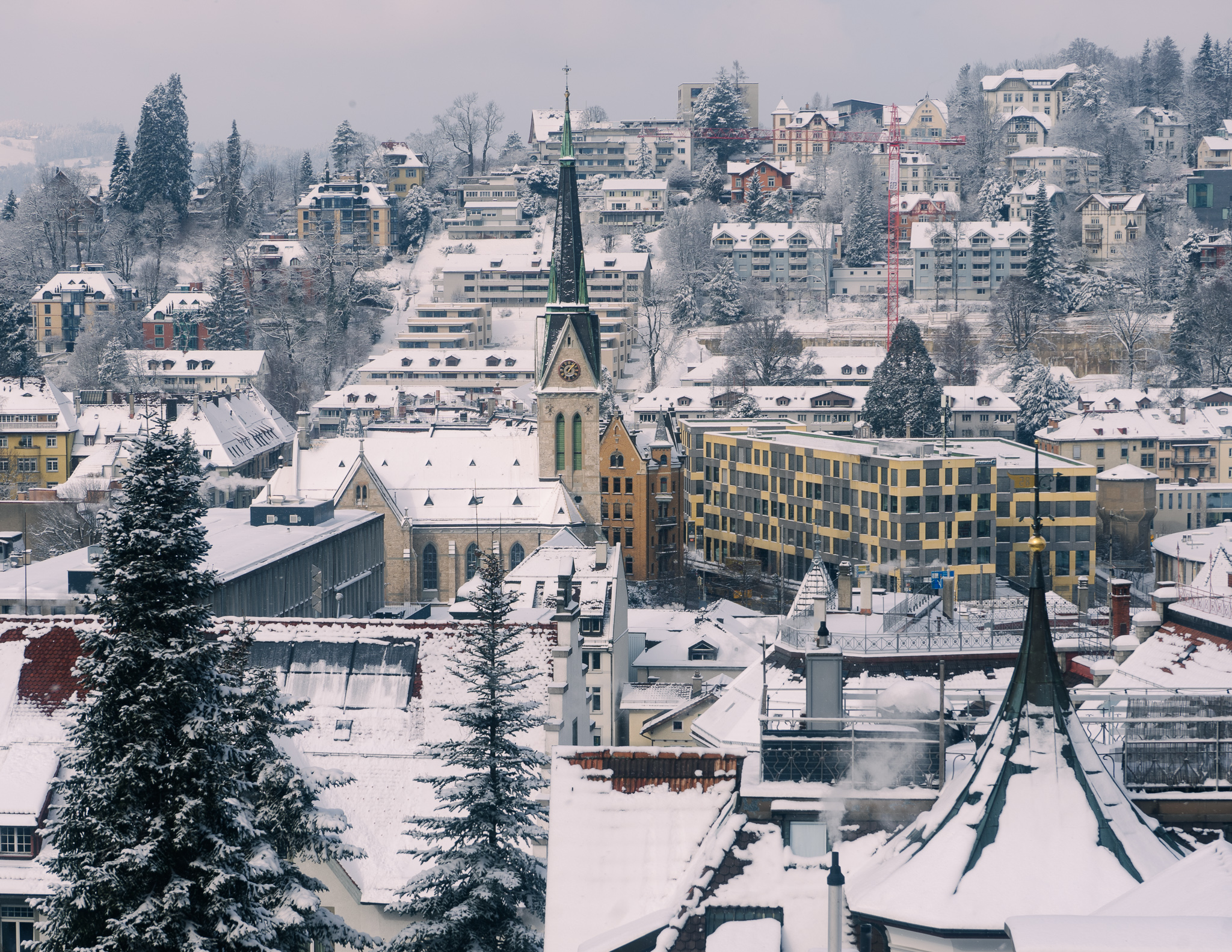 After taking the funicular, you will be able to see the old town of St. Gallen from above. On a winters day, you'll have a picturesque view of the old town with a layer of snow over it.
While up here, you should head towards Drei Weieren Park. This park is home to 3 manmade lakes which are often frozen in winter.
It's not always strong enough to walk on, so please don't do that. However, the park is popular even in winter, so you'll find many locals walking their dogs or running up here.
This is also where you'll have the best view of the city. On rare, cloudless winter days, the sunsets are phenomenal here.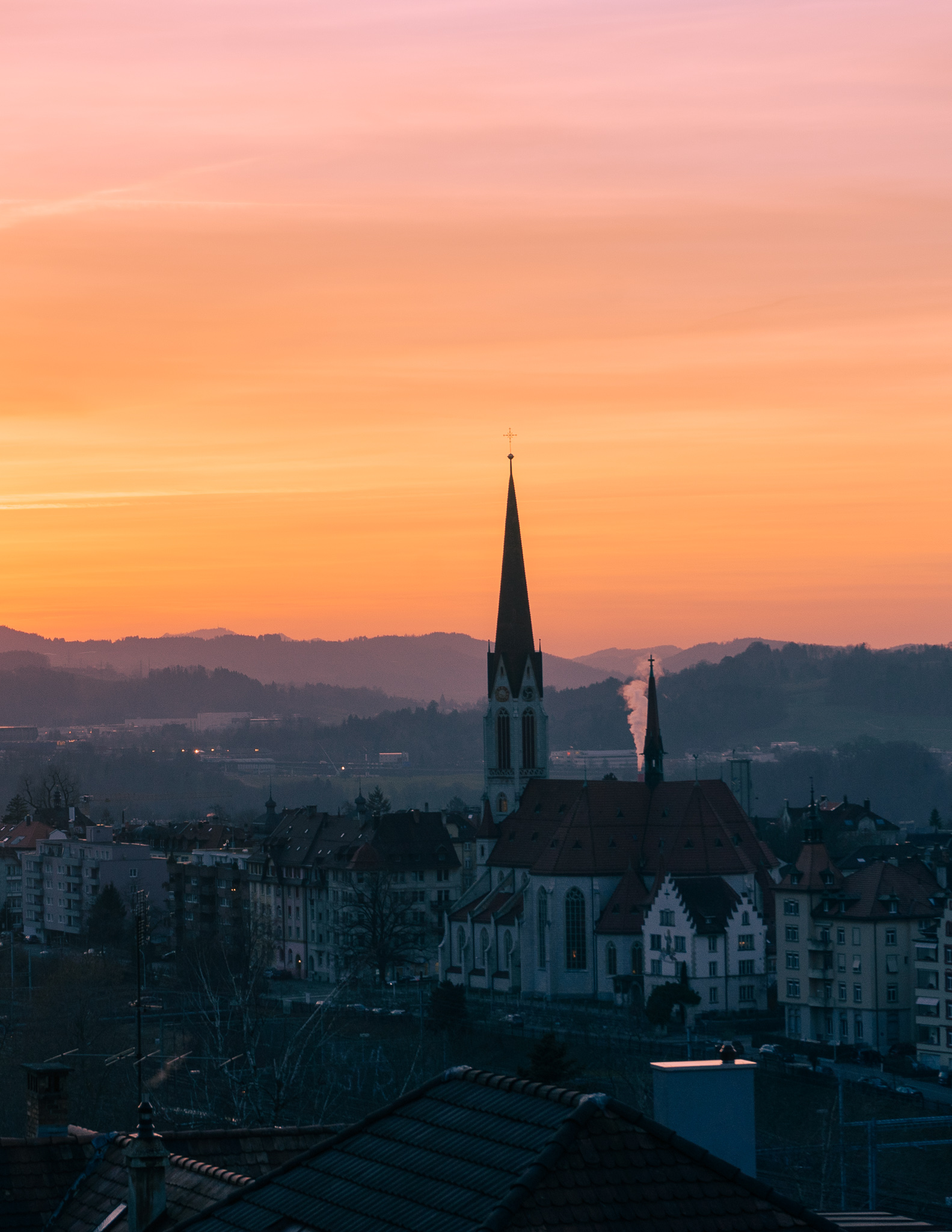 Opening hours: 24 hours a day, but best in the afternoon or during sunset
Fee: free!
Relax at the Lakeside Sauna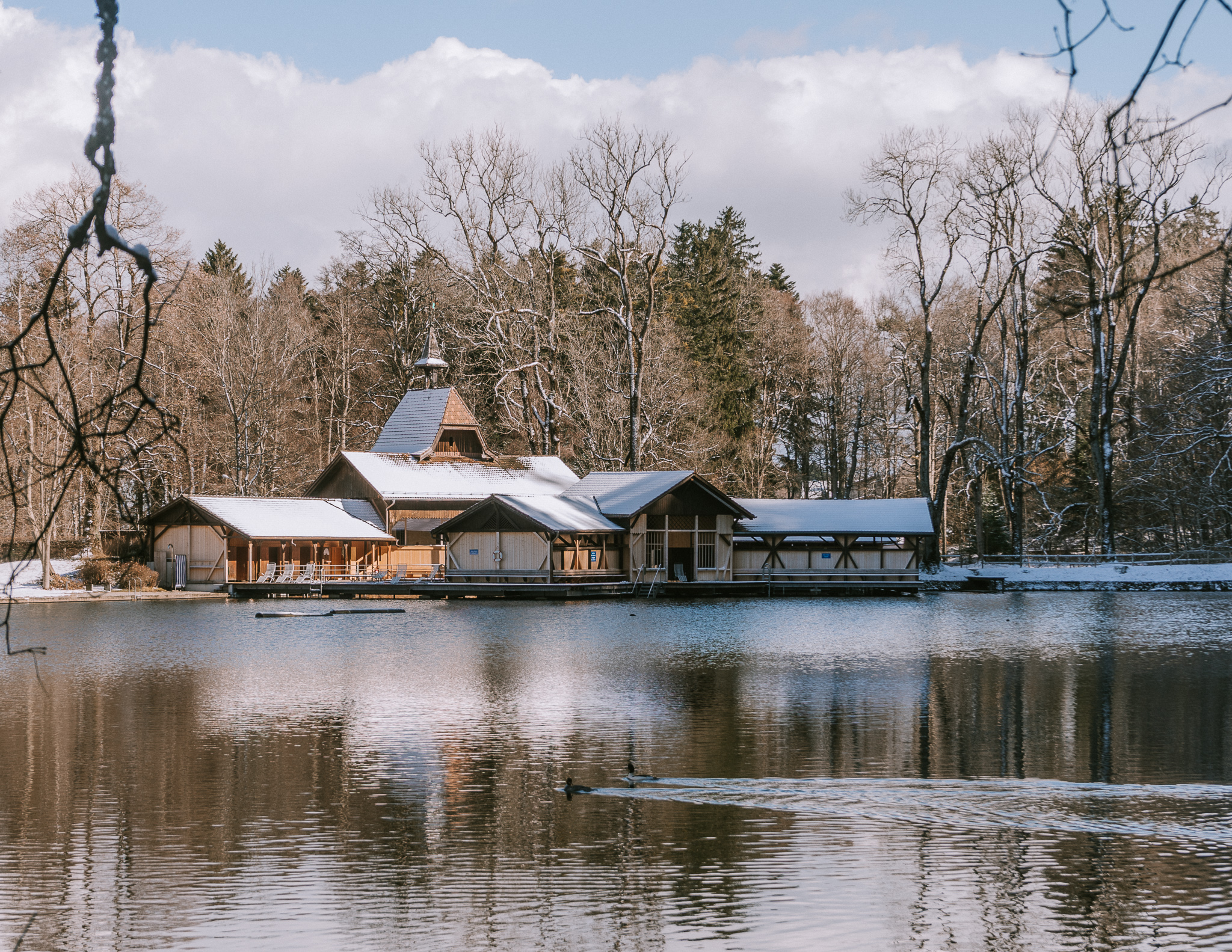 At the end of the park along one of the lakes, you will find the Weiere Sauna, which only opens in winter from November to April.
This wood-constructed, open air sauna is where you can enjoy the hot facilities, while watching the snow fall – a very nice afternoon activity!
Locals will alternate between sauna sessions and dipping into the ice cold lake. This act is believed to promote speedy muscle recovery and boosted immune function.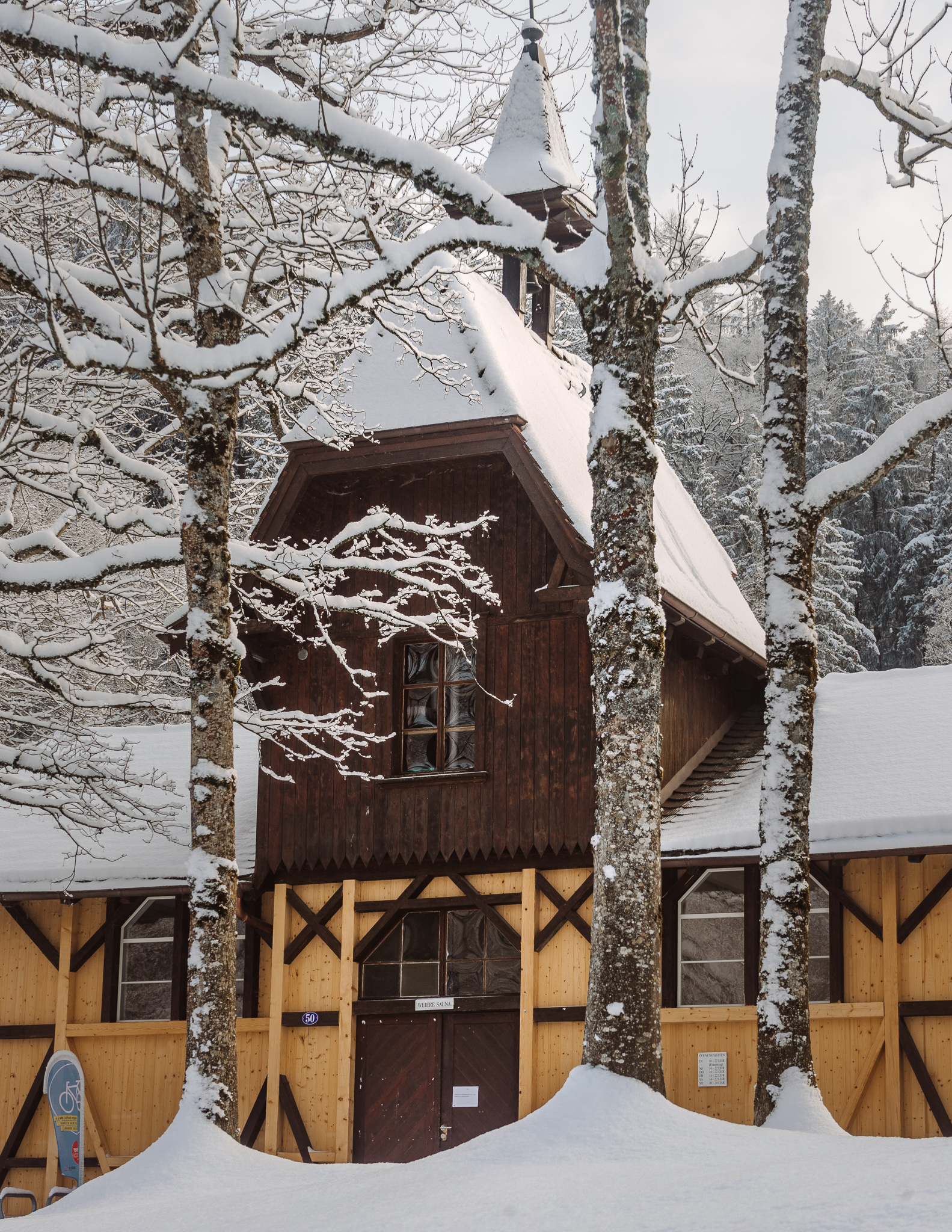 Some even consider this a way to relax – I'll let you be the judge of that!
Either way, it's a beautiful place to spend the day, because the sauna is right along the lake with serene views of the snowy trees and and hills beyond the lake.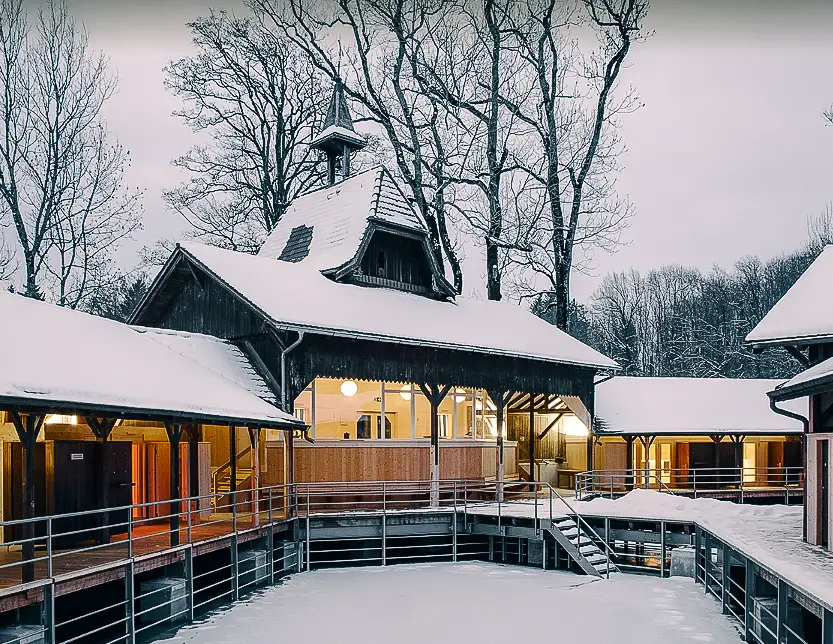 Please note that this is a fully nude sauna. While that may not be for everyone, I will say, there is something very refreshing about standing outside in nature butt-ass naked, in the dead of winter.
Opening Hours: 2pm – 10pm most days, closed on Mondays
Fee: 28 CHF for 3 hours
Admire Views and Waterfalls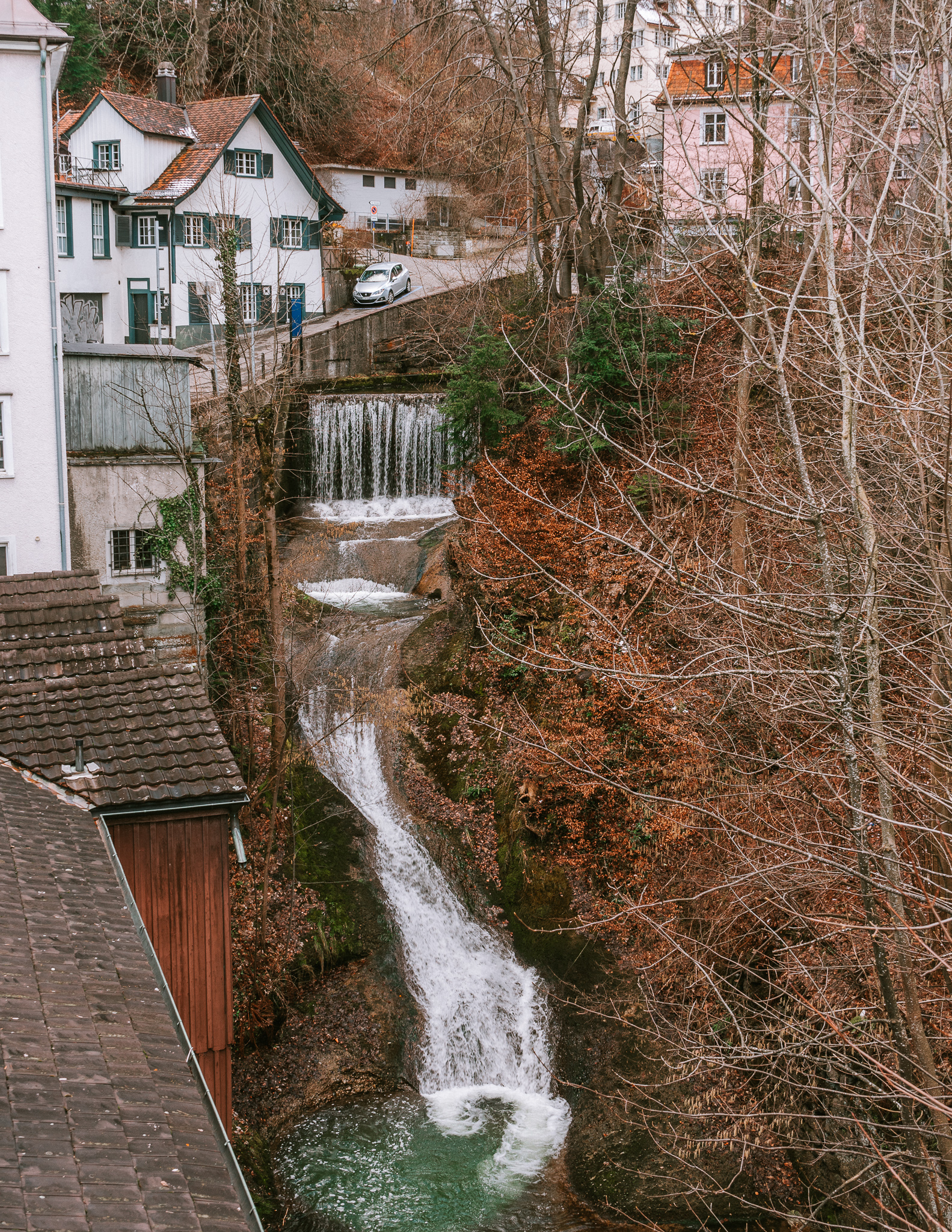 When you are ready to head back into the city, instead of taking the funicular again, opt to walk the short distance instead.
The walking path starts near Mühlegg station and connects the upper part of St. Gallen to the city center.
This walk takes you through nature and offers great views and cute homes to admire along the way. You'll also find some waterfalls cascading down the hills as you walk. You can find this path around here.
Cozy up in a Cute Cafe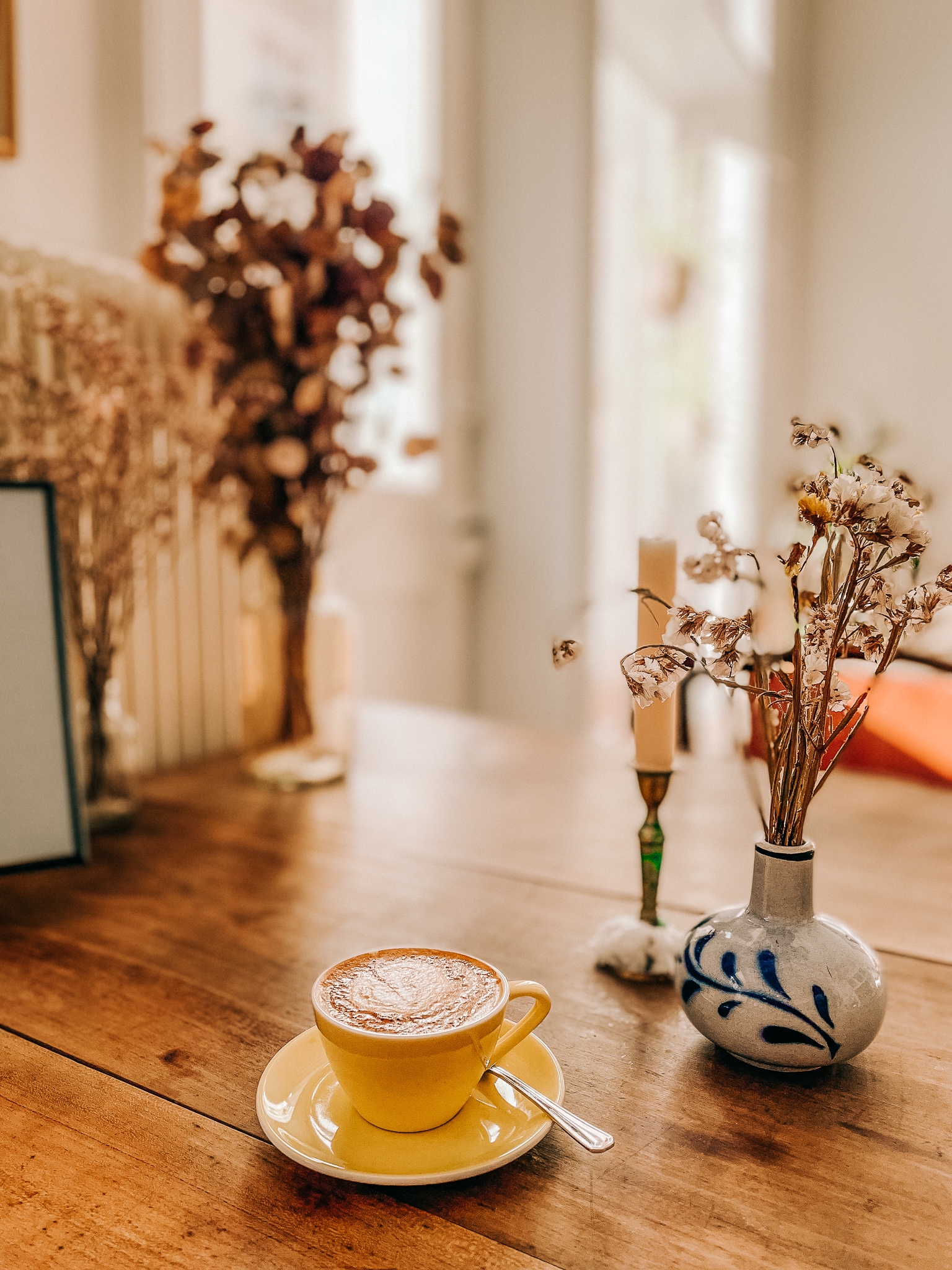 The best part of visiting St. Gallen in winter is getting cozy in cute cafes, a much needed break from the cold. St. Gallen has no shortage of adorable cafes to choose from, so you could make a point to visit a few during your stay.
Some of my favorite cafes are Kaffee Otmar, Kaffee Haus, and Barista for ambience and taste.
Grab a Winter Cocktail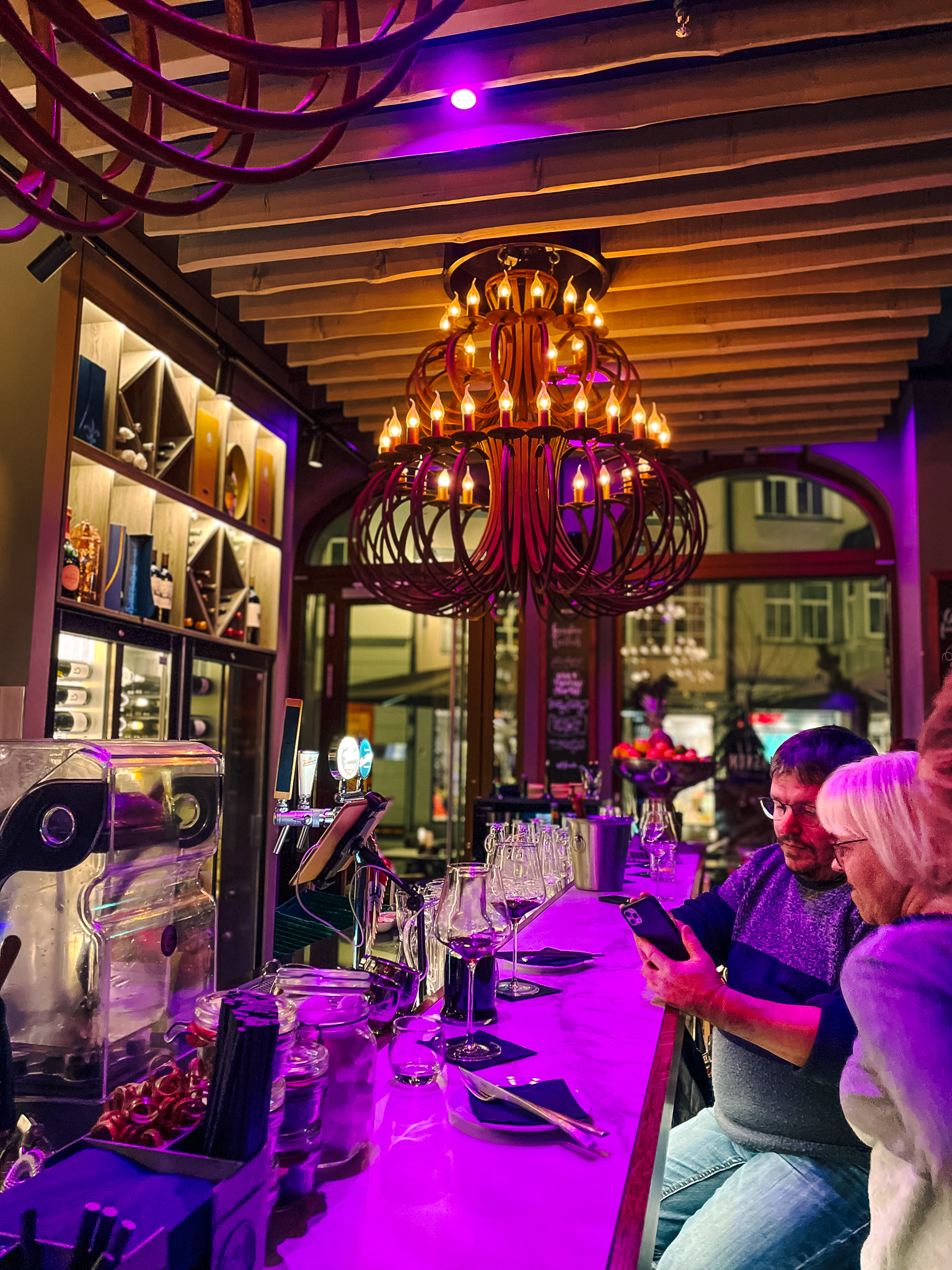 Nothing says St. Gallen in winter more than a nice winter cocktail at the end of the day. Try grabbing a "hot apple" drink at Süd Bar, essentially a local version of a hot toddy.
For a great glass of wine, you can't beat an evening at the Magnum Wine Bar. This is a weekend hotspot, and although it's a wine bar, the award winning cocktails on offer are what really take the cake here.
Visit the Waterpark
If you'd like to indulge in a more local activity, you could pay a visit to Säntispark Rutschenwelt, an indoor waterpark just a bit outside the city center.
This waterpark is open year round, and is almost entirely indoors apart from some heated outdoor pools.
This is where families and friends come to hang out, relax and go on some of the many crazy slides.
Opening Hours: 11am – 9pm everyday
Fee: 40 CHF for 2 hour access to all pools, saunas and slides.
Visit the Peter and Paul Wildlife Park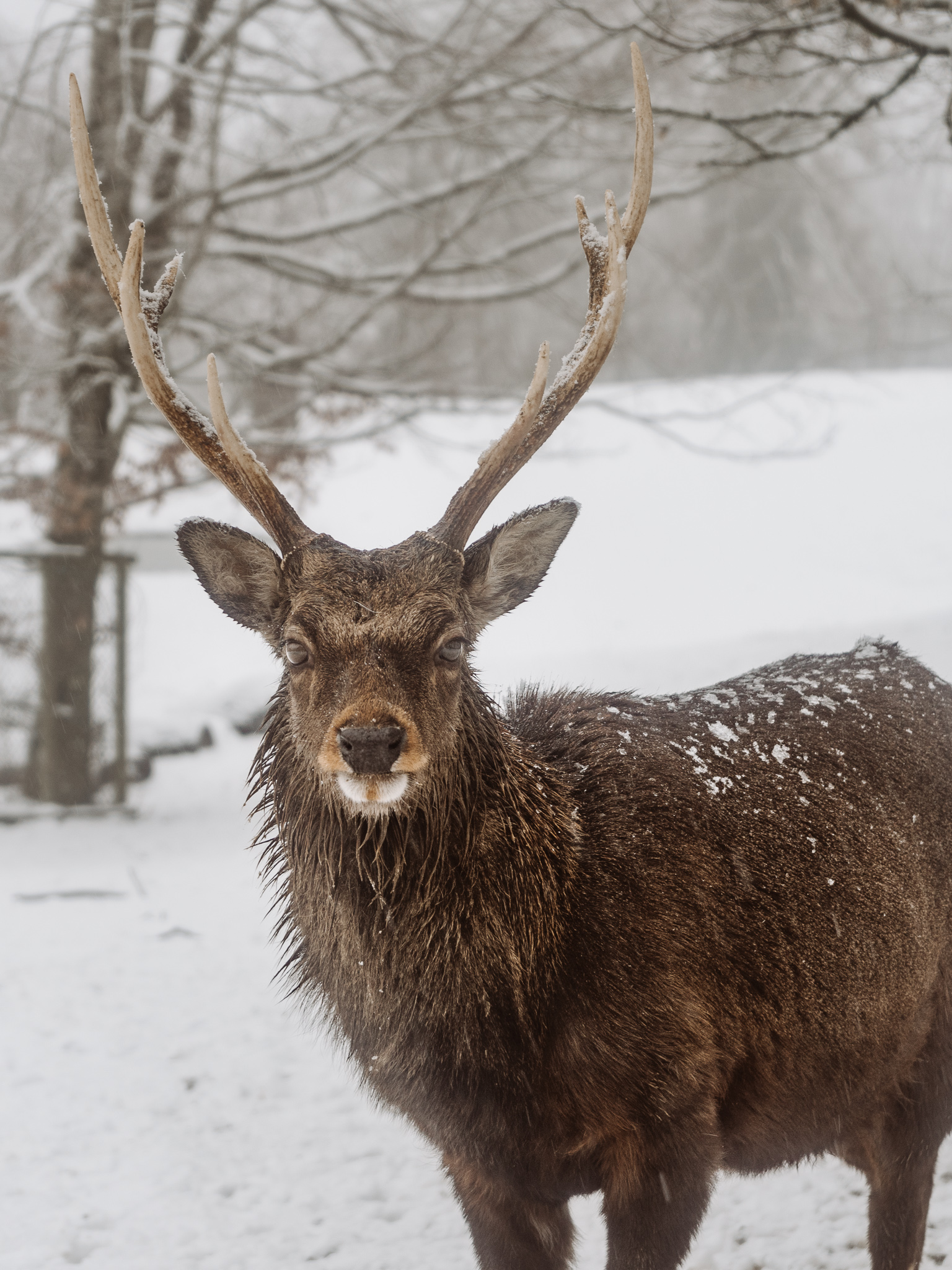 If you have more time during your trip, you could venture a bit outside the city to the Peter and Paul Wildlife Park. Entrance is free, and you can view many types of animals here.
We saw deer, boars, lynxes, bobcats, and rams while here. Dress warmly, as it gets very snowy out here and there are no indoor structures to hide in.
Opening Hours: all day
Fee: free
Try Fondue and Local Food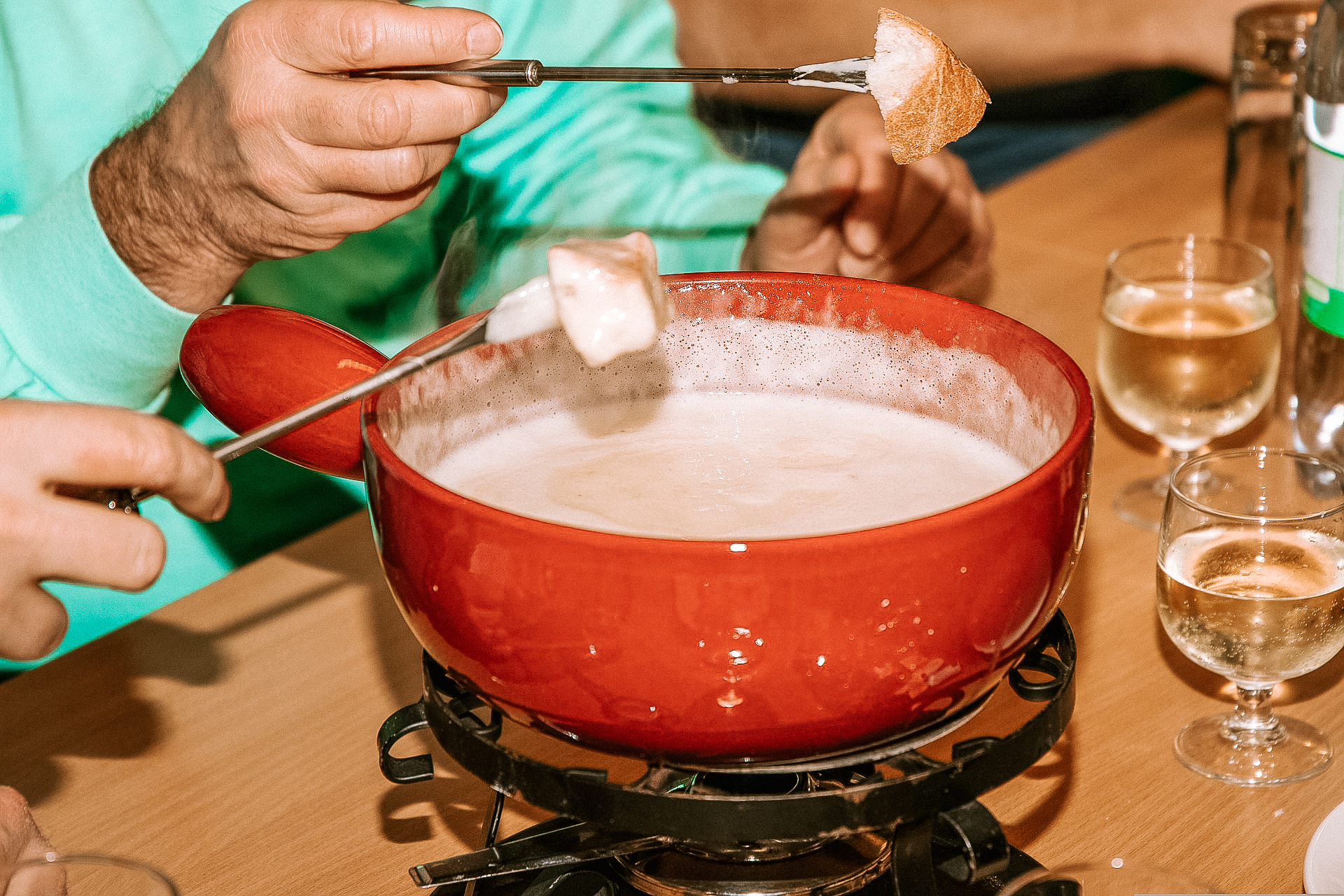 A trip to Switzerland in the colder months is not complete without indulging in fondue, and St. Gallen in winter is no exception!
One restaurant known for offering great fondue is Fondue Beizli. You'll also find other Swiss and regional staples on their menu such as spatzli, raclette and local wine.
Opening Hours: 11am – 2pm, 5pm – 12am (closed Sunday & Monday)
Fee: 20 – 40 CHF per person per meal
See a Show at the St. Gallen Theatre
If you are a lover of the arts, a visit to the St. Gallen Theatre is worth looking into. As of present, the main theatre is under construction, and all shows are being held in other facilities.
Of course, when construction is finished, the new theatre is expected to be bigger and better than the former. So stay tuned!
You can find all types of shows from musicals, to concerts and more. Shows here are sometimes in English, and you can check the programs available here.
Where to Stay in St. Gallen Switzerland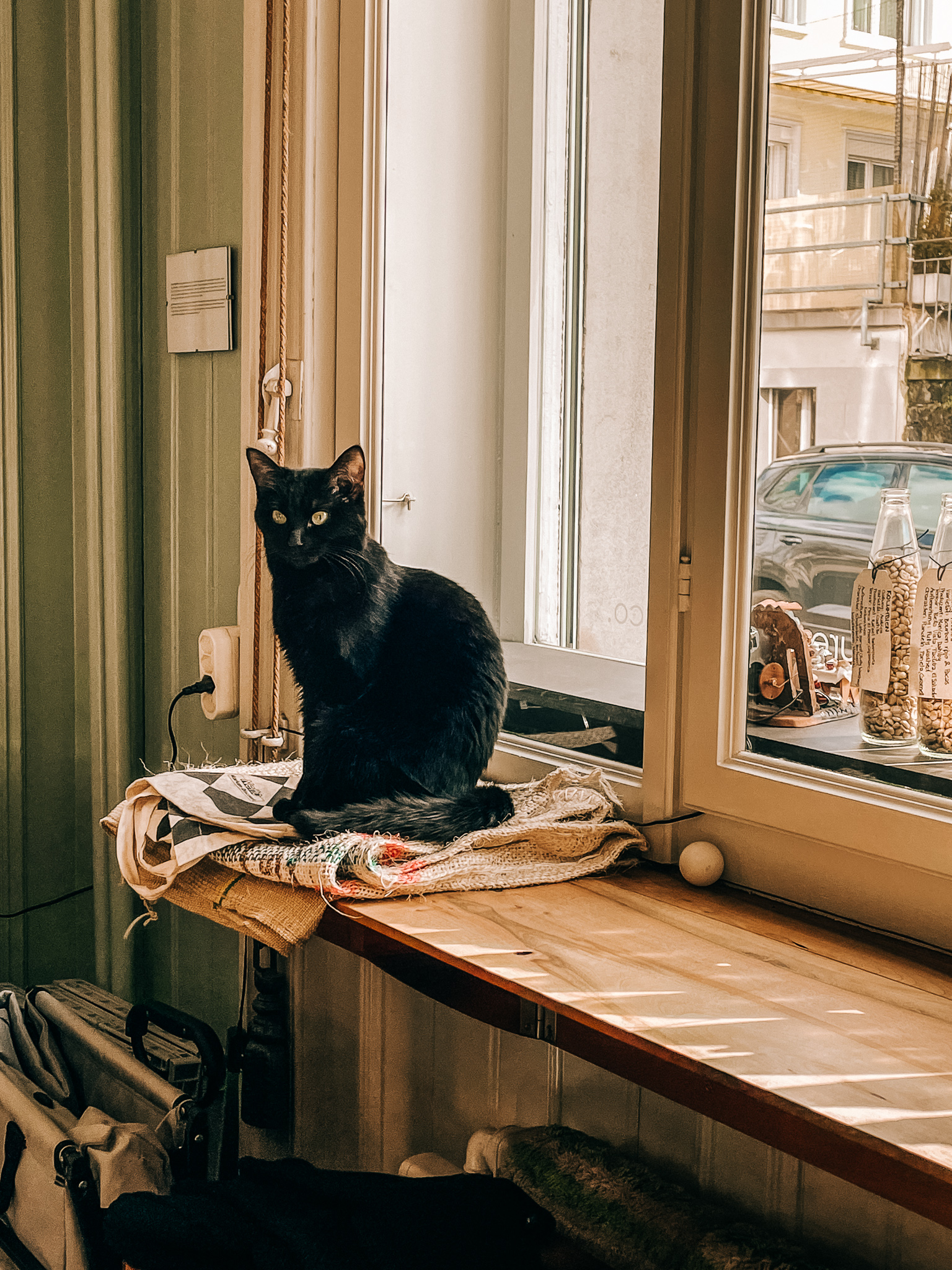 Hotel Restaurant Faulkenburg: This hotel is located on the hills of the city, offering spectacular views away from the hustle and bustle. It has a beautiful historic look, and is surrounded by nature which in winter, looks like a wintery fairytale.
Einstein St. Gallen: A 4 star hotel in an ideal location just a few steps from the major sites and old town, but on a much quieter street. It also has its own saunas and indoor heated pool facilities, perfect for unwinding after a winter's day.
Hotel Wallhalla: This hotel offers the best bang for your buck, as a more budget friendly priced hotel (as far as Switzerland goes). Conveniently located in front of the train station, many rooms here offer views of the old town.
Things to Know Before you Go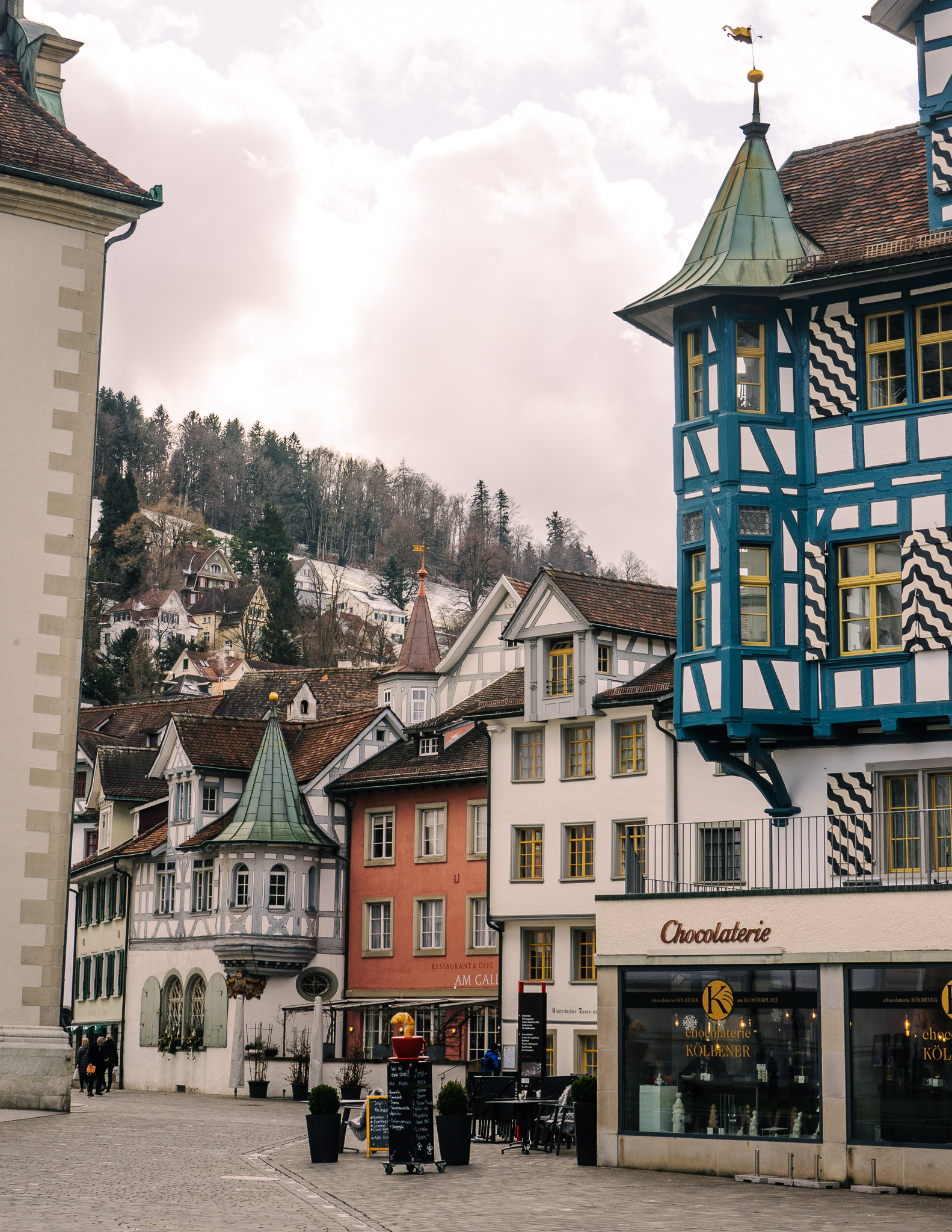 What language does St. Gallen speak?
St. Gallen is located in St. Gallen Canton, a German speaking canton. While German is the official language, you will find that many (if not most) people you encounter can speak very good English.
Is St. Gallen a Christmas village?
St. Gallen is not a designated Christmas village, but it is somewhat known as a Christmas destination. This is probably due to its proximity to Zurich and wonderful Christmas and decor.
If you'd specifically like to visit a Christmas village from Zurich, I'd suggest visiting Stein am Rhein instead.
See More: Guide to Visiting Stein Am Rhein – A Swiss Christmas Village
Best Restaurants in St. Gallen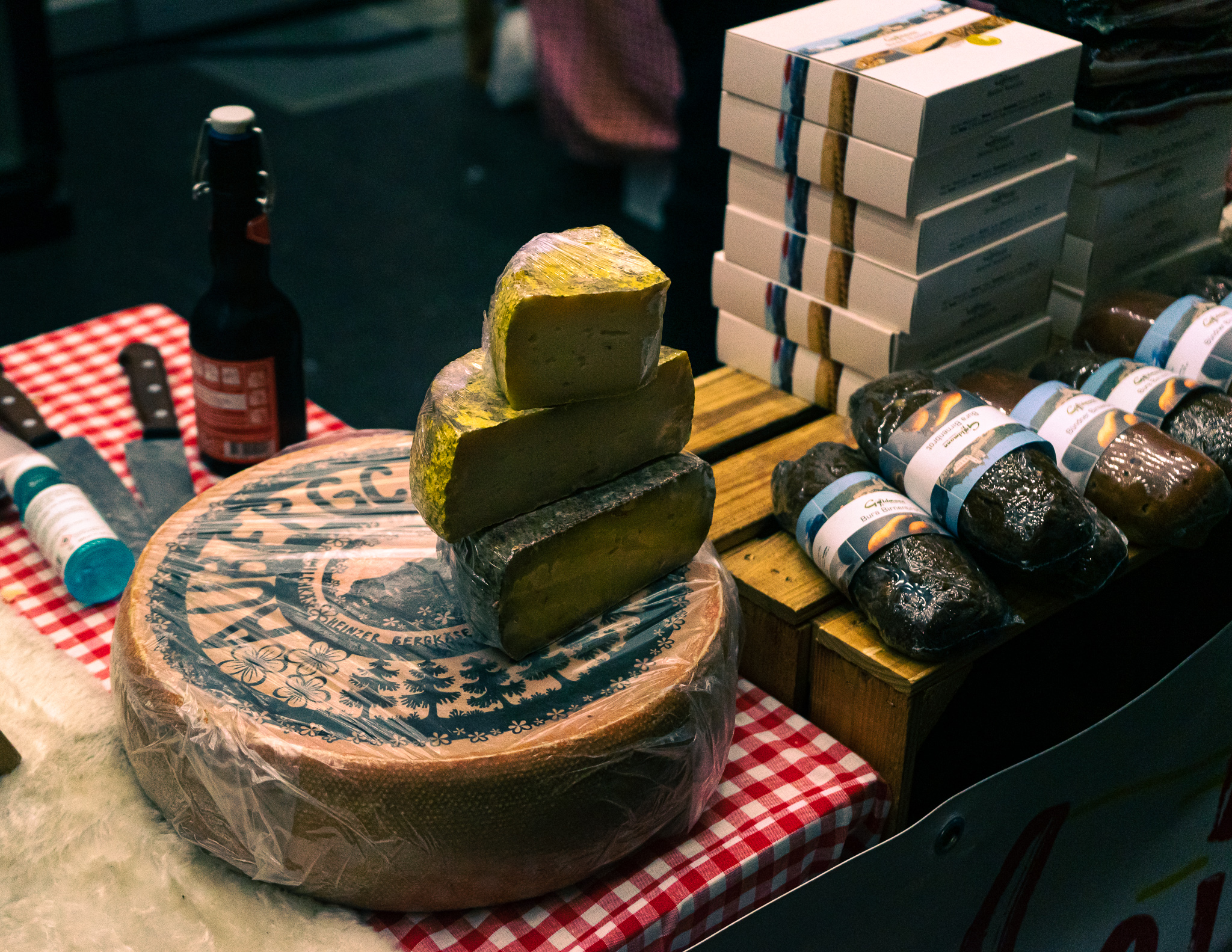 The Pinch: For a cozy, and minimalist ambience. Offers a smaller menu which highlights modern, seasonal dishes, using high quality ingredients.
Klosterbistro: Cute bistro located within the monastery walls. Offers a great breakfast menu as well as drinks and baked goods.
Lokal: Both a bar and restaurant, located in the Lokremise theatre buildings. People usually come here after seeing a show for drinks and some great food.
Fondue Beizli: For trying our more traditional, Swiss and regional cuisine.
Best Cafes in St. Gallen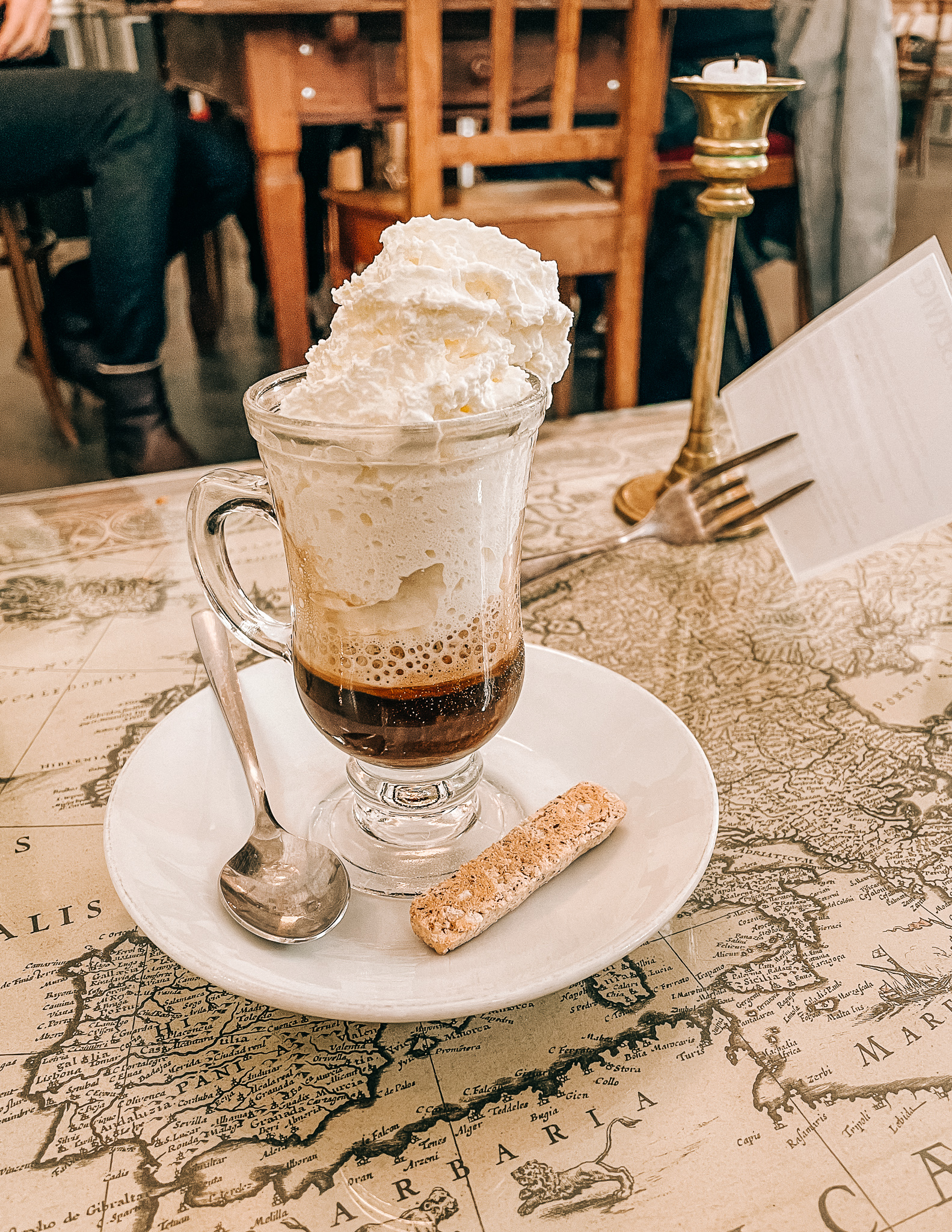 Kaffee Otmar: A hidden gem; intimately sized while offering maximum coziness and great coffee.
Kaffee Haus: Very hip and cool cafe; decorated with eccentric artwork and antique books and items.
Trüffelschnüffler: Small cafe located right in the city center; selling coffee and small locally made knick knacks and art.
Kafi Franz: Another cosy cafe, tastefully decorated that also offers lunch items.
Barista: A local favorite, known for their Australian coffee.
Best Bars in St. Gallen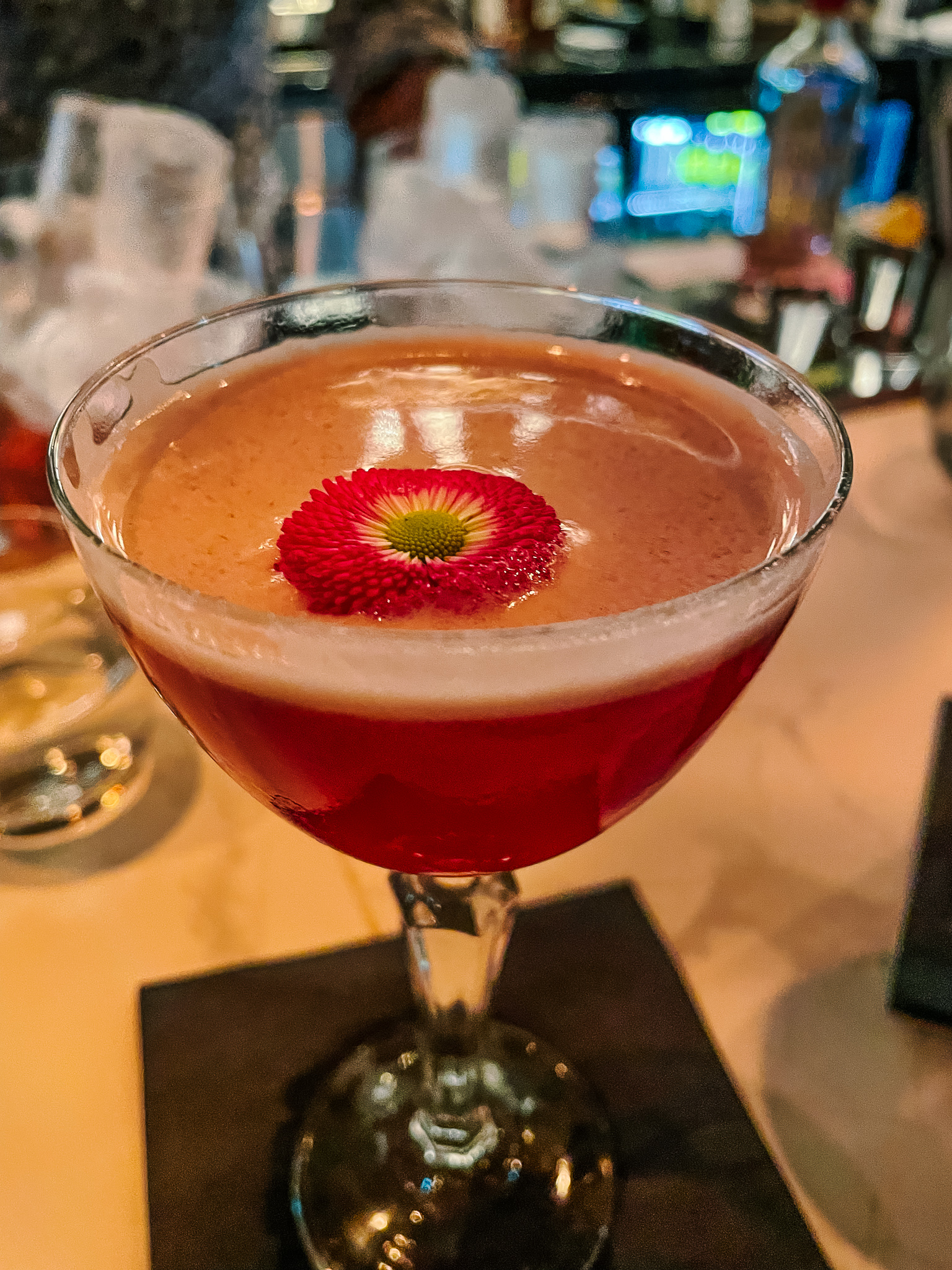 Sud Bar: One of the most popular bars, and routinely packed from shoulder to shoulder during the weekend. Offers great cocktails.
Magnum Bar: A good date spot, with sleek decor and an extensive fancy cocktail list and of course, good wine.
The Irish Pub: No frills type of place, offering cheap beers and a lowkey, casual vibe.
All the Bars on Augustinergrasse street: There is a section of this street with a square full of bars, and tons of people drinking outside on any given weekend. Alt St. Gallen, Rock Story and Lunaris are good places to start.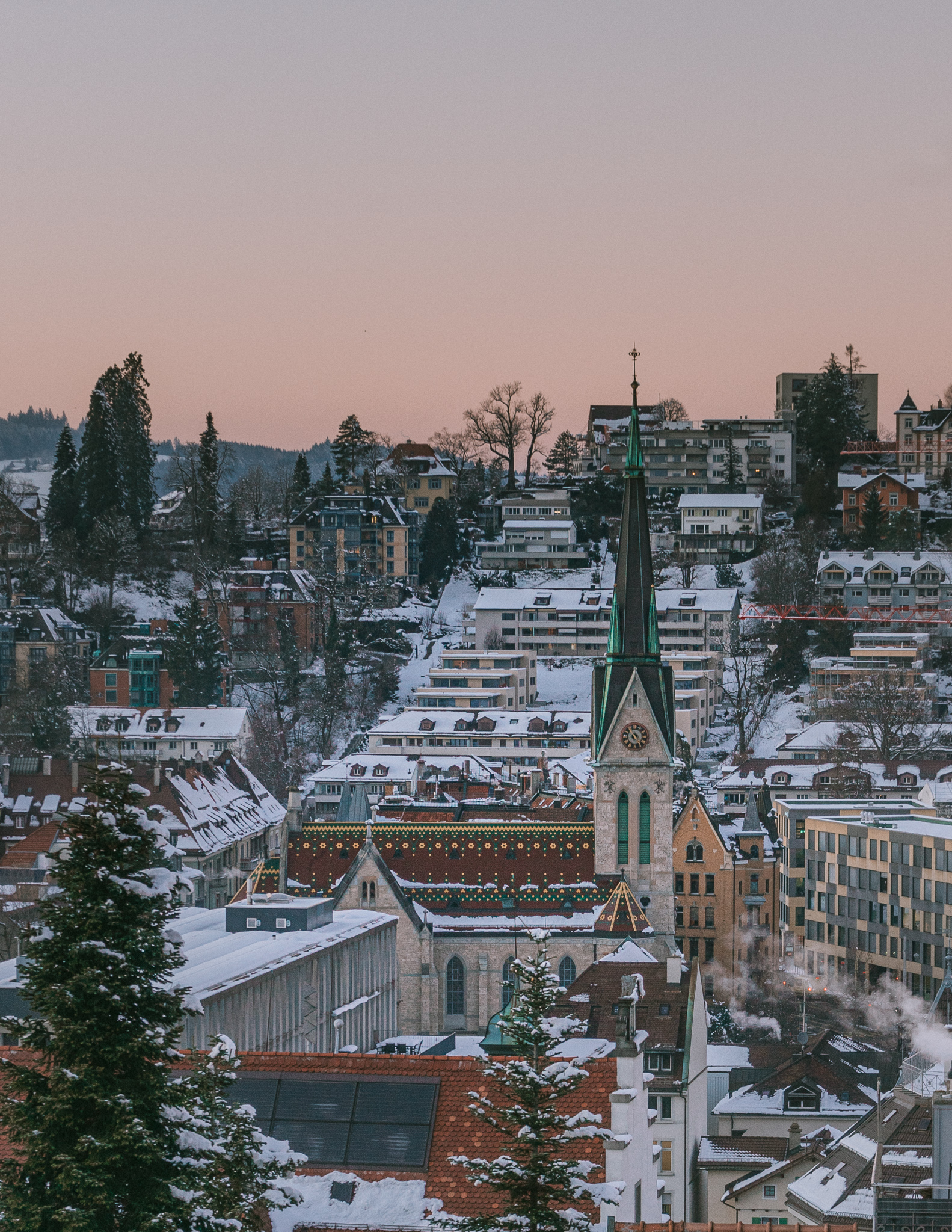 Well, there you have it! I've given you the full insider scoop on everything there is to love about St. Gallen in winter, and then some. I hope you'll love this little city as much as I do.
Want more ideas for your Swiss winter vacation?
For the Ultimate Winter Wonderland – Guide to Visiting Grindelwald in Winter
For a Fairytale Dream Village – Guide to Visiting Lauterbrunnen
Another Good Day Trip from Zurich – A Guide to Visiting Rapperswil