If you find yourself in search of a true winter wonderland, then look no further than Grindelwald Switzerland in winter.
Unlike how the name sounds, there is no Harry Potter connection to this small alpine village (sadly), but there is still ample magic to be found here.
Whether it's from stomping around in the purest, powdery snows, to testing your skiing skills on the slopes above town, or simply riding along in a literal horse drawn sleigh – Grindelwald will fulfill all your winter-y fantasies.
Here is a complete guide to Grindelwald Switzerland in winter.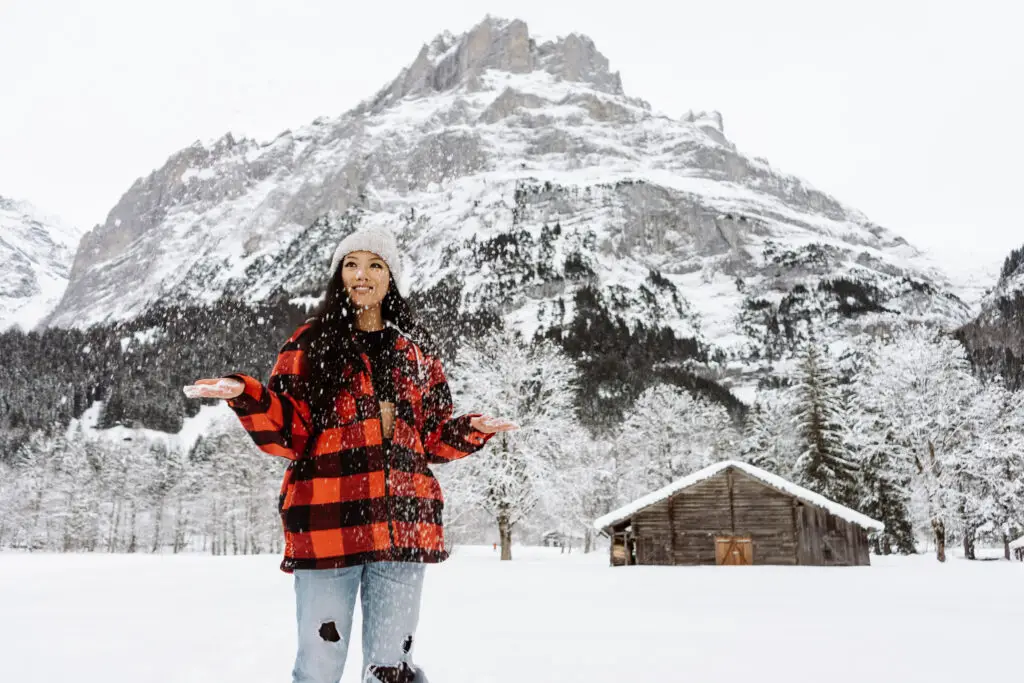 About Grindelwald Switzerland
Grindelwald was once an isolated alpine village tucked away from the rest of the world, likely only familiar to the farmers who resided there and their cows.
In 1818, the first hotel was built right in town and within a century, it became the bustling ski resort village that resembles what we see today.
Today, Grindelwald is the second largest mountain village in the Jungfrau region of Switzerland, an area renown for its dramatic mountain ranges and quaint alpine scenery.
While it's come a long way from its farmer village days, it still retains a lot of its old world charms amongst the cosmopolitan resorts and hotels. Here, you can still find historic wooden chalets and old traditions in use, such as horse drawn sleigh rides in winter.
It certainly ranks high among the best villages to visit in Switzerland in winter!
Is Grindelwald Worth Visiting?
Grindelwald itself is located in the Bernese Alp section of the Jungfrau area, and is reachable by both car and train. This makes it easily accessible and incredibly popular amongst both travelers and locals alike.
The village is surrounded by a dramatic mountain landscape, making it one of the most beautiful places in Switzerland, and perhaps the world.
When to Visit Grindelwald
While a visit here in the summer months offers a multitude of hiking opportunities, visiting Grindelwald in winter is still very popular due to the numerous winter activities on offer.
Not to mention just how beautiful the village looks under a layer of the white stuff!
Grindelwald, Switzerland in Winter
Visiting Grindelwald in winter means access to possibly one of the most gorgeous winter landscapes you can imagine. The elevation guarantees snow throughout the winter season, and many activities popular here are centered around winter.
Interestingly, it never gets too cold here in winter. Average day time temperatures can be between -1 Celsius and 6 Celsius. This is more mild than even some of the cities in Switzerland.
For more on weather conditions in Grindelwald Switzerland in winter, click here.
Grindelwald in December
December is a remarkably enjoyable time of year to visit Grindelwald. Like the rest of Switzerland, Christmas vibes will be in full swing, and you can find the village festively decorated to reflect the season.
As a result, this is also the busiest month in Grindelwald, aside from the peak of summer. Sure, it won't be as busy as Zermatt during Christmas, but you should still plan to book your hotels well in advance, and prepare for the crowds.
It's sometimes even hard to find a seat in some of the bars in this time of year, especially on weekends, when Swiss travelers are likely to be in town.
If you are staying for the week surrounding Christmas and New Years, you may want to make restaurant reservations when possible, as they can easily book out.
Want more Swiss winter ideas? Check out: Best Swiss Villages in Winter
Getting There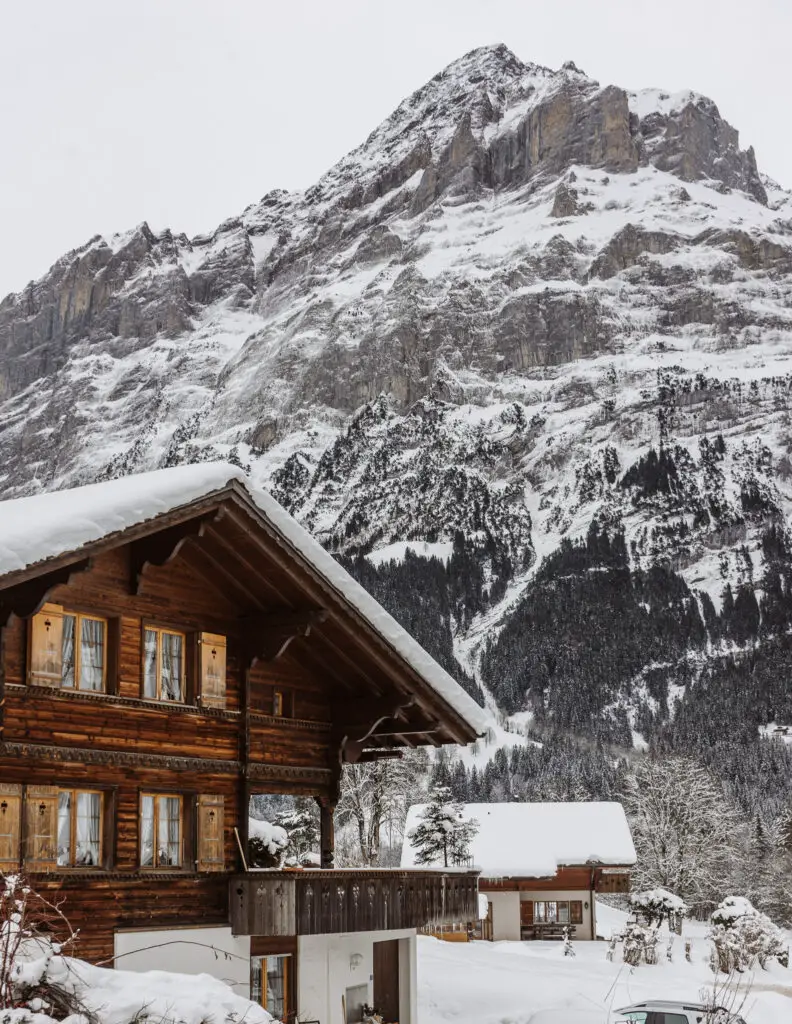 Visiting Grindelwald By Car
Visiting Grindelwald Switzerland in winter by car is fairly easy, as it can easily be reached as a day trip from Interlaken or even Zurich, both popular hubs.
You'll just need to have the proper tires, as there is a good chance of snow or ice on drive up through the mountains.
As far as parking goes, this is by far biggest downside to coming by car. There is only one public parking garage and it fills up quickly on weekends. In our case, we found that it was completely full when we arrived.
Parking in Grindelwald
In Switzerland, almost all parking is paid, including on the side of the street. Luckily we found an unnamed parking lot near Landi Supermarket that was free.
I am unsure if you are officially allowed to park there, but we saw about 10 other cars doing it, and none of us got fined.
You can find the free parking lot around here.
If you plan to spend a few nights here, I would 100% recommend finding a hotel with onsite parking.
Visiting Grindelwald By Train
You can get directly to Grindelwald by train, as there is a train station within the village itself.
From Zurich
It's a 3 hour journey from Zurich. You'll take a train to Bern, then transfer there onto a train towards Interlaken. From there you'll take a final regional train to Grindelwald.
The entire journey will cost at least 57 CHF. Depending how long you plan to travel in Switzerland, you should consider getting the half fare card, to get 50% discounts on all train fares for a full month.
Coming from Zurich? Check out this city nearby: Guide to St. Gallen in Winter
From Interlaken
From Interlaken, there is a direct train headed towards Grindelwald, and arriving in about 40 minutes.
For train bookings in Switzerland, I'd recommend using Trainline.
They offer up to date train route information, and you can compare the prices of different schedules. You can get your tickets directly onto your phone, super convenient!
Things to Bring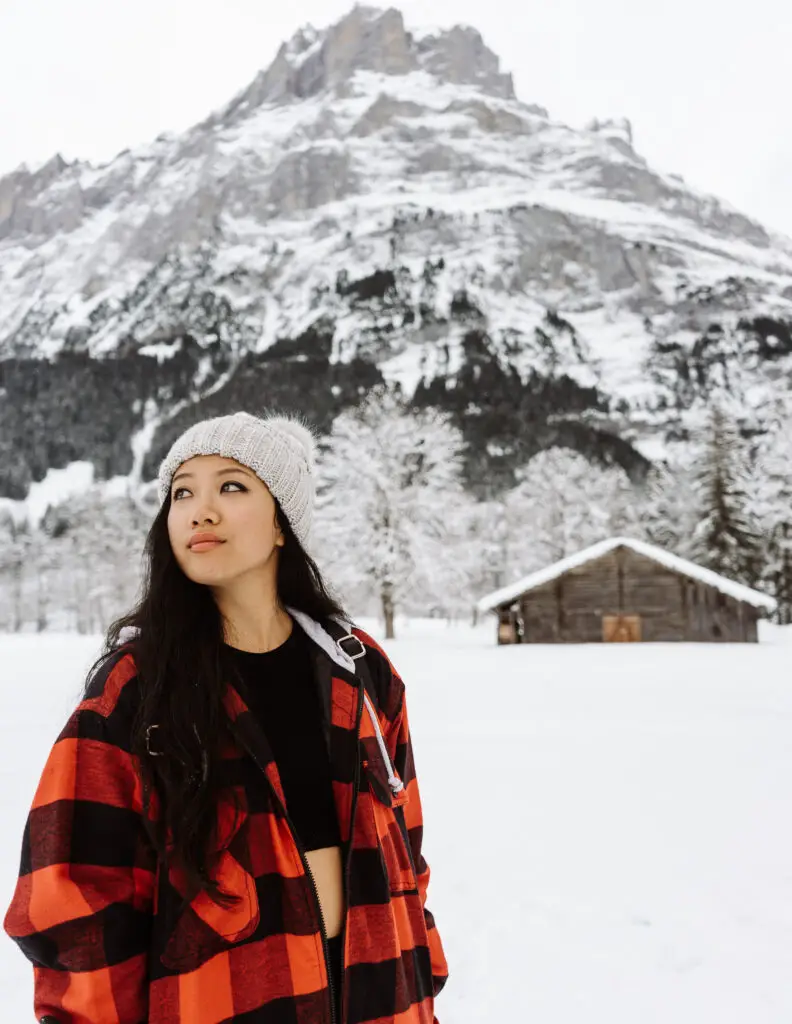 Although Grindelwald is not the coldest place to spend winter in Switzerland, it's still pretty darn cold. To fully enjoy the snow and the wonderful winter activities, you'll want to be appropriately dressed to withstand the elements.
Things I'd suggest bringing:
snowboarding jacket: the thicker the better
a warm hat – must cover the ears
a scarf: I forgot one and my neck was cold all day
waterproof backpack: this will be useful for when hiking or snowboarding and it starts snowing, or worse, raining!
waterproof boots: I stepped through some ice that was disguised under snow, and was thankful my shoes were waterproof.
really thick socks: after several hours outside, your toes will freeze
waterproof gloves: you don't want wet fingers every time you pick up snow!
Things to do in Grindelwald
When it comes to things to do in Grindelwald in winter, you'd be pressed to find a moment of boredom while here.
You have the mountains as the perfect backdrop and playground, offering endless possibilities for wintertime activities, sports, and exploration. And for those lazier days, you have the village itself, made up of charming wooden huts offering restaurants, bars and souvenir shopping.
Here are the top activities and what to do in Grindelwald in winter.
Snowboarding and Skiing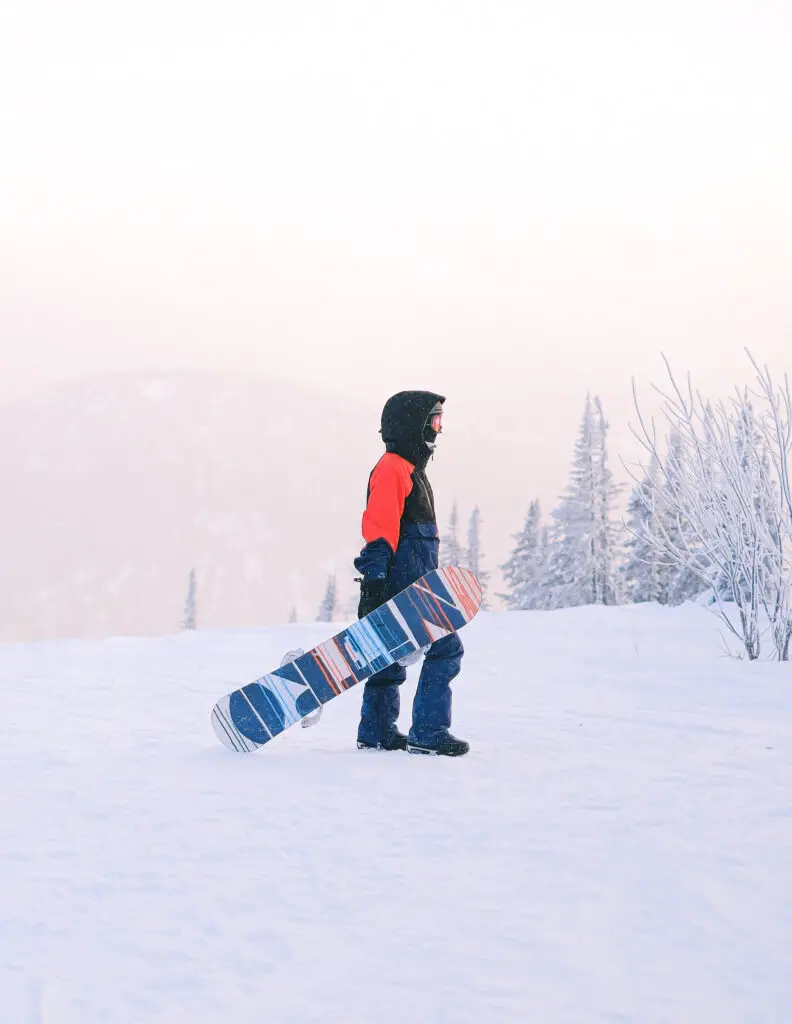 It's likely that most people who are visiting Grindelwald, are planning to hit the slopes. Luckily, there are plenty of ski runs to choose from to keep a winter sports enthusiast occupied for days.
For more information, and prices click here.
Tobogganing
I have yet to discover a country where tobogganing is so popular. In Switzerland, it's not just a recreational activities for kids and families, but fully grown adults as well.
I love that! After all, people of all ages deserve to have fun. In Grindelwald, they have perfectly carved out toboggan tracks down the mountain, for you to safely enjoy this activity. It's a fantastic way to enjoy the scenery.
To rent a toboggan head to Buri Sport, located conveniently next to the train station.
Buri Sport is open from 9 AM until & 7 PM, so you don't need to worry about returning the toboggan until well into the evening. Find the shop here.
Cross-country skiing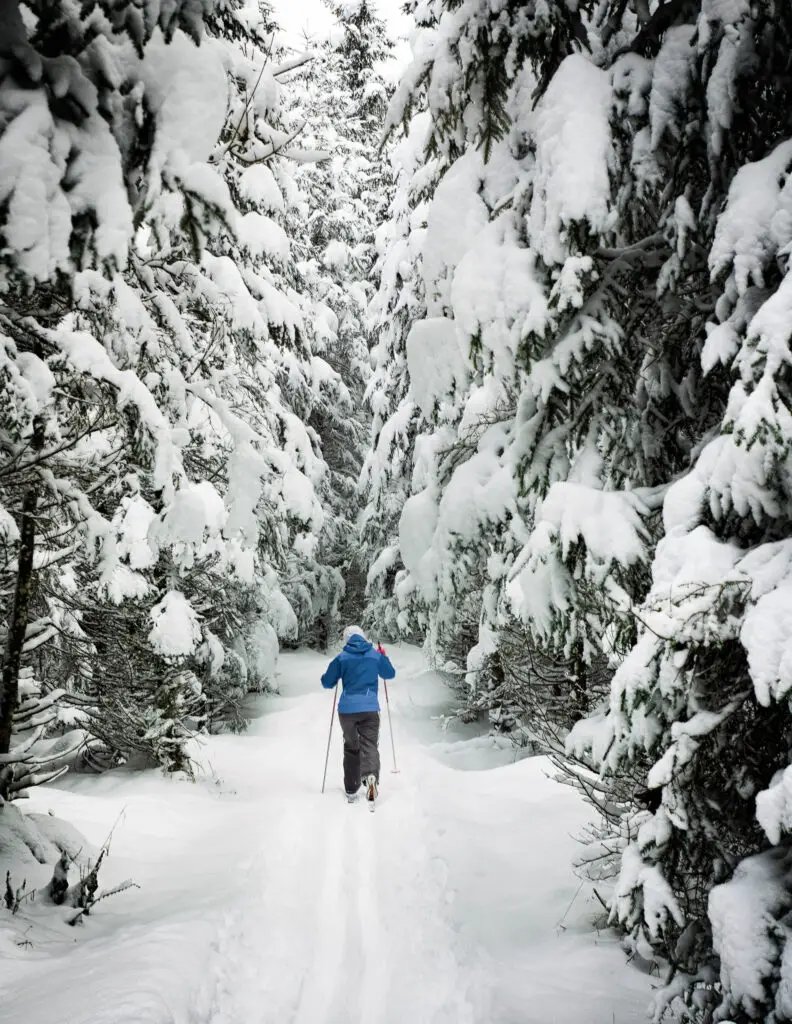 This also seemed to be a popular activity for winter in Grindelwald. You don't even have to venture up the mountain to partake either. I saw parts of the cross-country ski run just going around the outskirts of the village.
This is ideal if you are a beginner and just want a quick taste of this sport, without venturing too far from town. The scenery is just as nice from the valley floor, as you have the mountains all around you, and will pass by frozen streams every now and then.
Open Air Spa
If you are looking for a more relaxing way to soak in the mountain scenery, opt to spend an afternoon lounging in one of the outdoor thermal pools.
My favorite hotel for this is Hotel Spinne, as they offer the best in terms of amenities and price. They have a newly installed infinity pool offering a stunning view of the mountains and valley below.
The water is a comfortable 34 degrees celsius, making it the perfect place to soak on a winter afternoon, with a glass of wine!
In 2021, due to COVID they informed me that the pool is only for hotel guests, but it's possible that in the future they will offer a paid day pass, if you just want to visit for a couple hours.
Best hotel in Grindelwald with spa + mountain view: Book HERE!
Visit the Village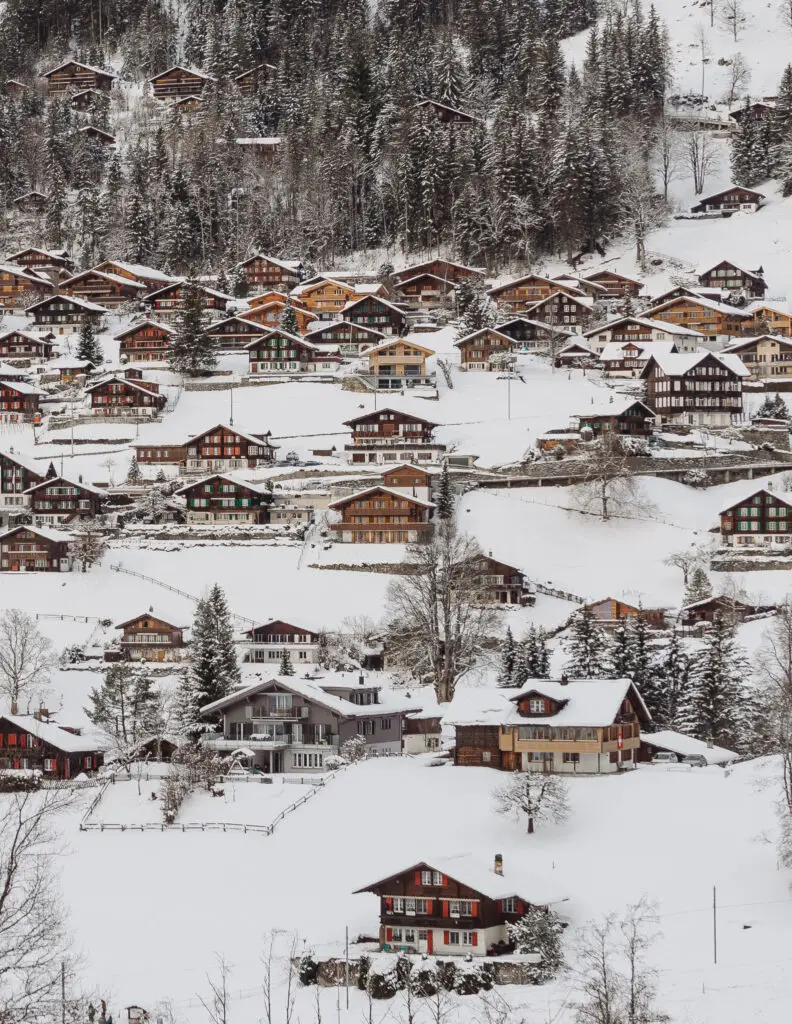 Grindelwald village itself is mainly comprised of the main road, and the village center, where most of the hotels and restaurants are.
It's a lively place to be, as Grindelwald is quite a popular destination for domestic tourism on top of foreign visitors. It can be crowded at times, but it's also where you'll find restaurants, souvenir shops and places to hide from the cold for a bit.
You'll also find the iconic Reformierte Church, a popular place to snap a souvenir photo.
If you walk just a bit outside the main road, you'll encounter the quieter side of Grindelwald. If it weren't for the ski resorts, this would still be a peaceful mountain village, and in some areas it still feels that way.
You'll pass the cutest wooden alpine chalets, all built in the quintessential Swiss mountain cabin style.
Go for a Sleigh Ride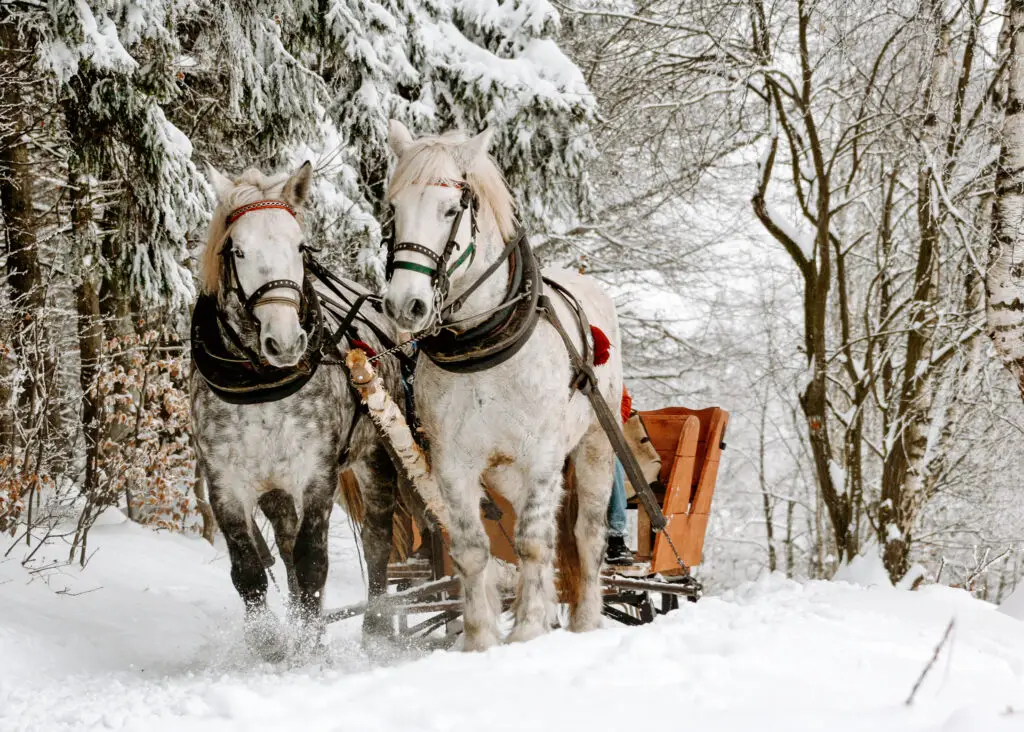 If you love all things Christmas-y as much as I do, this activity is for you. I was so excited, when I was walking in the snow around Grindelwald, admiring the surroundings, when I started to hear jingling bells.
I turned around and saw some people riding by in a sleigh pulled by horses. It was so cute!
This is another option for exploring the area, in a much more leisurely and festive fashion.
From what I'm told only one place currently offers this experience in Grindelwald, but you can check with your accommodation or the tourism office to check on arrival.
The place I know of offering rides can be found here.
Want more Swiss Christmas Destinations? Read: Guide to Stein am Rhein
Eat Raclette
Raclette is an essential meal to try at least once while in the Alps, especially in Grindelwald Switzerland in winter.
I had raclette for the first time in France, and while my French friends will argue that it's a French creation, something tells me that Switzerland, a dominating cheese producing country, may actual offer the better raclette.
Raclette is made with simple in ingredients, and hearty for the belly and soul. It's usually comprised of boiled potatoes and some cured meats, which you will smother with melted cheese that is coming hot off the cheese wheel under a heated lamp.
Make no mistake, this ain't yo mamas diet food but a rich, fatty, artery clogging masterpiece. After a long day on the slopes or playing in the snow, there's nothing that warms you right up like raclette though.
You can try raclette at Barry's Lounge or Alderstube, but honestly, it's so popular in this area that you can find it in most restaurants on the main road.
Go Paragliding
I was surprised to see that they were offering paragliding even in winter, and even more surprised to see how many people participated!
If you have a thirst for adrenaline, or just want to see the Alps from another angle, this is an amazing bucket list activity to tick off your list here.
When I visited, the paragliding took place in the afternoon, but it's likely weather dependent. You can book a ride with Paradgliding Jungfrau which can be found here.
Ride the Train
From Grindelwald, it's possible to board a train and go even further up into the mountains.
You can board the Wengernalp Railway at Grindelwald Station. From there, it's just a 24 minute ride to reach the summit of the Kleine Scheidegg Pass.
The ride isn't long but you'll pass by some of the most stunning scenery of the mountains. It may be one of the most beautiful train rides you will ever take, seriously.
Once you arrive at Kleine Scheidegg, you'll be sitting at a cool 2,061 meters in altitude. If you take another cable car from here, you can reach the Jungrfaujoch, the highest point in all of Europe!
Try Some Fondue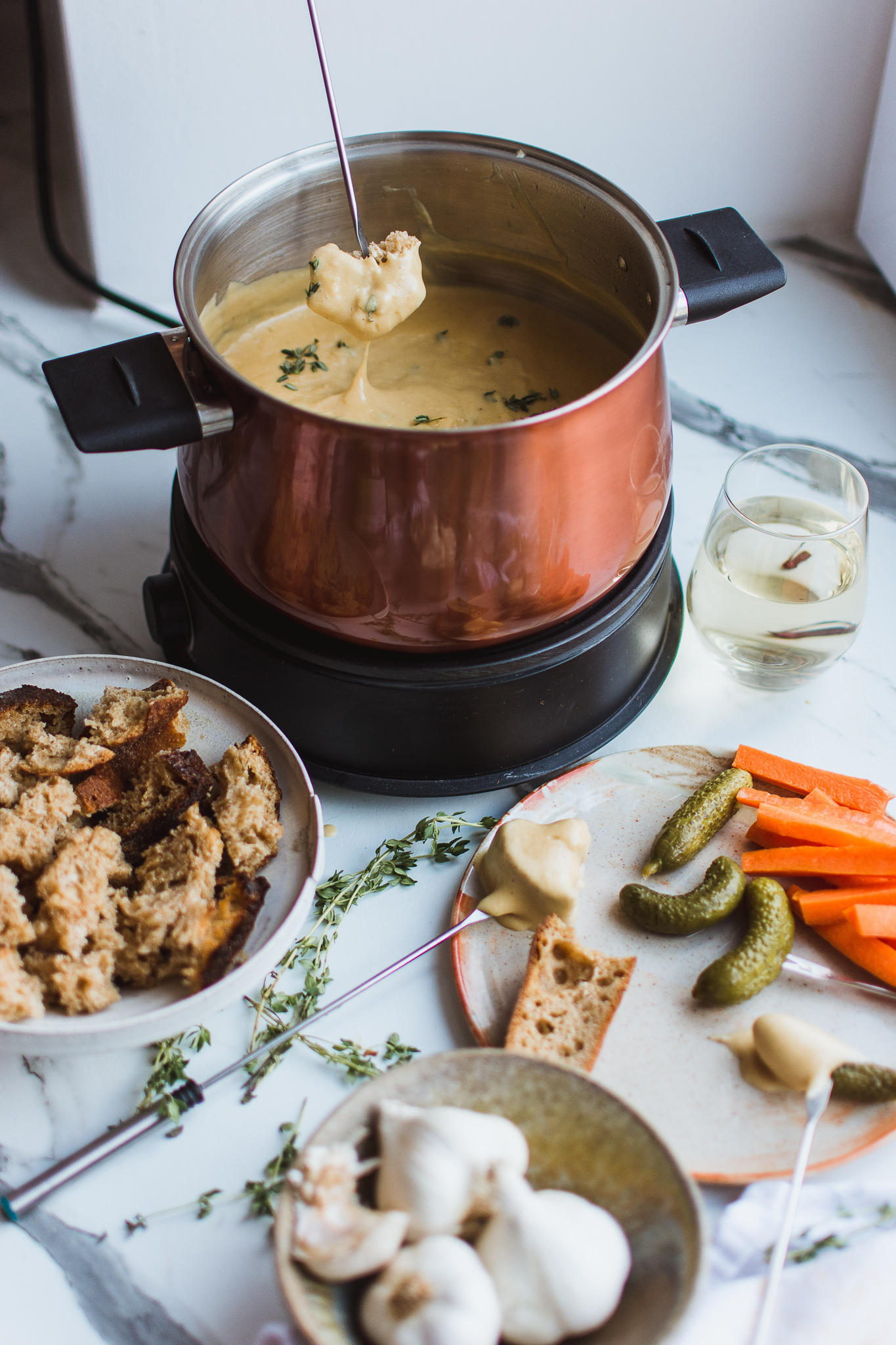 Another essential food to try in Grindelwald in winter, or anywhere in Switzerland really, is fondue. Unlike raclette, where you scrape melted cheese onto your meat and potatoes, fondue is even more simple.
It's just a pot of melted cheese, that you dip bread into. As basic as it sounds, it's simply amazing.
For high quality cheese, head to Zenger Kase & Getranke. It's actually a cheese shop, that offers fondue in winter made from their own products.
Hike the Walking Path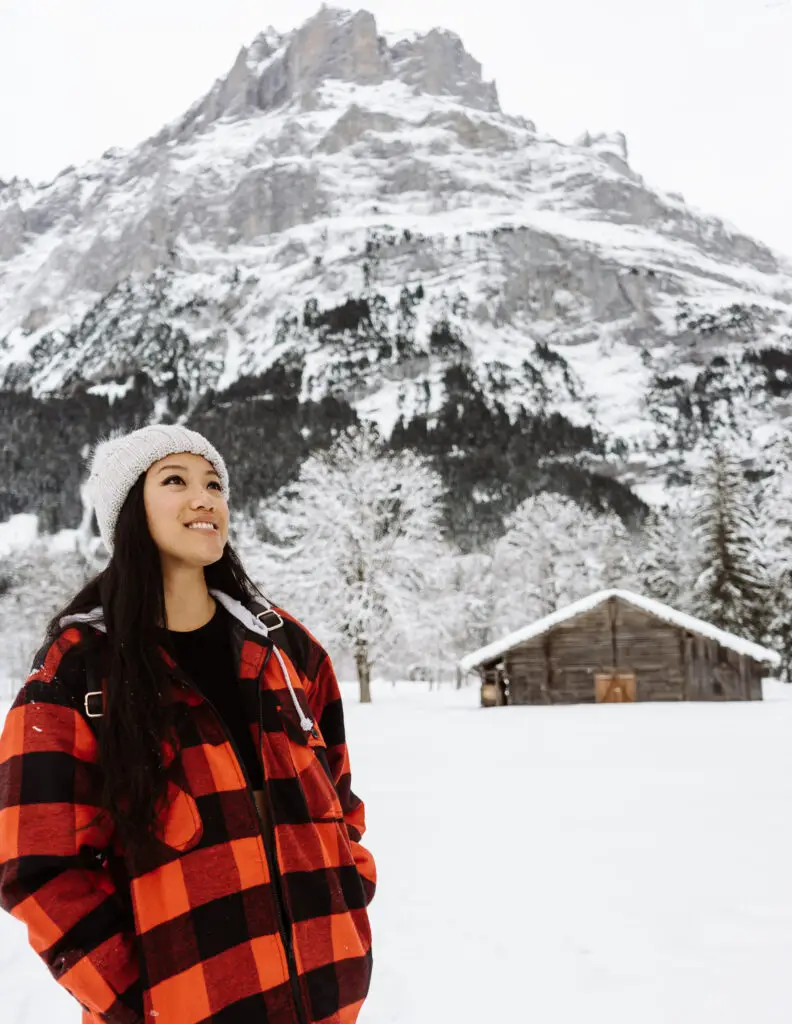 This is the activity I personally enjoyed most in Grindelwald in winter. It's totally free, and you don't even have to go far from the village to enjoy the best of the scenery.
There are well marked walking paths all around Grindelwald, which even in winter, are totally walkable even without gear.
You can walk along the river, between the icy trees, and across the snowy field while taking in the mountain views.
In summer, these paths connect to the hiking trails that go much further into the mountain. It's possible to do some snow-hiking to reach higher parts of the trail, but they aren't as well maintained the higher you go, and proper snow-hiking gear will be needed.
Visit Lauterbrunnen
Another super cute village to visit in winter is Lauterbrunnen. You can get there easily by train or car from Grindelwald, so it makes a great day trip.
It's not nearly as lively as Grindelwald, but it's a postcard perfect village, inside a valley of 72 waterfalls. Sounds amazing? It is, read all about Lauterbrunnen here!
See More: A Complete Guide to Lauterbrunnen in Winter
Where to Stay
Visiting Grindelwald can be done as a day trip, but you will not be able to try the many activities on offer, nor will you get to really enjoy the magical nighttime ambience of the village.
I'd fully recommend staying at least one or two nights – and more if you'll do day trips up the mountains.
For a Luxury Experience
For a truly unforgettable experience, there are loads of large luxury chalets in Grindelwald, perfect for any occasion and group size.
If you book with The Luxury Chalet Company, they can find you anything from a simple stand alone property with parking, to a fully catered 3 floor chalet, with onsite sauna and spa (as well as everything in between).
Other Great Hotels in Grindelwald:
Hotel Spinne: This is my top pick in terms of value for money, location and amenities. It's a 4 star hotel, with the highlight definitely being the heated, outdoor infinity pool that overlooks the valley and mountains right in front of it. They also offer spa services, with breakfast included.
Bergwelt Grindelwald – Alpine Design Resort: This hotel is ideal for those wanting an indulgent, luxurious experience. The resort has more of a boutique lodge feel, with each room specially crafted in design to resemble a modern luxury cabin. Includes an onsite gym, sauna, spa, and pool.
Bergastthaus First: This is the most budget friendly option in Grindelwald. It's pretty basic, but clean for a hostel. You can book a private room or even a dorm bed for those looking for the cheapest option. Great for solo travelers.
Where to Eat
Glacier: I was recommended to eat at this hotel more than once. It's located inside a nice hotel, and they offer unique dishes and 5 course menus. It's not cheap, but the food and view will be a memorable part of your trip.
Pizzeria Grund: This is some heavy, but quality food. You can order pizza, or meat dishes with a side of beer. They also have raclette at reasonable prices.
And there you have it! The complete guide on visiting Grindelwald. Whats your favorite place in Switzerland in winter? Let me know for my next trip!