This list is the ULTIMATE compilation of 50 of the best things to do in Osaka.
Whether you are an expat who's new in town, or a tourist just stopping by, this list has got you covered for endless ideas on what to do in Osaka.
If you are considering skipping it, don't. I can't tell you how many times I heard people say they had more fun in Osaka than Tokyo.
I was lucky enough to call Osaka my home for almost 3 years. I fell absolutely in love with this quirky and vibrant city and never got bored of exploring every nook, cranny and side street.
In that time, I was able to explore so much of the city, which is why I made this detailed list of the best things to do in Osaka.
Here is the ULTIMATE guide on the 50 best things to do in Osaka!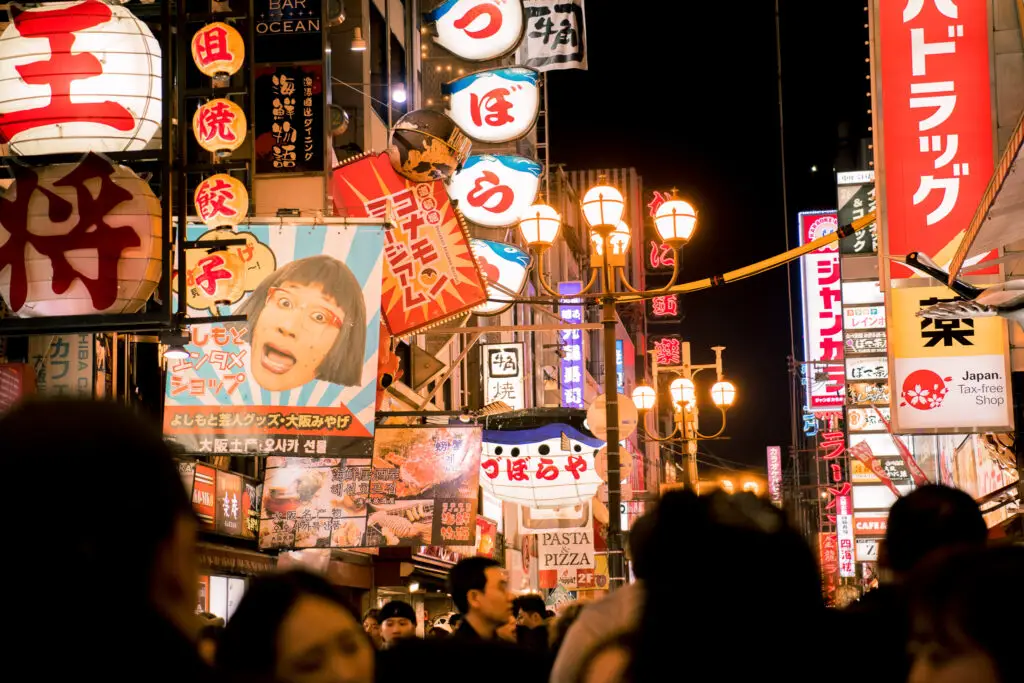 Getting to Osaka
Most travelers will fly into either Tokyo or Osaka when arriving in Japan.
If you fly into Osaka, you will likely land at KIX aiport. From there you have an hour long train ride to get into Osaka.
Tokyo to Osaka
If you are coming from Tokyo, the best way to get to Osaka is by taking the Shinkansen (bullet train). I'd advise getting a JR Pass to allow for cheaper travel around Japan by shinkansen.
A round trip ticket from Tokyo to Osaka is already about 22,000 JPY, so having the pass will already save you money there.
If you plan to travel to other popular destinations in Japan like Kyoto, Nara, Hiroshima and beyond, the pass will save you a TON of money.
To get a JR Pass click here.
Where to Stay in Osaka
I would advise most travelers to base themselves either near Namba Station or Umeda Station while in Osaka.
Both are major train stations, making it easier to travel throughout the city and beyond. They are also very lively and exciting parts of the city.
Namba
Namba and the Shinsaibashi area is the chaotic part of the city, where the famous Dotonburi neighborhood is.
It's best for travelers who want to party and go clubbing, as it has the most accessible nightlife options for foreigners.
The best hotels around Namba would be any of the Mimaru Hotels for all around value, comfort and location.
Hotel Royal Classic is another well located hotel featuring western sized rooms (not always available in Japan!).
Umeda
The area around Umeda is more of a financial district, with modern high-rises and corporate buildings.
This area is better for couples, and those who want to do serious shopping as there are massive shopping malls in this area.
As a finance hub, this area has more of the upscale 5 star hotels that cater more to business type travelers. The Intercontinental Hotel is easily regarding as one of the best hotels in Osaka, and surely offers the best views of the city.
Another beautiful, bucket list hotel in Osaka is the Conrad Hotel. This hotel also has amazing views of the city below, which you can enjoy from their swanky indoor pool and bar.
50 Best Things to Do in Osaka
1. Visit Osaka Castle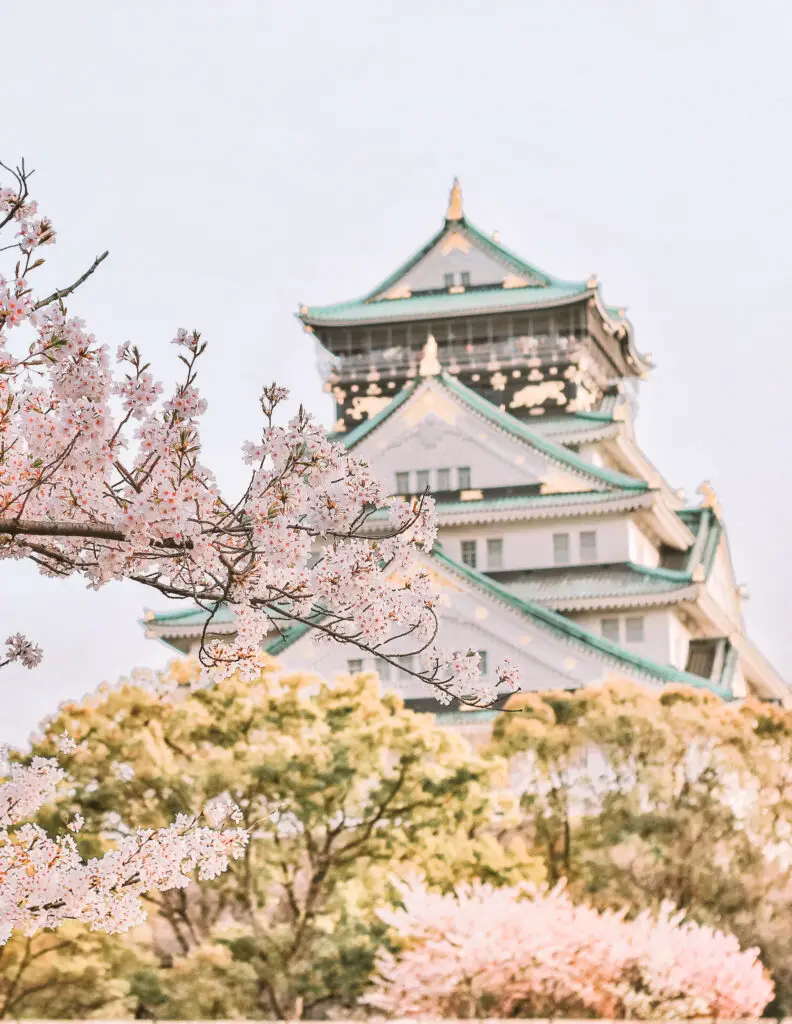 One of the most popular things to do in Osaka is visit the castle. It is definitely on the tourist trail, but worth it. The trick is to not go inside the castle. There's hardly anything inside to see.
Instead go for a walk around the park, or have a picnic. There are food stalls around the park, where you can get some Japanese soft serve ice cream or snacks.
During cherry blossom season, this park is bursting with cherry blossom trees.
Nearest train station: Temmabashi Station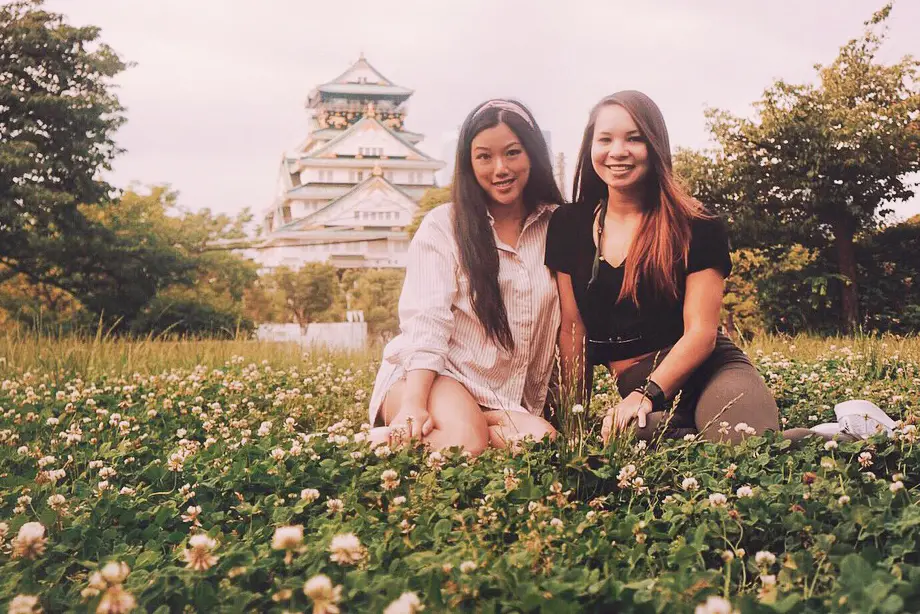 2. Osaka Aquarium
Another popular place for tourists, is the Osaka Aquarium. If you've never seen a whale shark, it's worth the visit. But at 2000 yen ($19 USD) entrance price, feel free to skip this if you've been to enough aquariums before.
Nearest train station: Osakako Station
Entrance Fee: 2000 yen
3. Dotonburi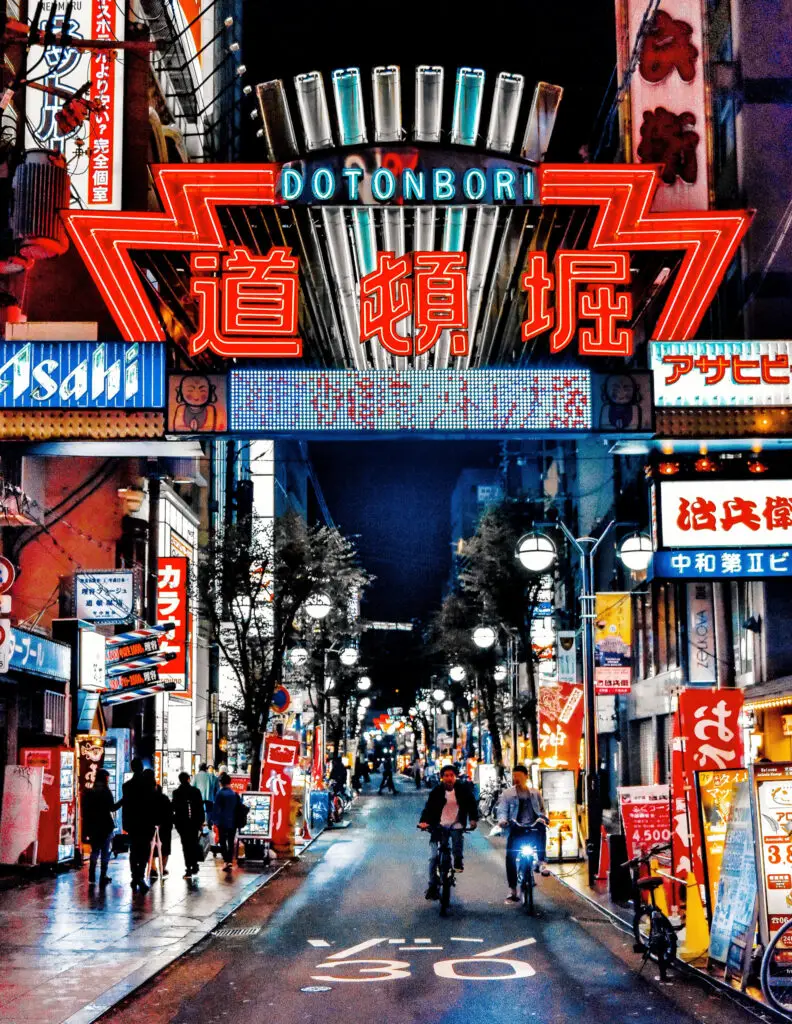 One of the busiest places in Osaka, day and night, is Dotonburi. It's the quintessential Japanese city experience. Here you can eat, shop and drink, in the midst of the chaos.
Be warned, it is definitely an overstimulating atmosphere for all your senses. There are people walking by from every direction. The bright lights from the shops and flashing billboards will daze you. You will hear shop buskers yelling from every direction, and get smacked in the face by a selfie stick or two.
It's not a chill spot, but it perfectly defines the energetic vibrance of Osaka. You haven't experienced Osaka, until you come here.
Nearest train station: Namba Station
4. Eat Okonomiyaki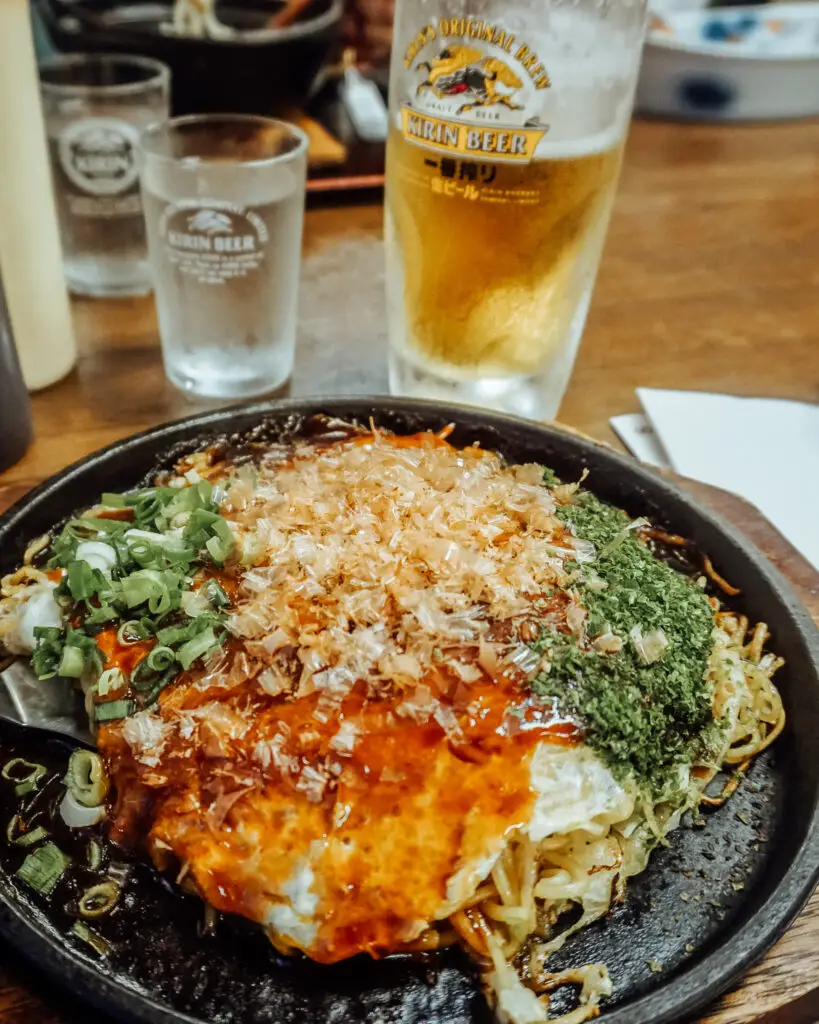 This food originated in Osaka, and you can't leave without trying it.
The best way to describe it, is as a thick savory pancake, stuffed with seafood and meat. Traditional okonomiyaki will be topped with okonomiyaki sauce, green onions, bonito flakes, and Japanese mayonaise.
The best okonomiyaki can be found at Negiyaki Okonomiyaki Fukutaro. This place is conveniently located in the Namba area.
There is usually a waitlist, of mostly locals. They prepare the okonomiyaki right front of you.
Nearest train station: Kintetsu- Nipponbashi Station
5. Walk Around "Den Den Town"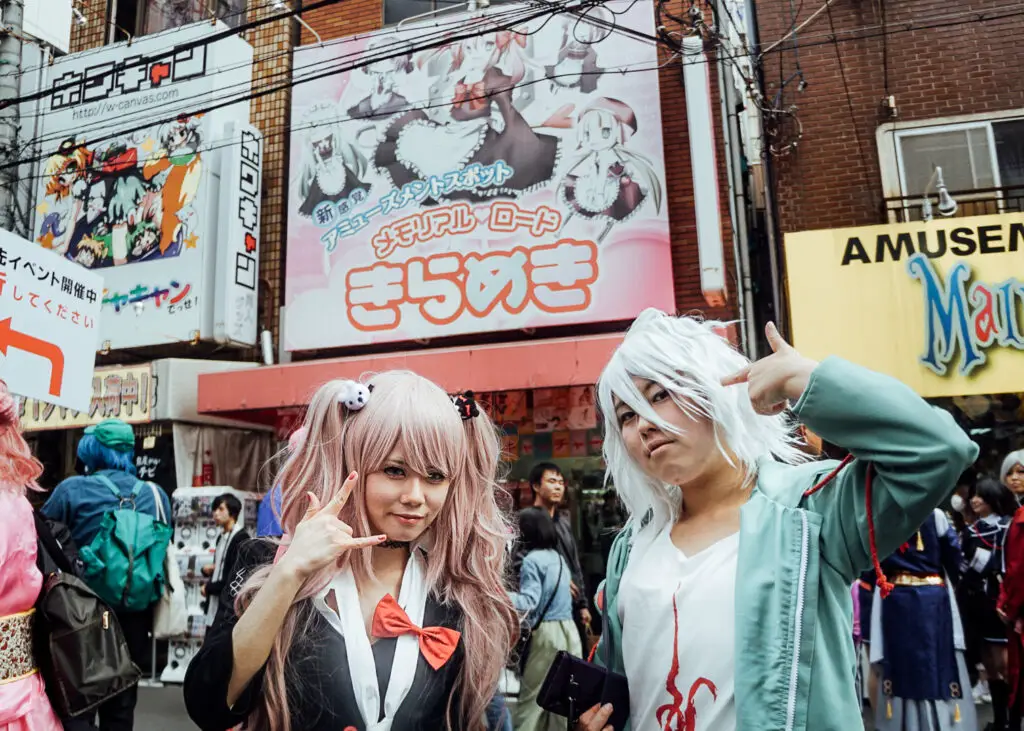 Den Den Town, is an area located in Nipponbashi, a district of Osaka not far from the center.
This area is known for the anime and manga shops that fill its streets. Even if you aren't into anime, a walk through here will give you a feel for another side of Japan.
It's an "otaku" paradise, a word that means anime nerd. Once every spring there is a huge cosplay festival here.
Nearest train station: Nipponbashi Station
6. Visit Universal Studios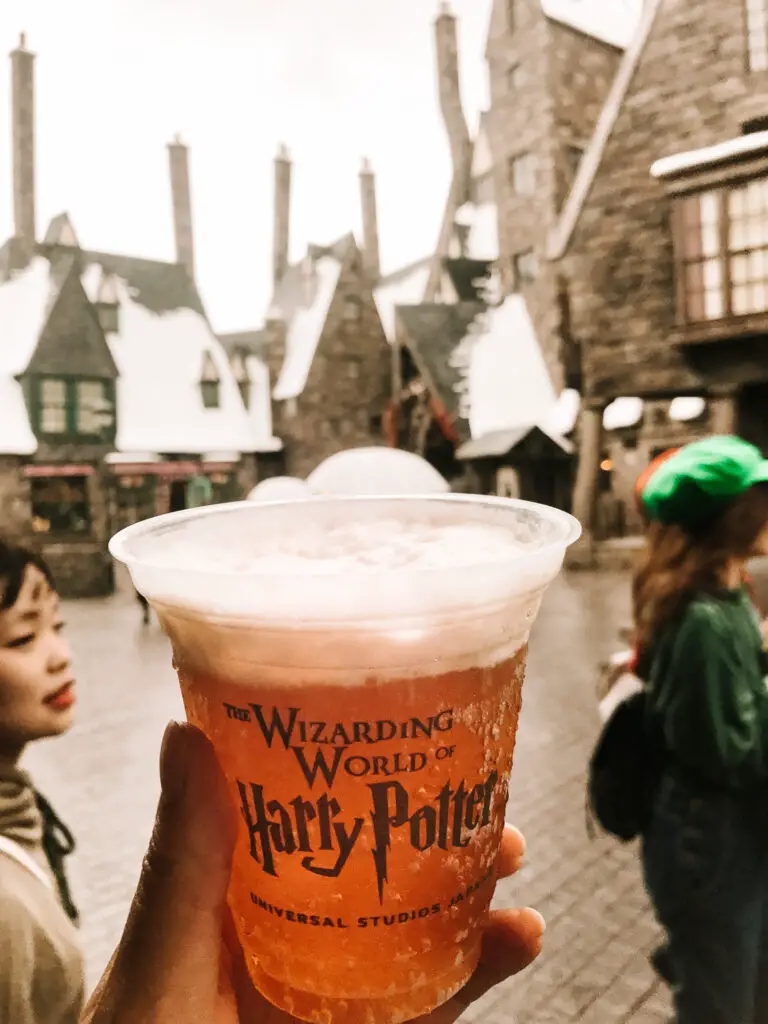 The Universal Studios here is somewhat a splitting image of the one in California. But, it is cheaper and fun so, why not?
The lines here are possibly longer than the one in California, but still a good time. If you are around for Halloween, they have a really fun event here to experience Halloween festivities in Japan.
Entrance fee: 7400 yen for one day ($70 USD)
Nearest train station: Universal City
7. Visit Temma Station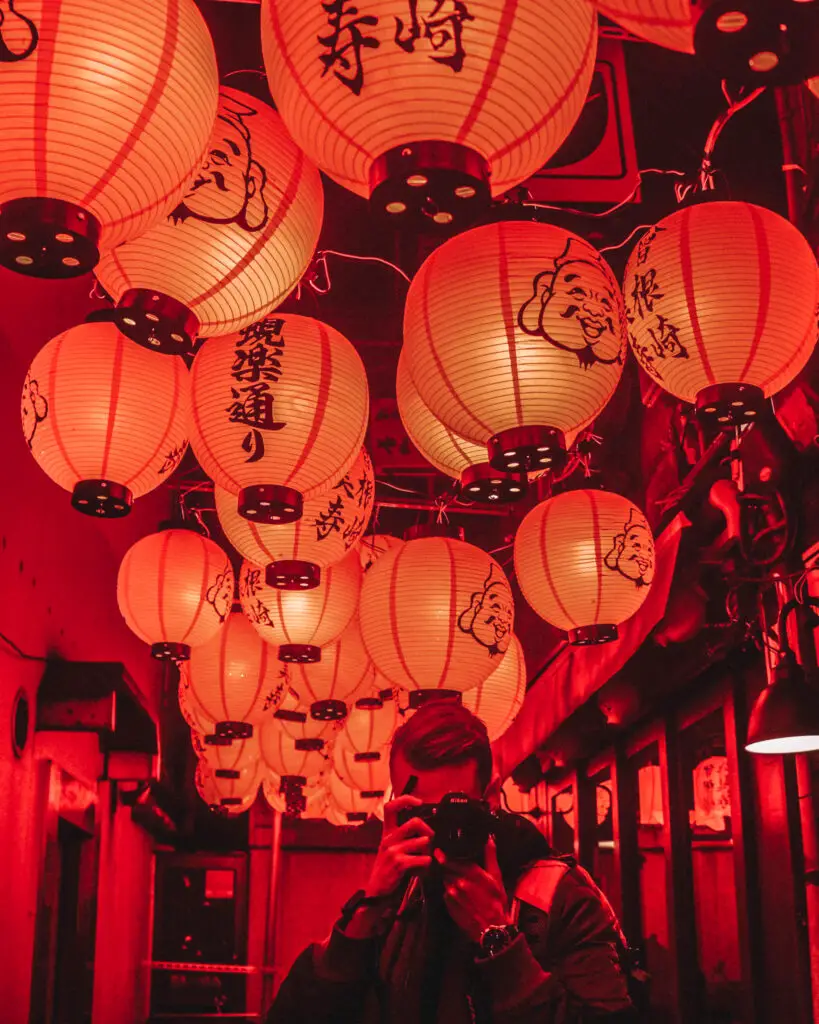 A hidden gem, not frequented by many tourists. This area is made up of several semi-covered alleyways, with loads of amazing, and often tiny restaurants.
This is where you'll find some of the absolute best food in Osaka. There's a bit of everything here, not just Japanese food.
This is where I tried horse meat sushi, and sipped on chili pepper soju. If you're craving Mexican food, there's a Mexican restaurant too.
Wander around and let your stomach decide. We usually ended up at 2 or 3 restaurants here each night we came.
Nearest train station: Temma Station
Visiting Japan in Winter? Read: Visiting Japanese Snow Monkeys
8. Have a Karaoke Night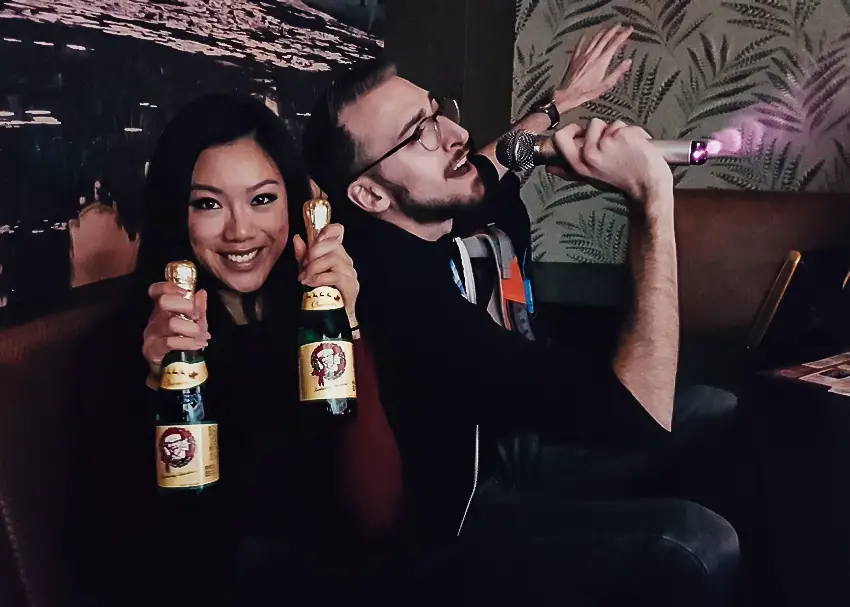 You can't say you've visited Japan until you've had a drunken karaoke night. For private rooms, go to Rainbow Karaoke where you can get a room for you and your friends.
If you want to show off your singing skills, head to the Drunken Clam. Yes, there is a Family Guy themed bar, right in Dotonburi, where you can karaoke with a bunch of drunk strangers.
9. Visit an Arcade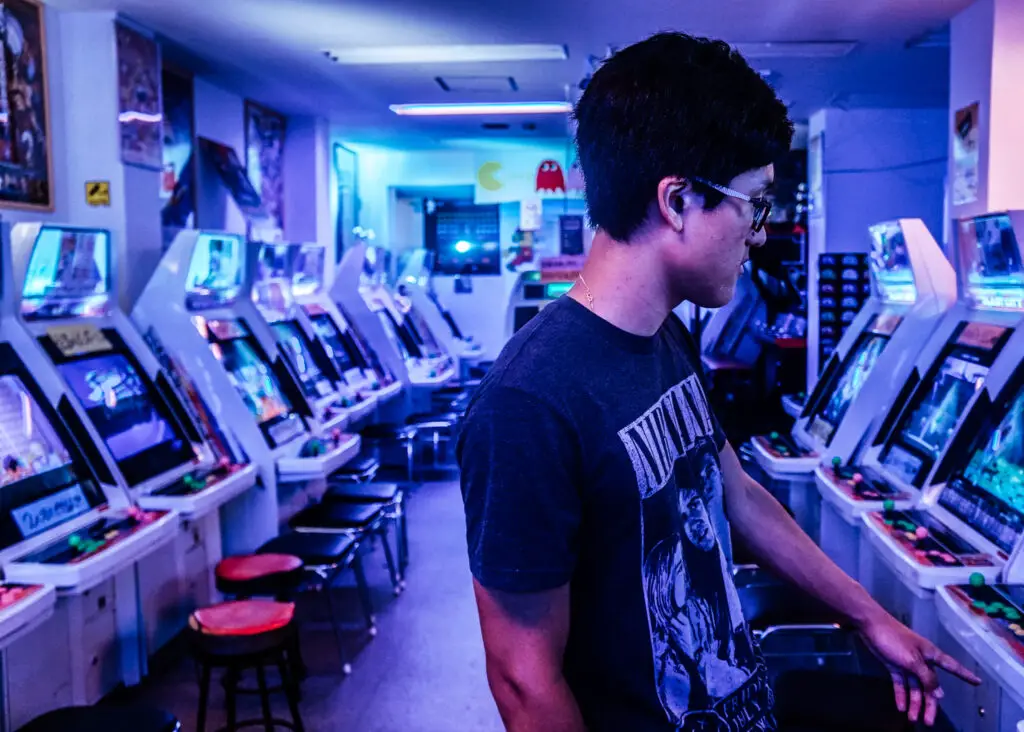 The arcades here are worth visiting, even if you don't plan to play. Especially the larger ones, such as in Namba, make a cool place to people watch. Come by at night to see some pros going off on the DDR machine.
10. Eat a Melonpan Ice Cream Sandwich
This dessert looks basic, but believe me, you need to try it. Ironically, it has no melon inside whatsoever.
Instead you get a big fluffy pastry, that's soft on the inside, and crunchy on the outside. It's pretty good on it's own, but with ice cream it's a whole different level.
You can get one of these at the Melonpan Ice Cream Food Truck in Dotonburi, or at Melonpan-Ice in the American Village (Ame-Mura).
11. Eat Takoyaki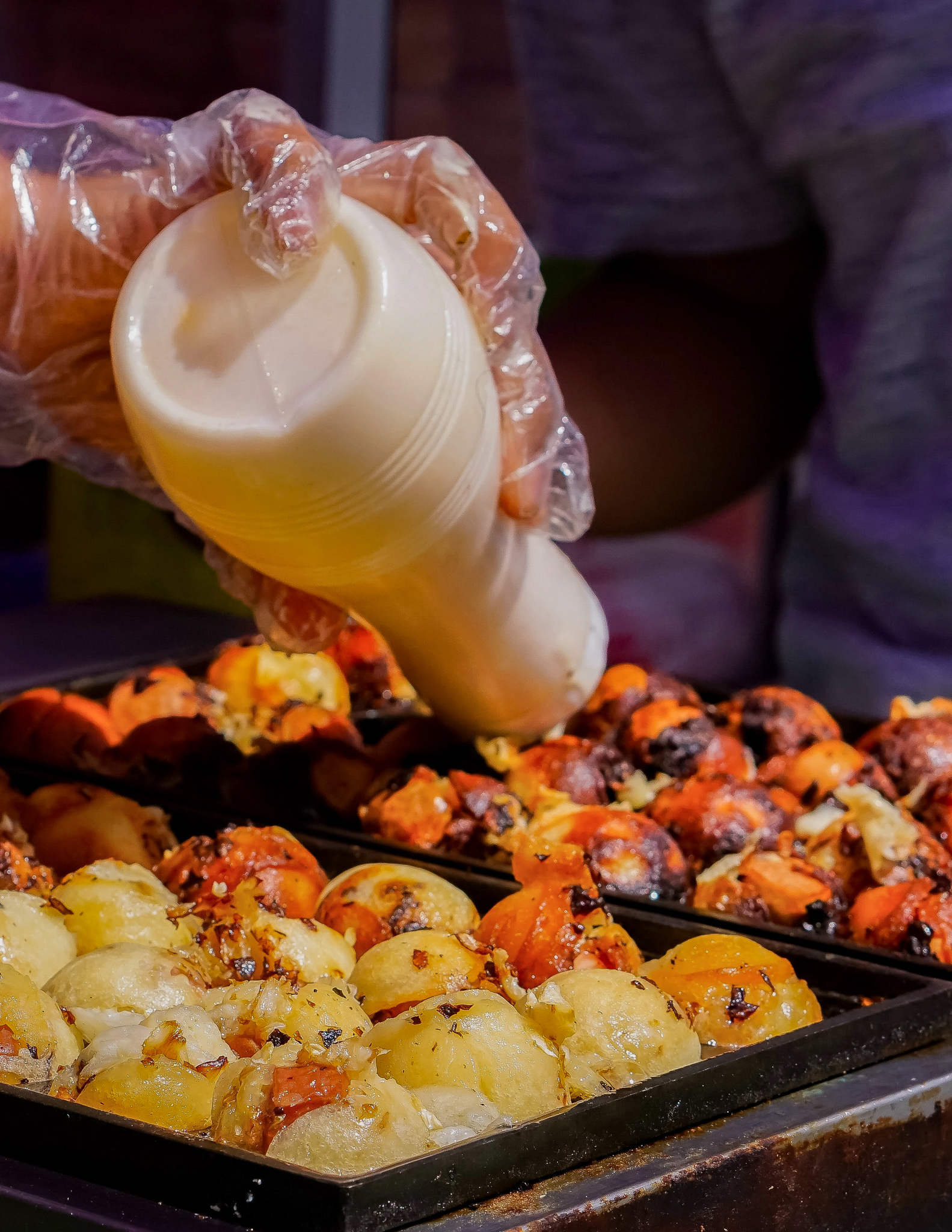 Another essential food on your Osaka bucketlist is takoyaki. Put simply, these are fried octopus balls.
Traditional takoyaki should be topped with green onions, bonito fish flakes, mayonaise, and of course, takoyaki sauce.
However, in Osaka, you could be even more adventurous and try takoyaki with cheese, ginger, or even fish egg toppings.
For a DIY experience, head to Takonotetsu, where you can make your own takoyaki.
Disclaimer: It's actually kind of hard to make. But don't worry, the staff are there to assist you, and save you from ruining your precious takoyaki.
And also, be careful, fresh takoyaki is super hot!! Eat with caution.
12. Go to a Sumo Match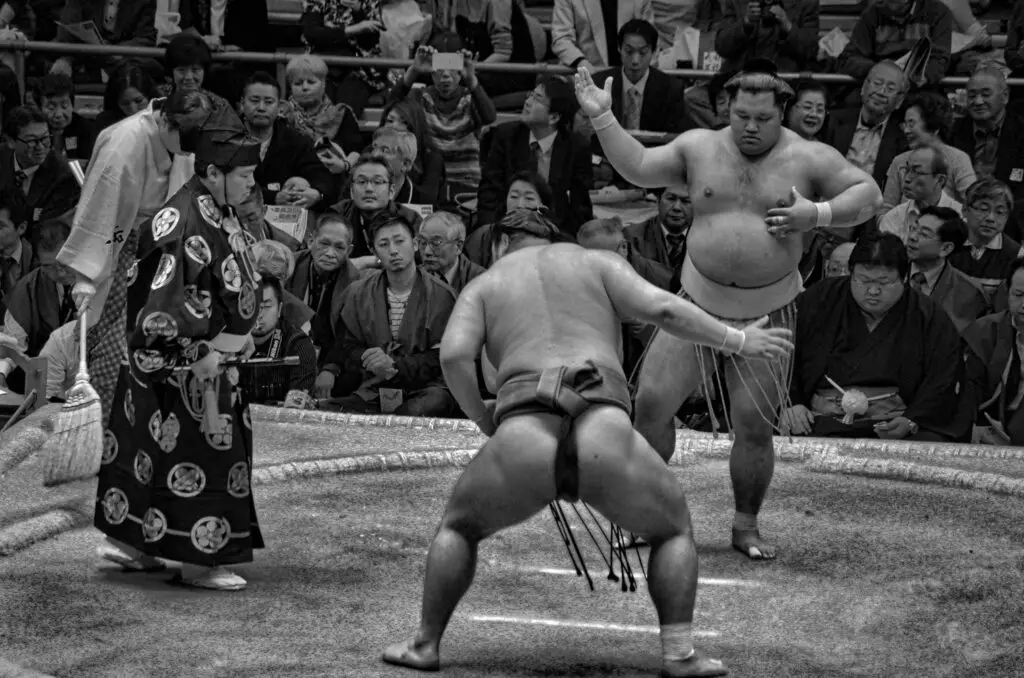 The season to watch a sumo match in Osaka is during the spring. Sumo matches are a super unique insight into something purely Japanese.
Getting tickets can be tricky, but it's worth the effort. You'll have to wake up early the day of a match, and wait in line. For more details on how to buy tickets to a sumo match check here.
13. Visit Shinsaibashi
I would call this the hipster area of Osaka. This is where you can do some shopping, for western brands and local boutiques alike.
There are also lots of cute cafes to try out, and for nightlife, this is a good place to start and end your night.
There are loads of micro-bars to check out. I'd give you suggestions but there are so many, and I don't know the names!
Wander around and see what you find. There is even a reptile bar somewhere here, where you can play with snakes while you sip on whiskey.
Nearest train station: Shinsaibashi Station
14. Visit Sumiyoshi Taisha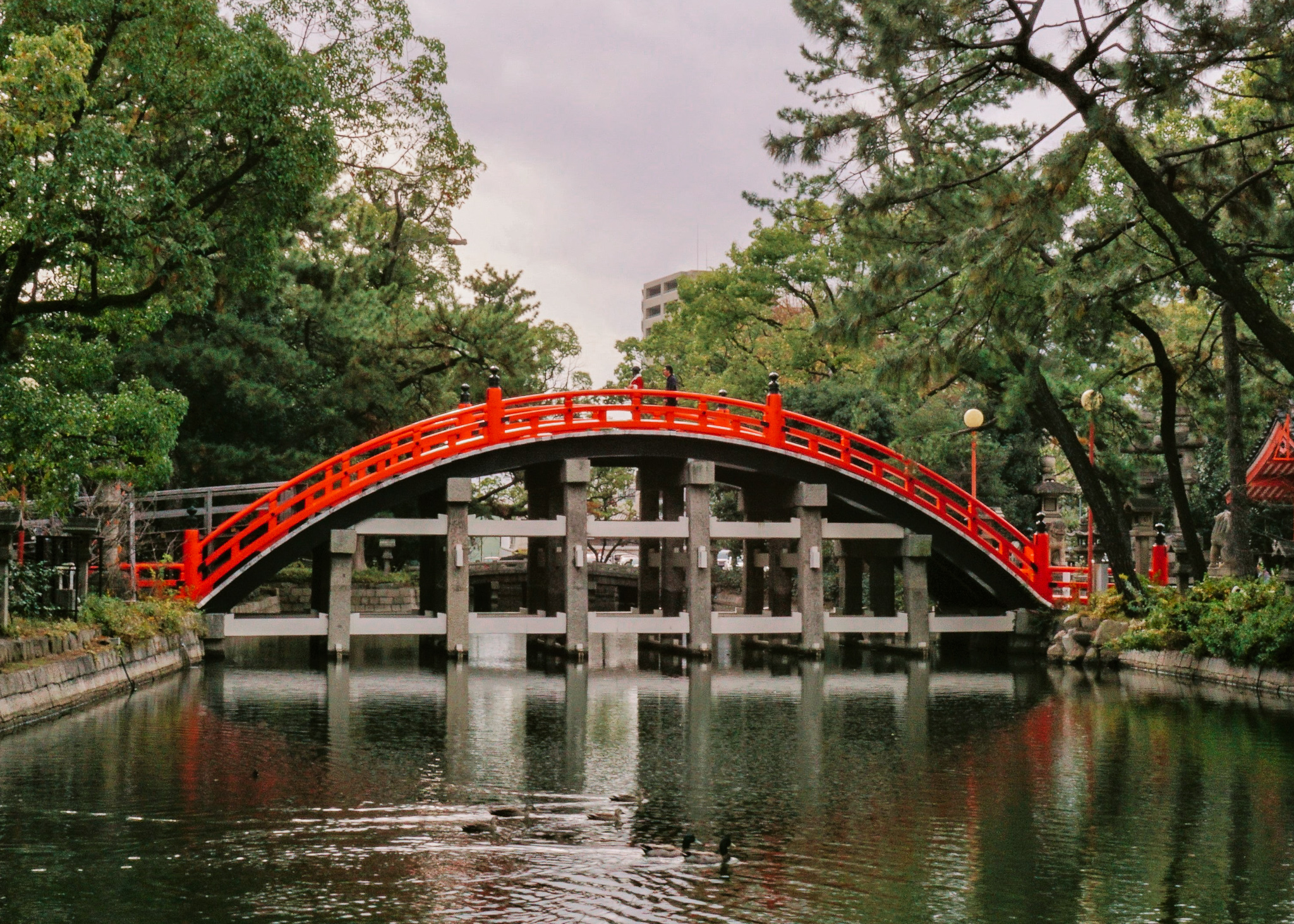 You'll find this temple on the southern edge of the city. What makes it unique is its large rounded bridge over the small pond.
Nearest train station: Sumiyoshi Taisha Station
15. Hike the Abandoned Railway Trail
This hidden gem of a hike, is located on an old railway line that is no longer in use. It's totally flat, making it ideal for anyone to hike.
A walk here, will take you along the river, through old tunnels and with stunning views of the natural beauty around.
Bring a flashlight for the tunnels.
Nearest train station: Takedao Station
16. Visit Minoo Waterfall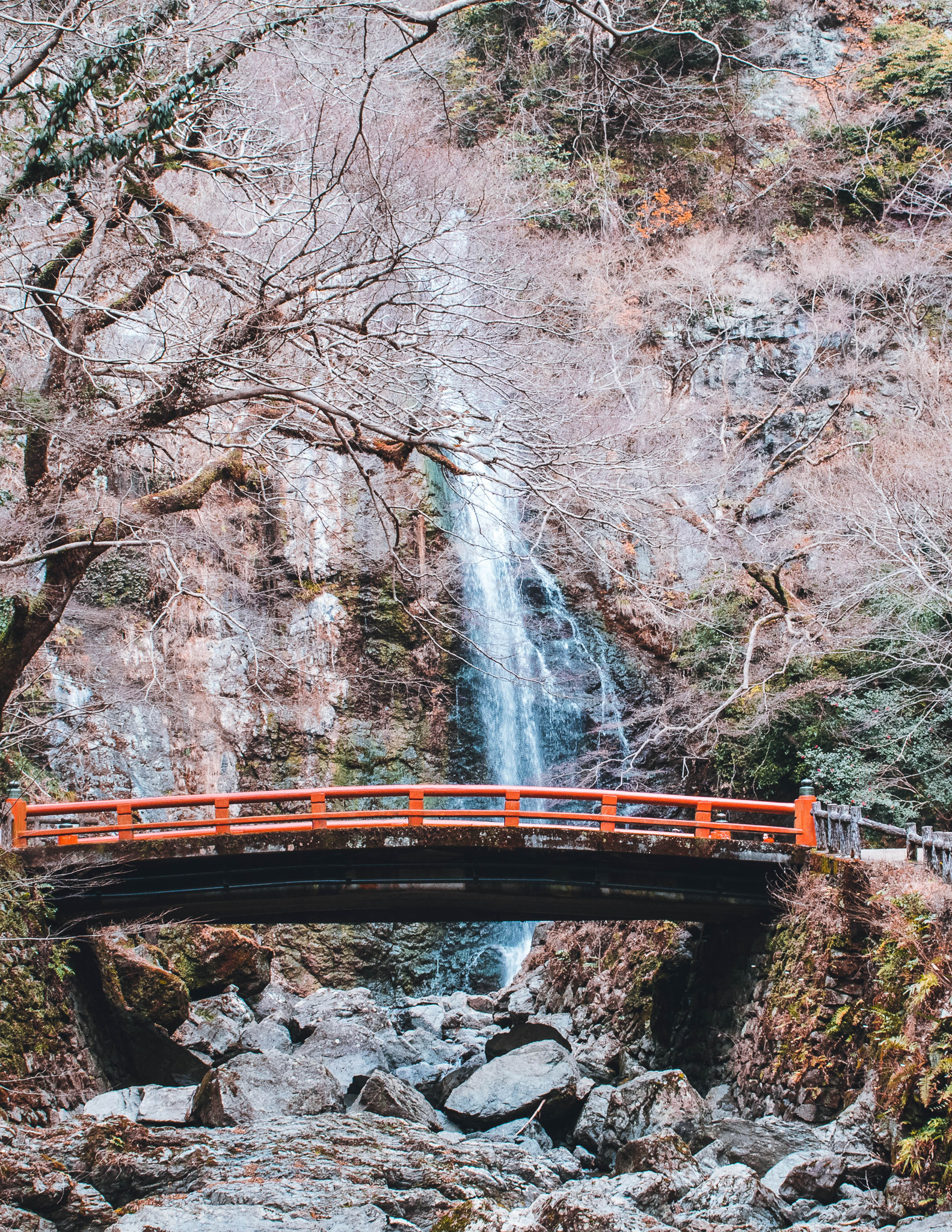 Another hidden gem, located just a bit outside Osaka. This is another easy 30 minute hike, taking you through the forest to Minoo waterfall.
The best season to come here is in autumn, to catch the colors of the season.
Nearest train station: Mino-o Station
17. See the Tenjin Matsuri Festival in July
This festival is the biggest one in Osaka. The celebration includes a boat parade, and ends the night off with a spectacular firework show.
It does get extremely crowded, so plan accordingly.
Visiting Japan in Summer? Check out: Guide to Hokkaido in Summer
18. Go Shopping at Yodobashi Camera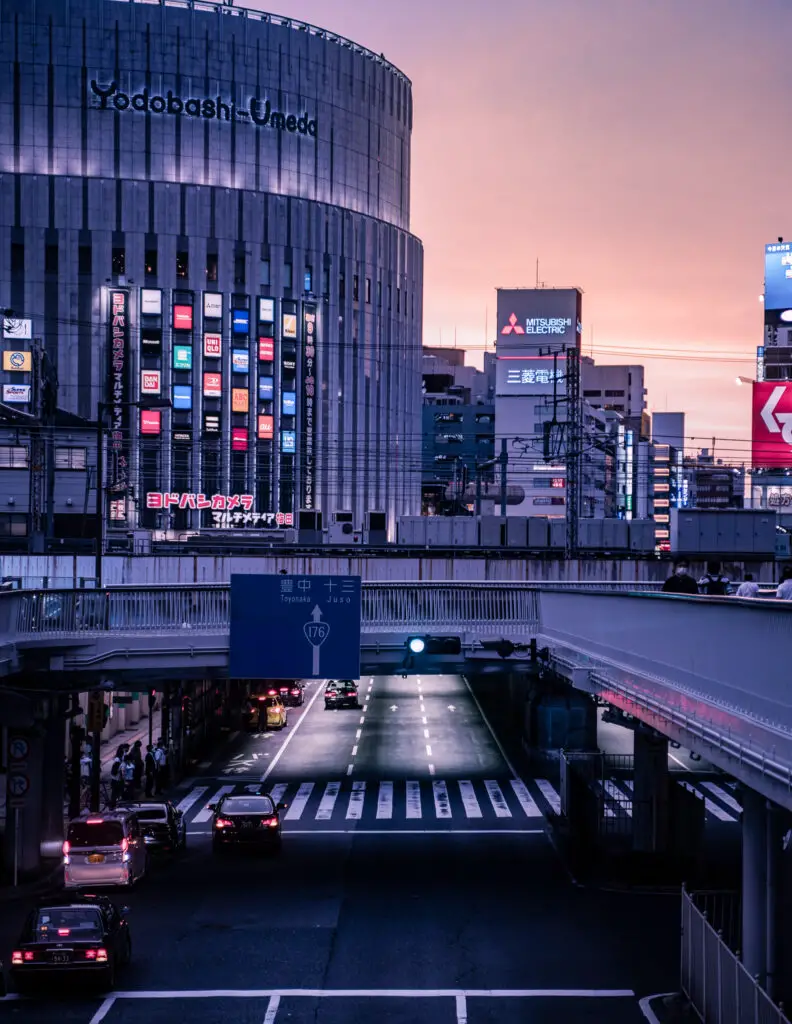 This is the ultimate one stop shop for all your electronic needs. You will find all Japanese name brand items here, usually for a better price than overseas.
Even if you don't plan to purchase, you will definitely be impressed by the size and scale of this place, and by Japanese innovation for all things techy.
Nearest Station: Umeda Station
Located here .
19. Visit the Umeda Sky Building at Night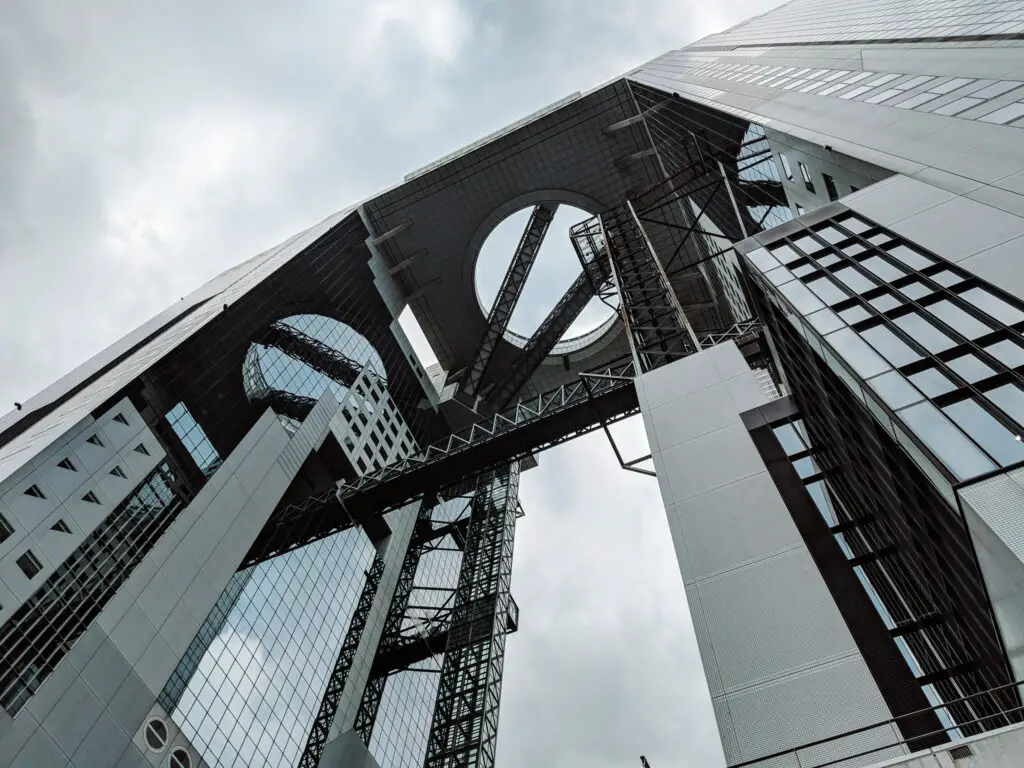 This building features a cool circular structure at the top, known as the Floating Garden. There is an entrance fee, but it is truly a spectacular view.
For the best value for your money, come just before sunset, then stay and watch the city light up after dark.
Entrance fee: 1000 yen ($9 USD)
Nearest train station: Umeda Station
20. Go to a Hanshin Tiger's Game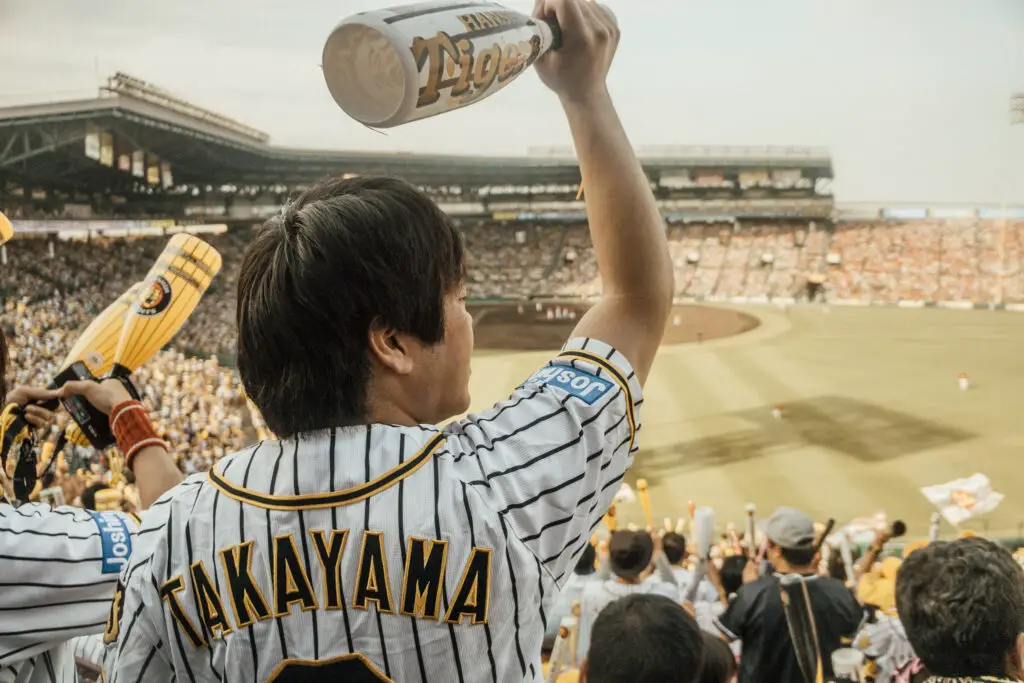 Did you know that baseball is Japan's most popular sport? This is especially true in Osaka, where the local team here is loved dearly by their diehard fans.
Baseball game tickets aren't expensive, and it's a fun way to get a new perspective on Japanese culture.
Even if you aren't into sports, I'd still say it's worth the go. They absolutely go nuts at baseball games and it's an exciting environment to be in.
21. Eat Pufferfish
You may have heard that in Japan, pufferfish, or fugu, is a delicacy. But if it isn't prepared correctly, its a meal that could be deadly. That's right, fugu is poisonous, and if the odds aren't in your favor it could just be your last meal.
In all honesty, I think it's overrated, taste-wise. I prefer basically any other type of sashimi over fugu. But, it sure is worth the bragging rights to say you survived eating a poisonous animal.
22. Go on the Ferris Wheel in Dotonburi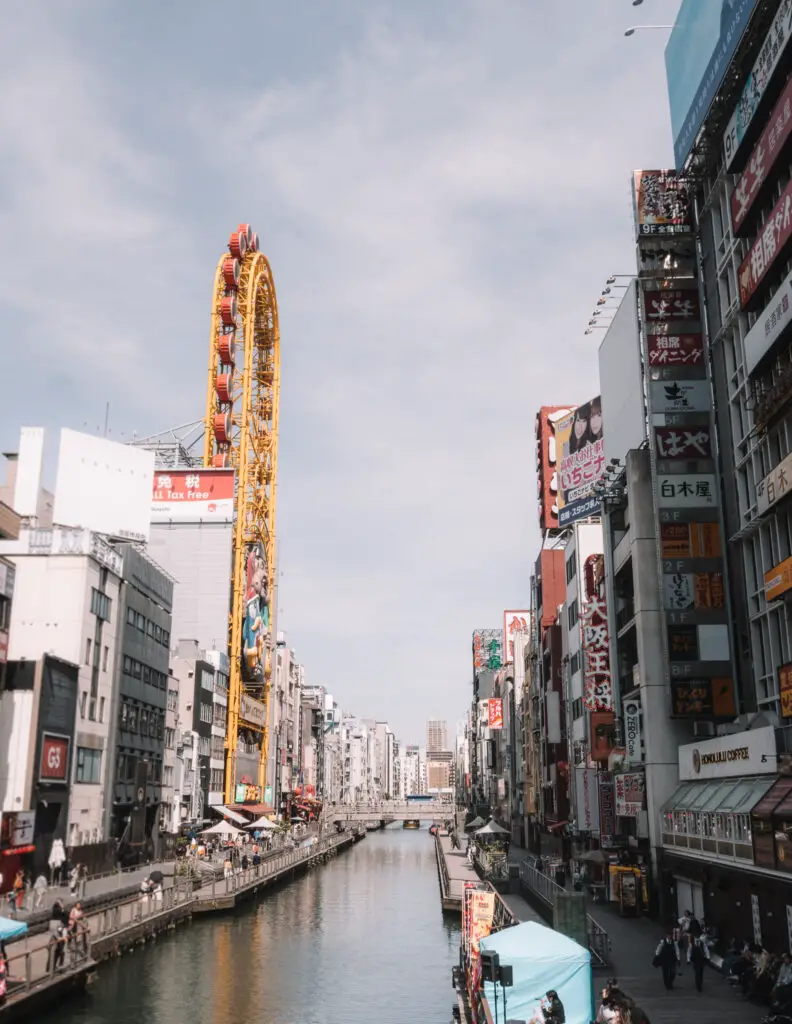 I personally haven't done this, and neither has anyone I know. I've always stared at this thing in passing and wonder, "Who even goes on this thing??"
It's always spinning when I walk by, which leads me to think people do ride it. So please do me a favor: go on the ferris wheel in Dotonburi, and report back to me how the experience was!
Nearest train station: Namba Station
23. Go on a Boat Ride on the River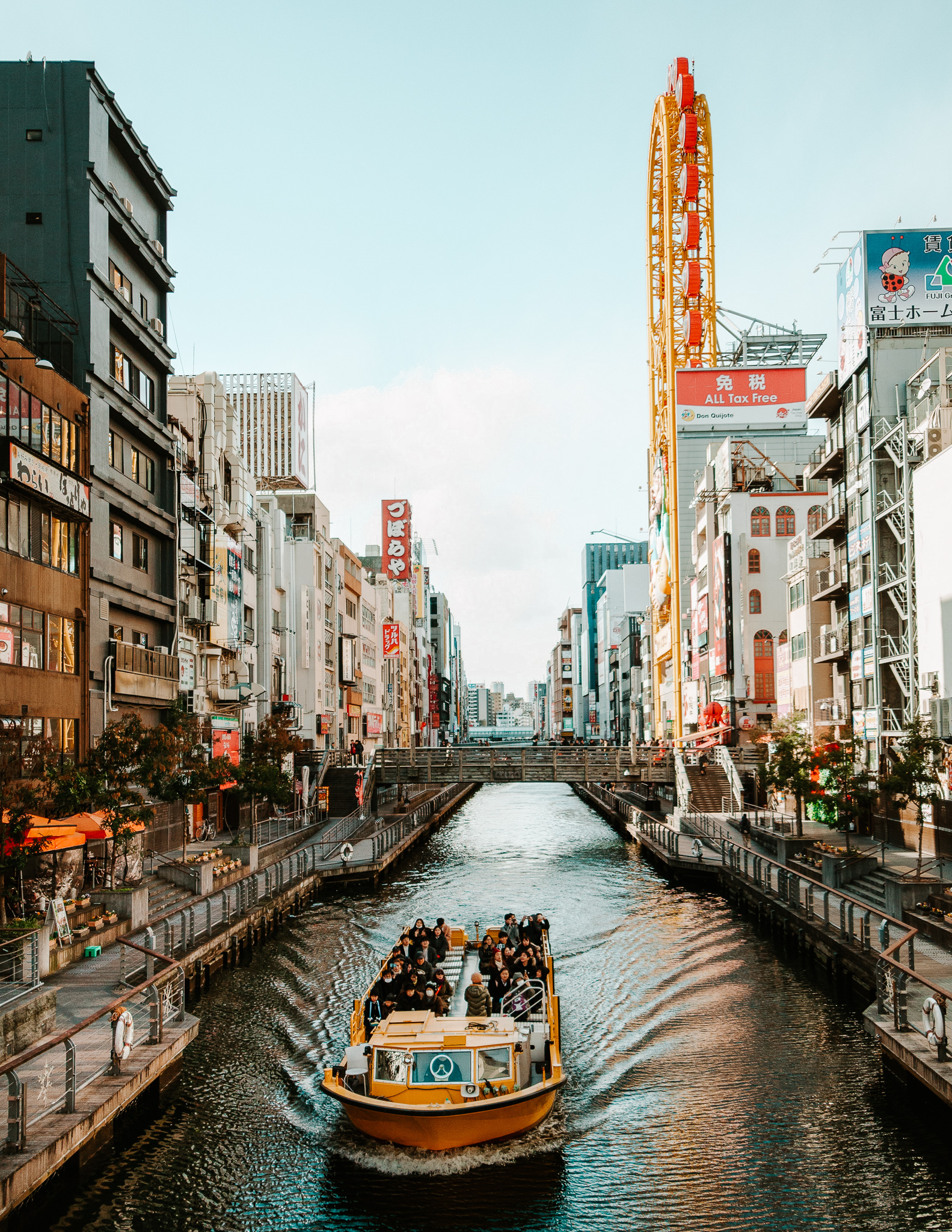 You can get on a boat by either booking a tour, or getting on someone's private boat. Either way, it's an amazing way to see the city.
I did some party boat rides in my early days of living in Osaka. The best part is when you pass by Dotonburi and see all the lights reflecting off the water. Maybe it was the alcohol, but it's one of my favorite views of the city.
24. Eat the Best Sushi in Town at Endo Sushi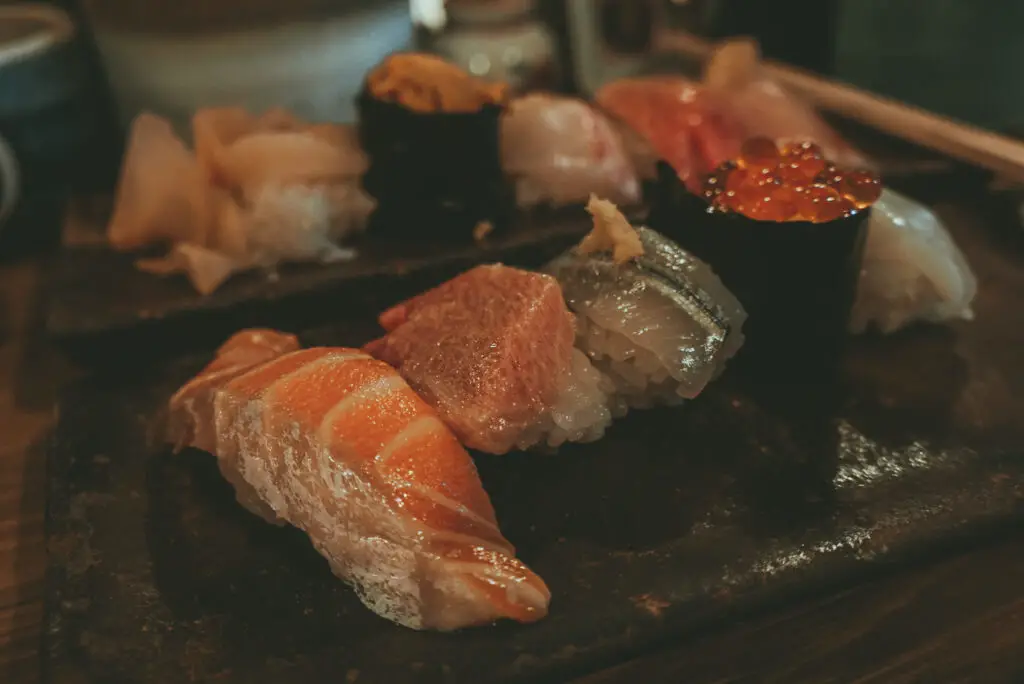 Endo Sushi is only open between 5 AM and 2 PM, but worth the early start. The fish here is coming in fresh every morning from the fish market next door.
There are only 4 options on the menu, and the sushi is simple – no california rolls here (please don't even ask), but the quality is amazing. You will remember your meal here for life!
Sometimes there is a line, and sometimes they'll let all the locals cut in front of you. Don't be frustrated, it's worth the wait.
Nearest train station: Tamagawa Station
25. Visit the Fish Market
For some reason, visiting the fish auctions are a popular tourist activity in Japan.
I don't fully get it, but you can visit the tuna fish auction every day starting from 4 AM at the Osaka Central Fish Market.
Note, the trains won't be running this early, you'll have to take a taxi.
26. Get Utterly Lost at Osaka-Umeda Station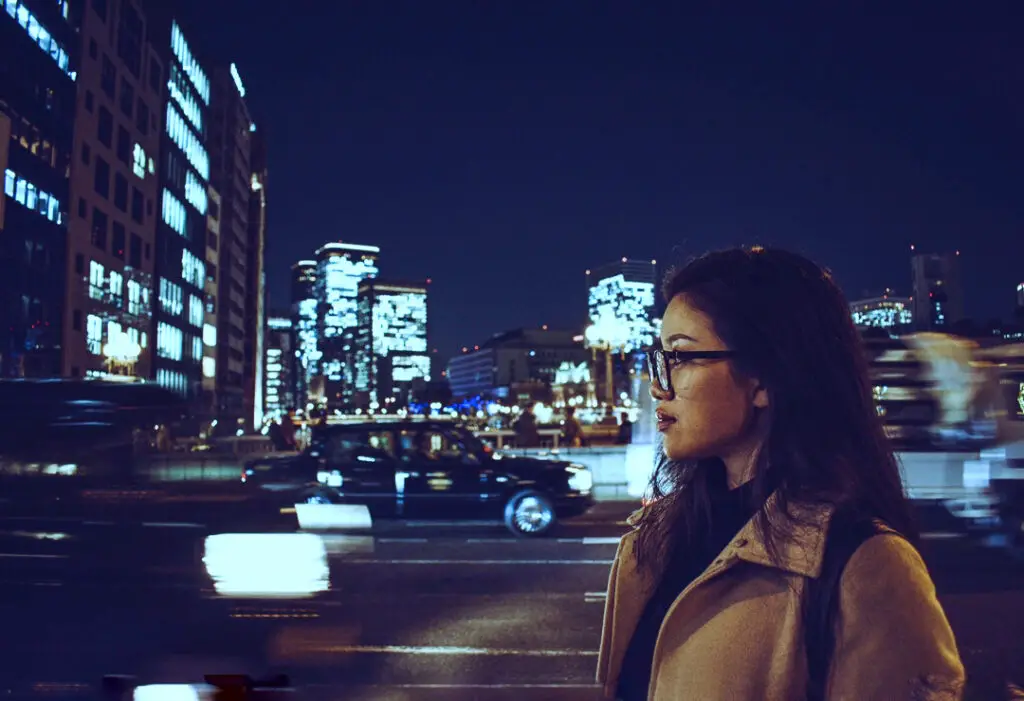 You might not even have to try for this to happen. As one of the main train stations of Osaka, it's likely you will pass through it at some point. The station is huge, and the number of people in it is also alarming.
However, if huge crowds don't bother you, there are an endless number of shops and restaurants in this area.
Some are underground, in the station itself. If you exit the station, there are some large buildings with even more shopping inside.
Two to check out are Lucua and Grand Front Osaka.
27. Visit Tennoji Park
I don't actually recommend visiting the Tennoji Zoo, but I do recommend a visit to the surrounding park. Theres a pond somewhere in there, and some great views of the city from within the park.
Nearest train station: Tennoji Station
28. Go to Spoonbill Cafe
I stumbled upon Spoonbill Cafe one day by accident, while riding my bike home through Tennoji Park. It is my absolute favorite cafe in Osaka! I took all my friends here, and they all loved it too.
This cafe is just perfect, from the decor, to the food and drinks, to the cozy outdoor seating area.
Its aesthetic is like a rustic greenhouse. It's full of plants, and little vintage looking knickknacks, that you can purchase if you'd like.
They also offer a gigantic glass of wine for only 650 yen (about $6). Order one with one of their super cute desserts, and chill out here for an afternoon.
Nearest train station: Tennoji Station
29. Visit an Owl Cafe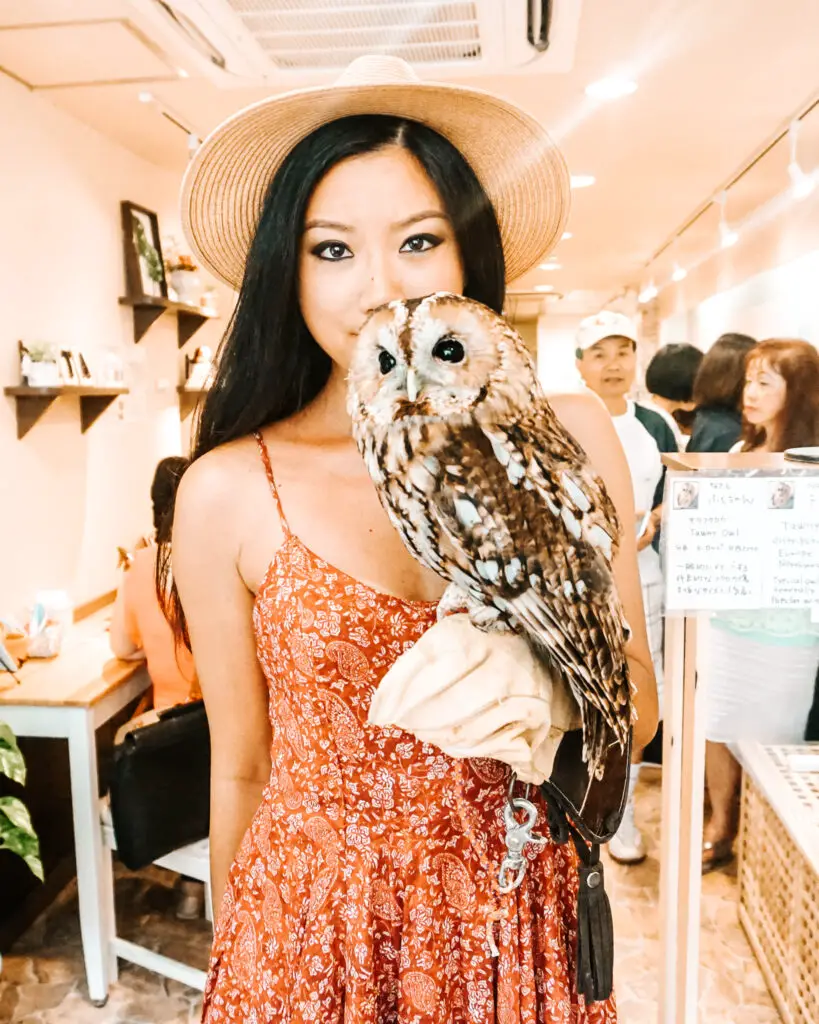 This is definitely a tourist activity, but you can find an owl cafe near Shinsaibashi, called Cafe Lucky Owl.
You will pay about 1500 yen ($14 USD) and that includes a drink, and one hour inside the cafe to take as many pictures as you like.
Nearest train station: Shinsaibashi Station
30. Get a Tattoo at Three Tides Tattoo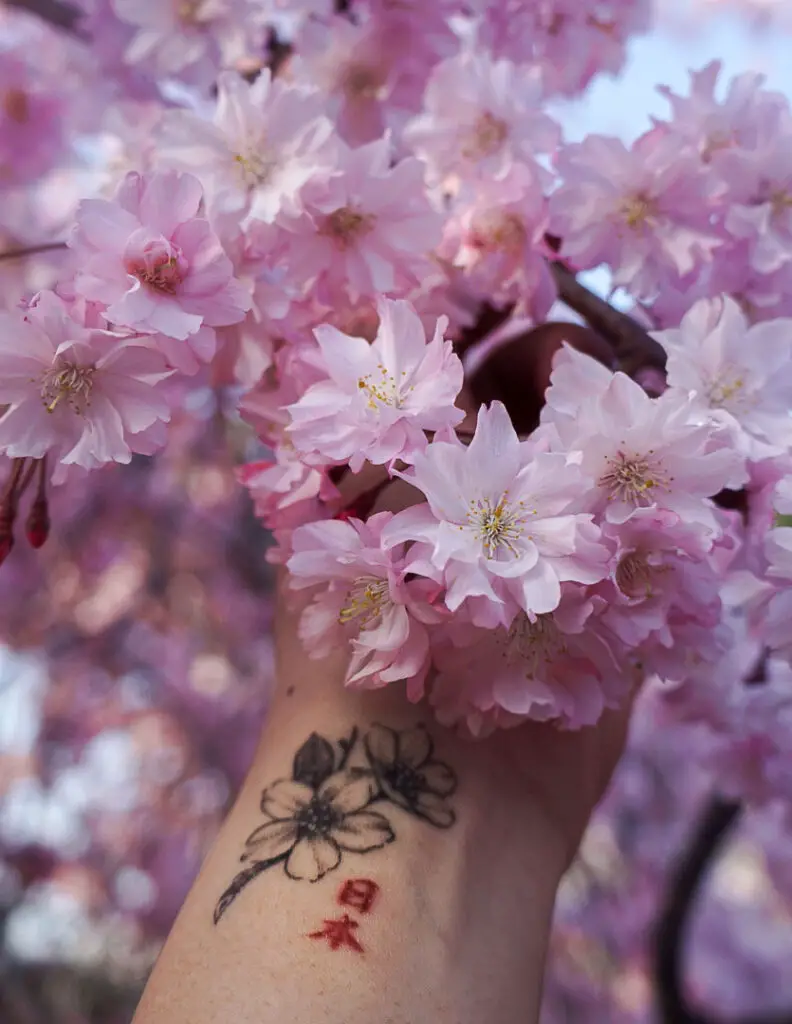 Tattoos are still a major taboo by general Japanese cultural standards. But Japanese tattoo art is still alive and well. Why not bring a piece of Japan home with you by getting some ink?
The best tattoo shop in Osaka, and maybe all of Japan, is Three Tides Tattoo. They have a location in Tokyo too, but that one is harder to get a booking for (they are extremely popular). Some of the artists of the shop were even featured in a Vice Article a while back, for their traditional Japanese artwork.
My favorite artist is Azusa, she specializes in fine line and Japanese artwork.
To find the shop, click here.
Visiting Japan in Spring? Read: Best Places to See Cherry Blossoms in Japan 2023
31. Hike Kongo-san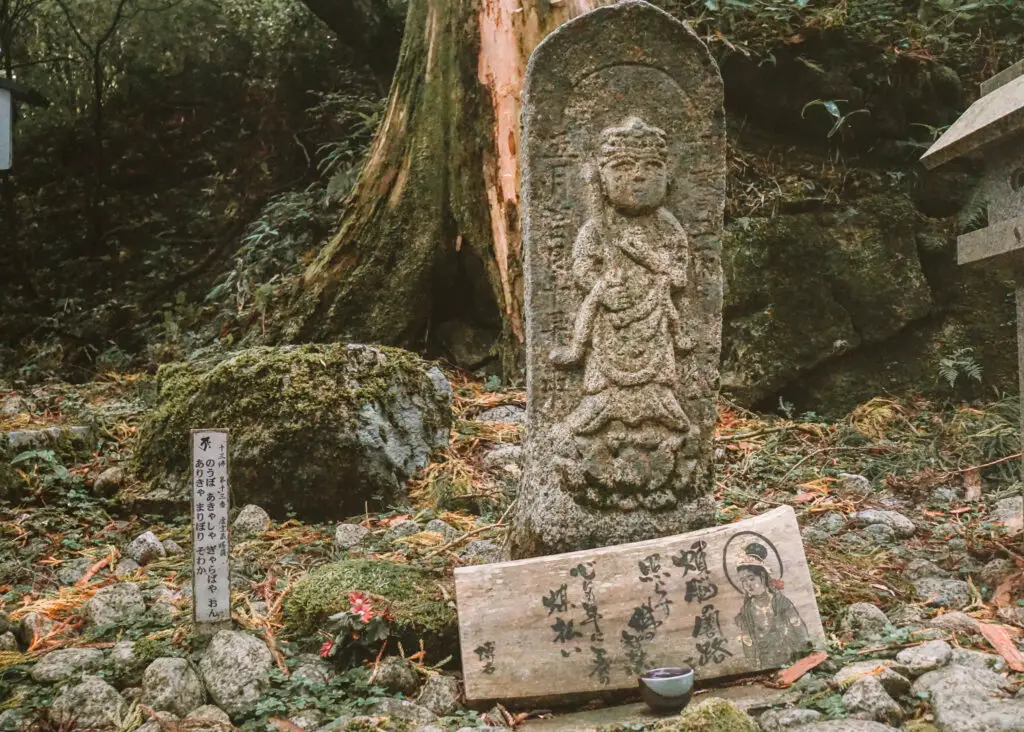 About an hour by public transport outside of Osaka, will take you to Mt. Kongo.
This hike is locally famous for winter hiking, which will require crampons and winter specific gear.
But a hike here in warmer months is also an experience not to be missed. It's a steep 700 meter elevation gain, but you will pass through traditional temples on the way to make your efforts worthwhile.
Nearest train station: Kawachi-Nagano station
Full details on how to get there without a car here.
Love Hiking? Check out: Guide to Hiking the Kumano Kodo
32. Eat Kushikatsu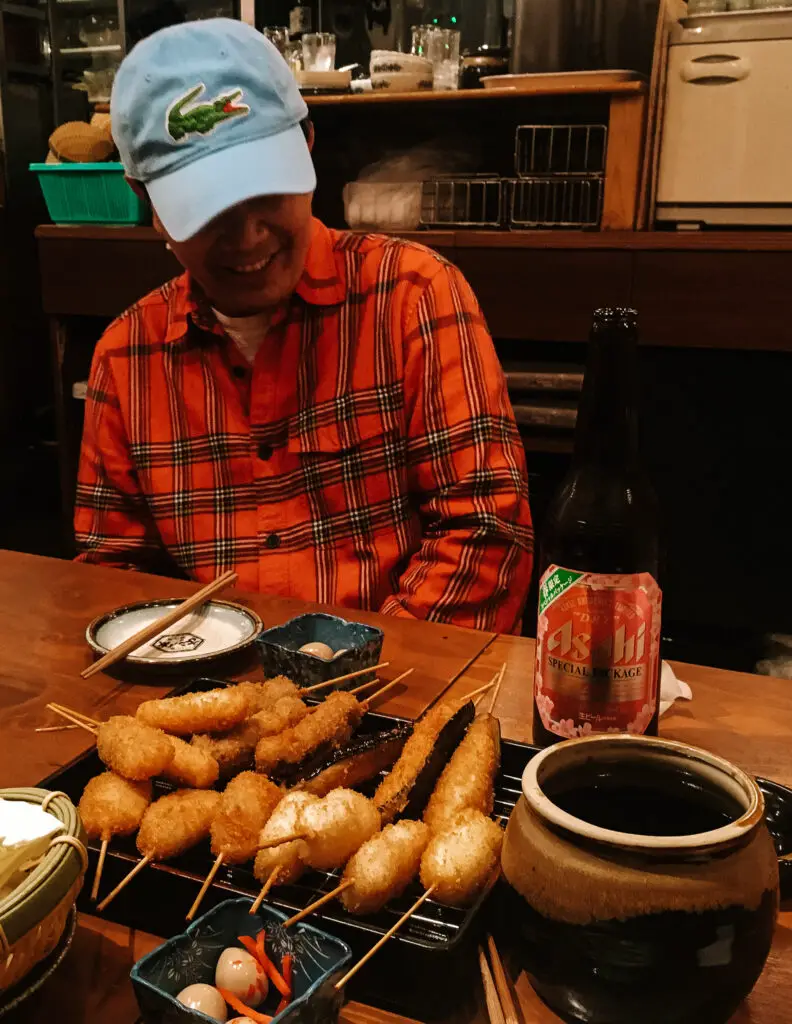 I have yet to find this food outside of Japan. Basically, they are fried skewers of almost anything. From meat, to veggies, to fried balls of cheese. Give them all a try.!
It's not the best meal for your arteries, but it sure is damn good.
You can find it everywhere in the Shinsekai area.
33. Go to Super Potato
This shop will give you blissful nostalgia of your childhood. It's a collectors shop with vintage gaming items, from Super Mario to Pokemon, and more.
This is a great place to pick up a gift for someone back home who loves anime or gaming.
Nearest train station: Namba Station.
There are two locations, one here and here.
34. Eat Conveyer Belt Sushi
If you go to Japan and don't eat sushi, you are living life wrong.
"Kaiten", or conveyer belt sushi is a more relaxed and affordable alternative to traditonal sushi restaurants. Plus they are a fun overall experience.
There are many high quality kaiten sushi spots in Osaka. My personal favorite is Kantaro Hakodate in the Grand Front Osaka Building on the 7th floor.
The price for the quality can't be beat. Find the Osaka location here.
35. Eat Curry Katsu at Coco Ichiban
If this list sounds like all food to you, you aren't wrong. Osaka is known as the food capital of Japan for a reason, so what better way to experience it than to eat it?
Japanese Curry is available all over Japan. In Osaka, I like the Coco Ichiban chain. Get the classic curry with pork katsu, or the eggplant curry. Delicious!
36. Eat Ramen at Ichiran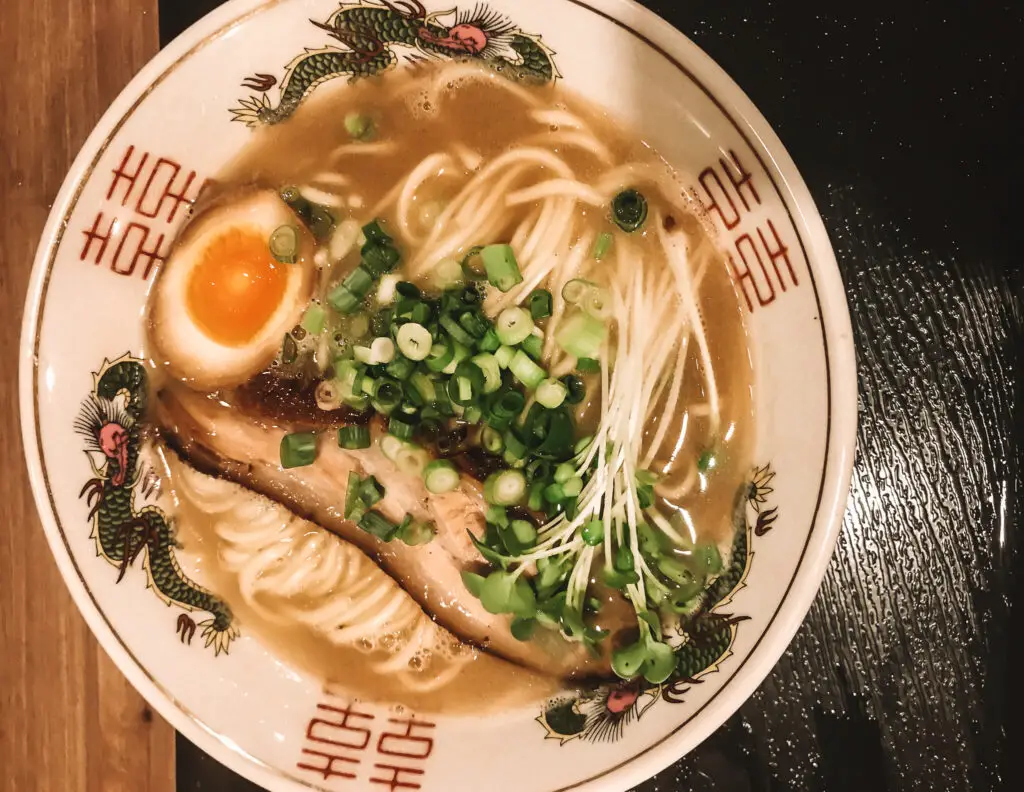 The ramen at Ichiran is served to you in a single person booth. You will eat your ramen, alone with no distractions. Because of this, it's also the perfect meal for solo travelers.
It will likely be one of the best ramens you've ever had. And, it's open 24 hours making it the perfect ending to a drunken night out.
The location near Namba Station can be found here.
37. Celebrate Halloween in Shinsaibashi
If you are in town during Halloween, you are in for a treat. There is a massive Halloween celebration each year in the streets of Shinsaibashi.
All of Osaka's hippest locals and Gaijins (foreigners) will be dressed up in full costumes partying in the streets until late night.
It's one of the better Halloween celebrations I've had outside the USA.
Visiting in Autumn? Check out: Best Places in Autumn in Japan
38. Visit the Cup of Noodle Museum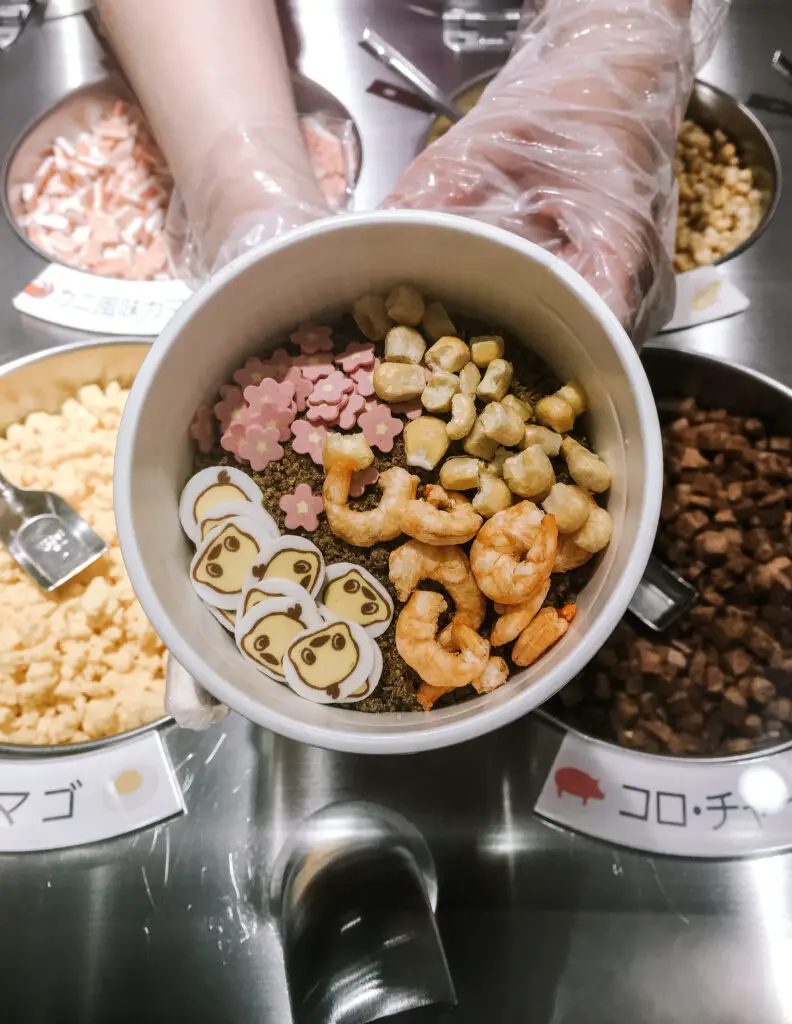 This museum is a fun way to spend a rainy or cold day in Osaka as it's fully indoors.
In this museum, you can learn about about the history of this world famous Japanese product. At the end, you can even make your own customized Cup of Noodle, which makes a great gift or souvenir for yourself.
Nearest station: Ikeda Station
39. Visit Ikeda Castle
If you visit the Cup of Noodle Museum, you may as well stop by Ikeda Castle and its ruins nearby.
The ruins themselves are slightly underwhelming, but the park is a beautiful place to go for a walk, with its own pond and tearoom.
39. Visit the American Village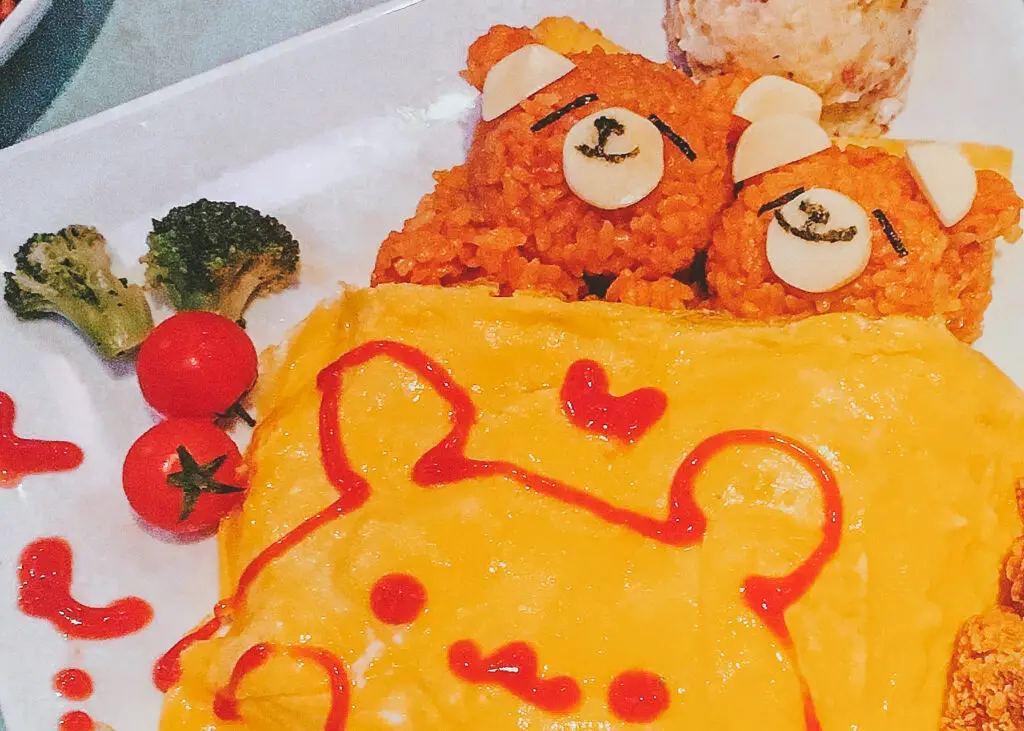 Known as Ame-Mura, and located right in the center of the hip Shinsaibashi nieghborhood.
This is Japan's take on American culture. Don't let me spoil it for you, check it out yourself. And, be sure to look for the Statue of Liberty while you're there!
Nearest Station: Shinsaibashi Station
40. Go to a Maid Cafe, Maybe
I took my brother and my friend here. Both were equally painfully awkward and hilarious experiences.
A Maid Cafe can't be described, as much as it can be experienced. But I'll sum it up by saying it's a cafe, with female hosts dressed in very ridiculous costumes. The patrons are mostly male, and they come for the bizarre forms of entertainment, ranging from singing , to dancing, to other kinds of weirdness (non-sexual).
My tip: Be a little tipsy before going for maximum fun.
Nearest train station: Nipponbashi Station
The location I prefer is here.
41. Visit the Pokemon Center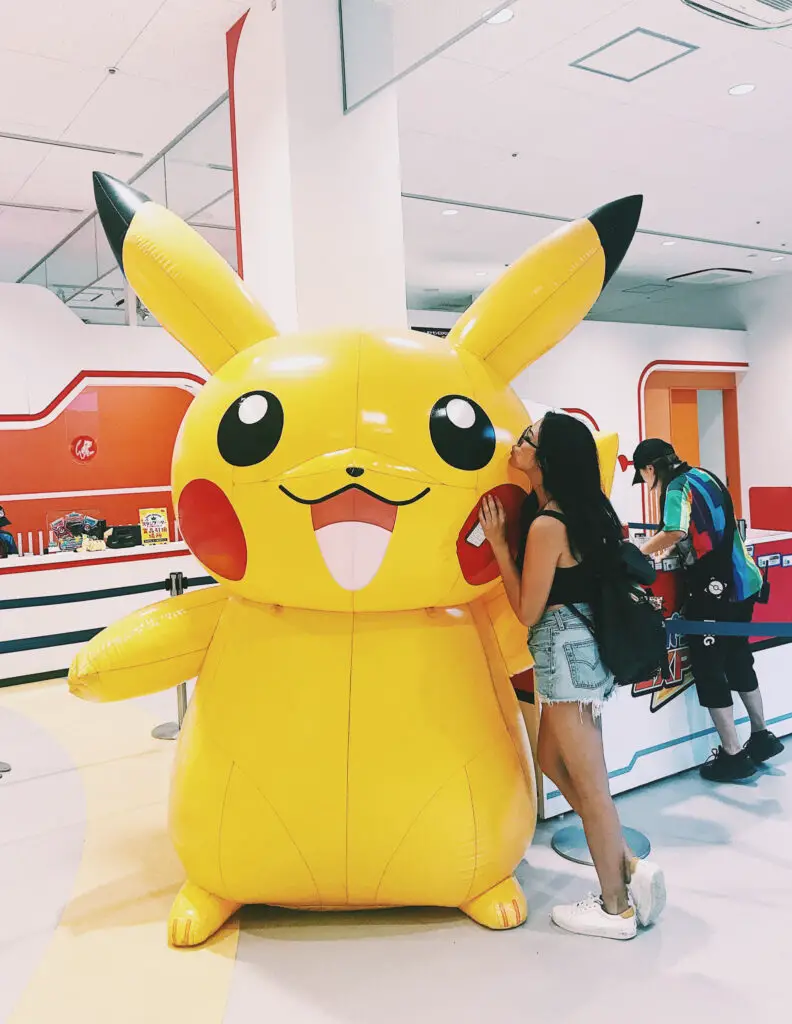 Located in the center of Osaka, and so worth the visit if you were ever a Pokemon Nerd at any point in your life.
This is mostly a shop for all things Pokemon, but they do have some activities for kids, or adults who still pretend to be kids (ahem, me).
Nearest train station: Osaka Station
42. Visit the Tower of the Sun
Not a touristy activity, but something quite unique. There is a very strange tower that is situated a bit to the north outside the city.
It's called the Tower of the Sun, and resembles a sort of post-modern artistic interpretation of a bird. It's located in the Expo 70 Commemorative Park, which has other activities to check out as well.
But this tower? I am baffled as to why it exists, but love it anyways.
Nearest train station: Bampakukinenkoen Station
43. Experience an Izakaya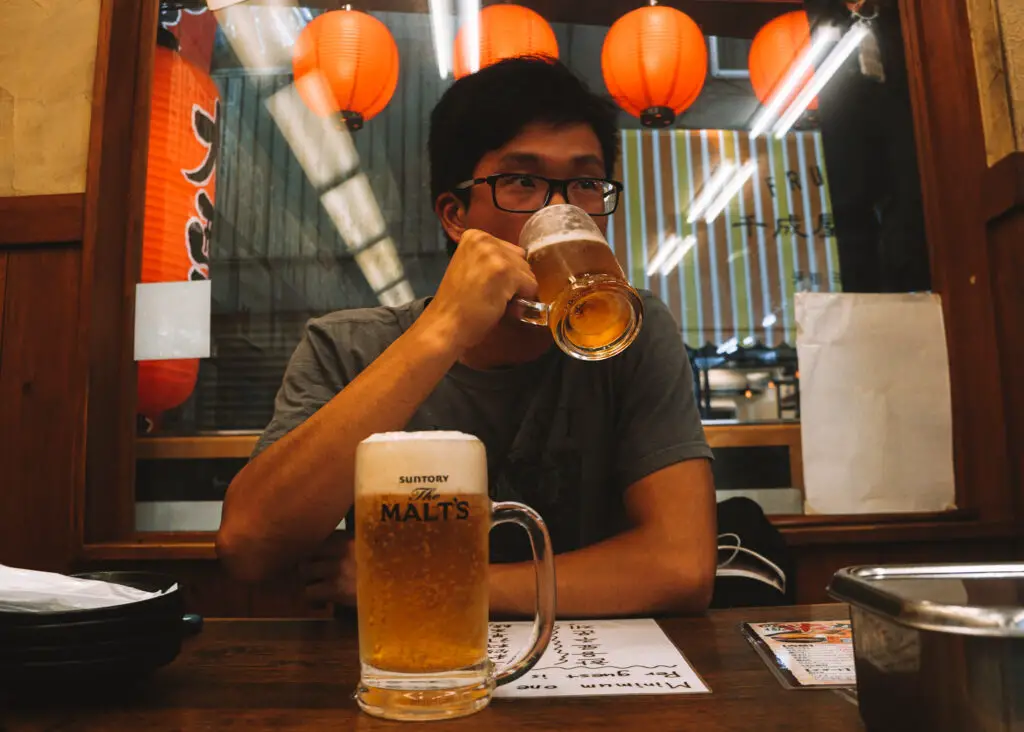 These are located all over Japan, and Osaka. Essentially, these are Japanese pubs where you can get cheap eats and drinks.
They are popular with Japanese business men, for their after work rendez-vous. A pitstop here for the night, and you'll surely spot some salary men sipping on Highballs (Japanese whiskey and soda).
44. Go up Abeno, the Tallest Building in Osaka
Abeno, is a unique building that is in the shape of a shard. It's the tallest structure in Osaka, and the tallest skyscraper in Japan.
A trip to the top, will give you the best view of the entire city. This view is best enjoyed at dusk.
There is also a cocktail bar inside the Marriott, located in the Abeno tower itself. I used to take my students here, for late night drinks and snacks in a chill atmosphere.
Want more Japan travel ideas? Read: A Guide to Shirakawa-go in Winter
Nearest train station: Abeno Station
45. Visit the Suntory Whiskey Distillery
For whiskey enthusiasts, or anyone curious about how Japanese whiskey is made, a visit to the Suntory Distillery is a great way to spend half a day.
You'll have to book in advanced, and a tour comes with free whiskey tasting!
Nearest train station: Yamazaki Station
46. Visit Kuromon Seafood Market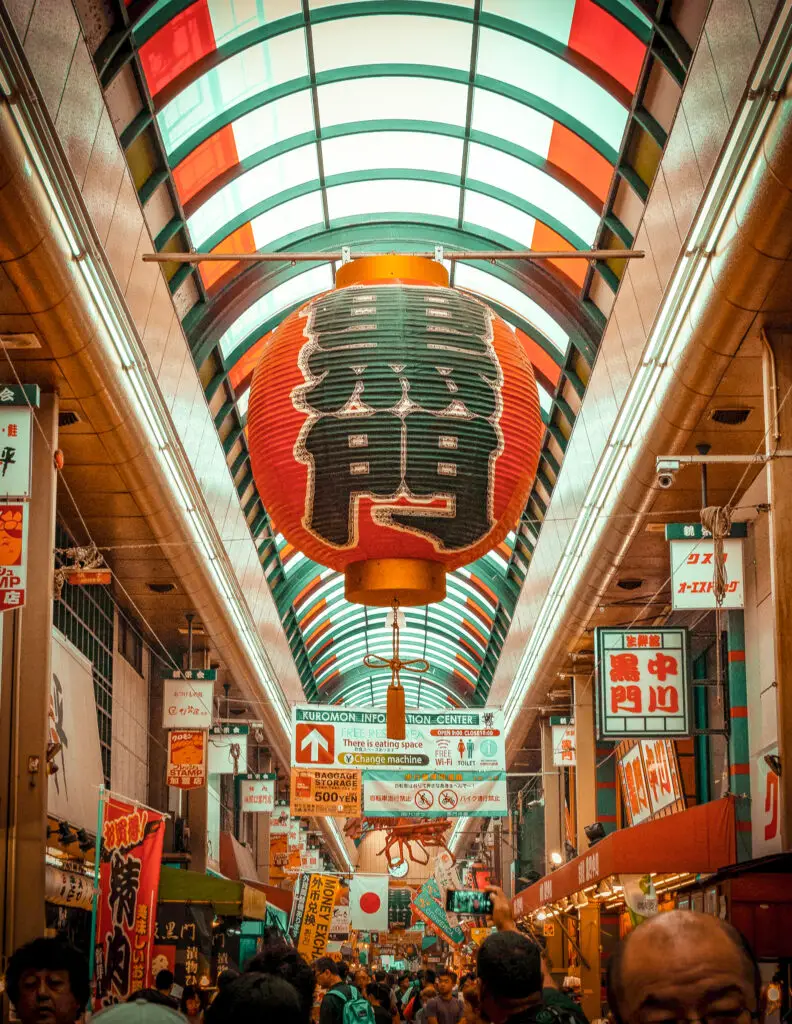 This large seafood market is located in one of the covered arcades. It's a long alley full of seafood restaurants and seafood markets. It doesn't stay open for dinner, so come for lunch.
I'll be honest, the prices here are somewhat high. But, it's a fun experience and the food is nice and fresh.
Pro tip: come closer to the closing time, and score up to half off the sashimi and sushi platters in the markets. It won't be as fresh, but still perfectly fine.
Nearest train station: Namba Station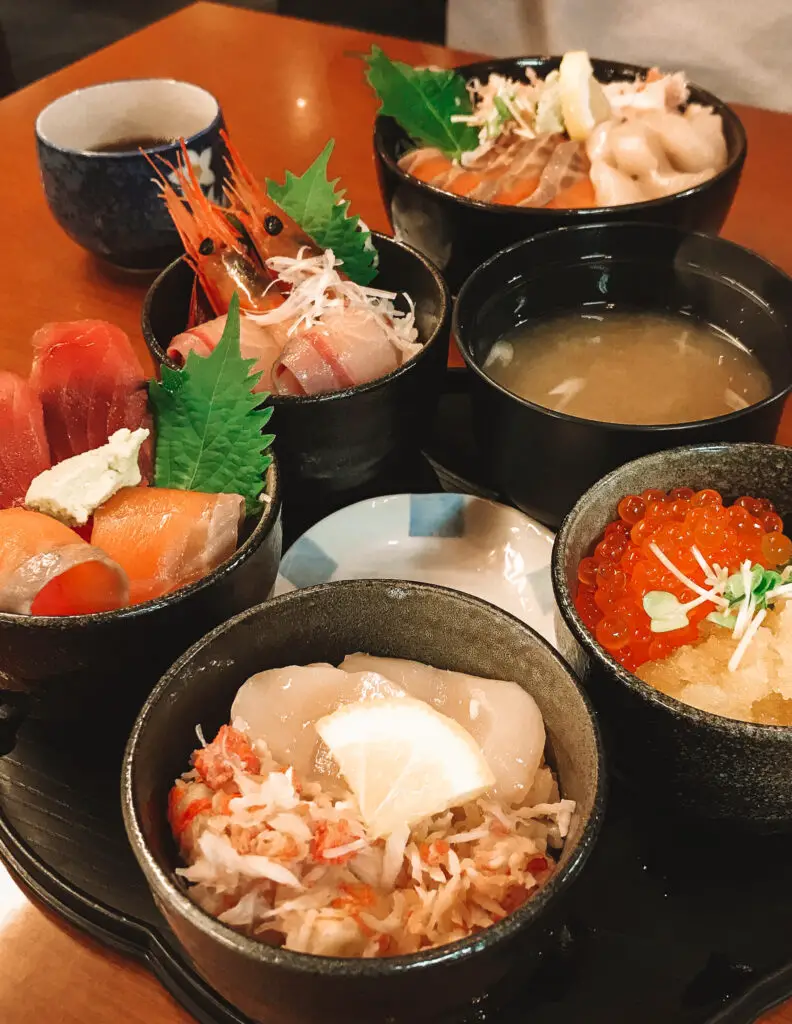 47. Koreatown
Osaka is home to its very own Korea town, located in the Tsuruhashi neighborhood. Here you'll find some truly amazing and authentic restaurants serving up Korean and Japanese food.
There's also a covered market, where you'll find all types of goods from Korea. From skincare, to Korean snacks, there's a bit of everything in there.
Nearest train station: Tsuruhashi Station
48. Explore Shinsekai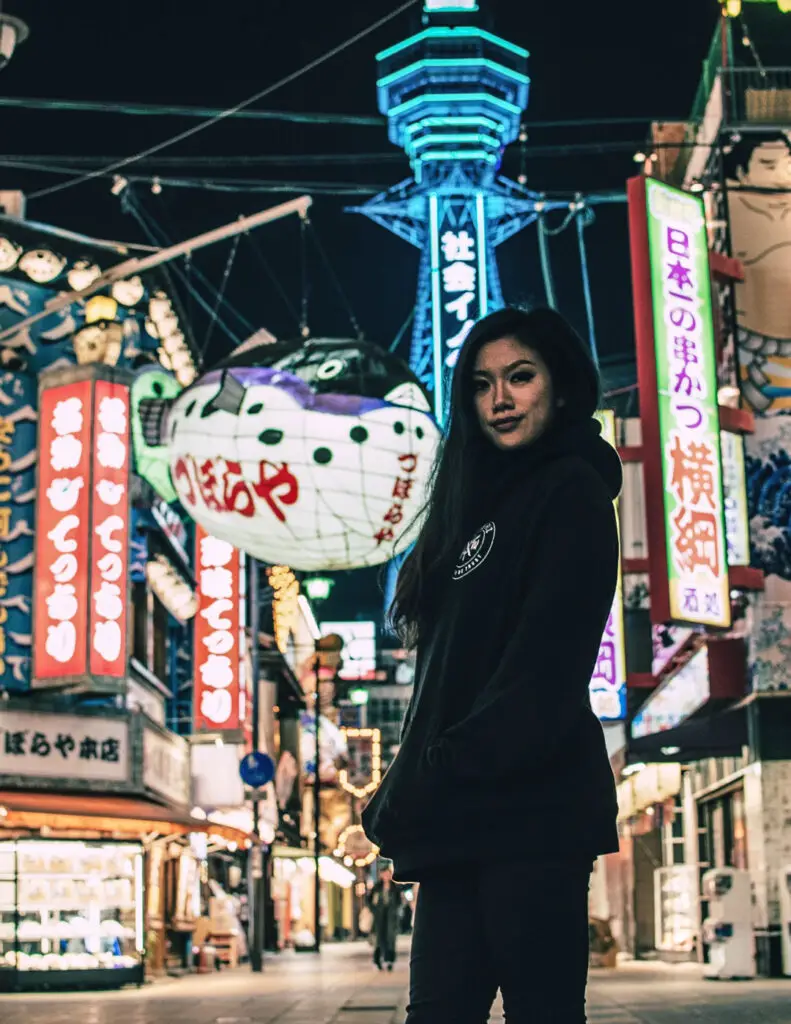 This is my personal favorite neighborhood in Osaka. This area was known as the "New World" when it was first developed before WWII. Nowadays, it is quite the opposite. This area often feels like a time-warp into another time and era.
In many ways, exploring the area around Shinsekai is like exploring a past Japan. And you certainly will feel a different vibe here, especially considering that most residents are elderly.
But the area directly beneath the Tsutenkaku Tower is just as busy and vibrant as Dotonburi, just less crowded and more compact.
The food here is also cheaper. Come here to drink on the cheap and eat kushikatsu.
Nearest train station: Ebisucho Station
49. Rent or Buy a Bicycle
Osaka is a very bike friendly city. Most locals get around by bike, including myself. The city is mostly flat, and well paved making it the ideal place to explore on wheels.
You can rent a bike, or depending how long you are in town, could consider buying a second hand bike.
Bike rentals are usually around $10 USD a day, while purchasing a used cruiser bike can be as low as $50 USD.
My best memories in Osaka are late night bike rides through the city, after a night out. There are numerous small, unnamed alleyways and temples all around the city just waiting to be discovered.
50. Visit Namba Yasaka Shrine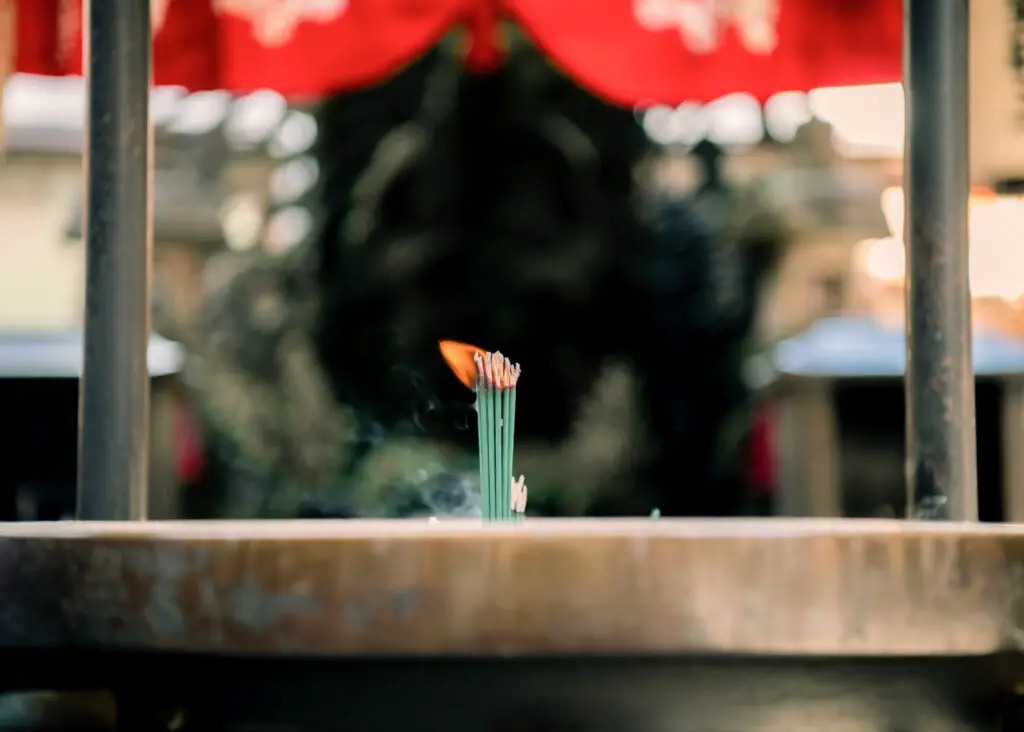 Osaka has several shrines, but if you only visit one, make it this one. It's most recognizable for the giant dragon's head that one of the shrines is located in.
The dragon's head stands at over 12 meters high, and is regarded as a symbol of protection.
Nearest train station: Namba Station
And there you have it! The complete list of all the best things to do in Osaka. If you are just visiting, don't even try to do everything. If you just moved here, you are seriously lucky. Osaka is an amazing city for anyone who gets to spend time there. I love this city, and I know you will too!