Although the cherry blossom season takes the spotlight year after year, I have spent 3 Autumns in Japan and can say with certainty that Autumn is the best time of year to visit Japan. Nope, it wasn't a question, it's a statement. You have the best weather, less foreign visitors than in Spring, and none of the seasonal allergies. Plus, why settle for trees in one shade of pink, when in autumn, you can have a million shades of red, orange and yellow? Here are the best places in Kansai Japan in Autumn, for you to experience this extraordinary time of year.
Introduction
Koyo, is a Japanese word that literally means "autumn leaves viewing". This goes to show much they appreciate this season that they would make an entire word for it. So where is the best place to go for Koyo? In this article we will focus on the Kansai region (the region you are in if you land in Osaka Airport).
Kyoto Prefecture
Arashiyama
Kyoto has always been hot on the tourist trail in Japan, but for good reason. On the west end of the city is the are known as Arashiyama. It's an area that encapsulates the traditional sides of Japan and is surrounded by nature. In autumn, the trees around the river and temples turn every shade of red, orange and yellow imaginable.
Arashiyama Momiji Festival
Not a place but an event, this is a traditional autumn festival that take place right on the river. You'll see people in traditional Heian period dress, reinacting events from the past. It's in early November, and if you are in Japan during this time it can't be missed.
Rurikoin Temple
A local favorite, and one that is quite busy, but worth it. Here you can see the view of the fall foliage from inside the temple. It's a cool view, especially how it reflects off the temple floors.
Nara Prefecture
Nara Park
Another popular place year round, the true beauty of Nara Park shows it's true colors (pun intended) in autumn. There are many types of trees here that offer fall foliage, from the famous Momiji leaves (maple leaves) that turn red, to the locally beloved ginko leaves, which turn yellow.
Yoshino Mountain
I first heard of Yoshino Mountain when I was searching for the best cherry blossom viewing in the Kansai region. But in fall, those shades of pink are traded in for dozens of autumn colors.
Tanzan Shrine
This shrine is located up a mountain and is most known for its 13 story pagoda. In autumn, you'll see an explosion of colors from the trees surrounding the shrine.
Osaka Prefecture
Minoo Falls
A very easy hike to these falls will take you through the forest, with plenty of autumn color viewing opportunities. There are some food stalls on the way, and if you want you can try a fried autumn leaf. Maple leaf tempura is a seasonal local snack that has an interesting taste. Try it!
Fukuchiyama Abandoned Railway Hike
Another easy hike, this one takes you through an abandoned railway track. The tracks run parallel to a river and the mountains, so you'll get great views of the leaves on the mountain.
Shiga Prefecture
Enryakuji Temple
This is my personal favorite place for Koyo in Kansai. You can go by cable car or hike up. The hike up offers a carpet of red leaves on the floor. The temple itself is beautiful, and has lots of maple trees for those red autumn hues.
Keisokuji Temple
Another temple famous for Koyo. The trees on the path to the temple create a tunnel of dazzling autumn colors.
Wakayama Prefecture
Koyasan
A sacred mountain with a large temple settlement, this is a headquarter for Shingon buddhists and monks in training. In autumn, the colors of the forest really come alive, creating an even more serene and tranquil setting.
Kumano Kodo Trail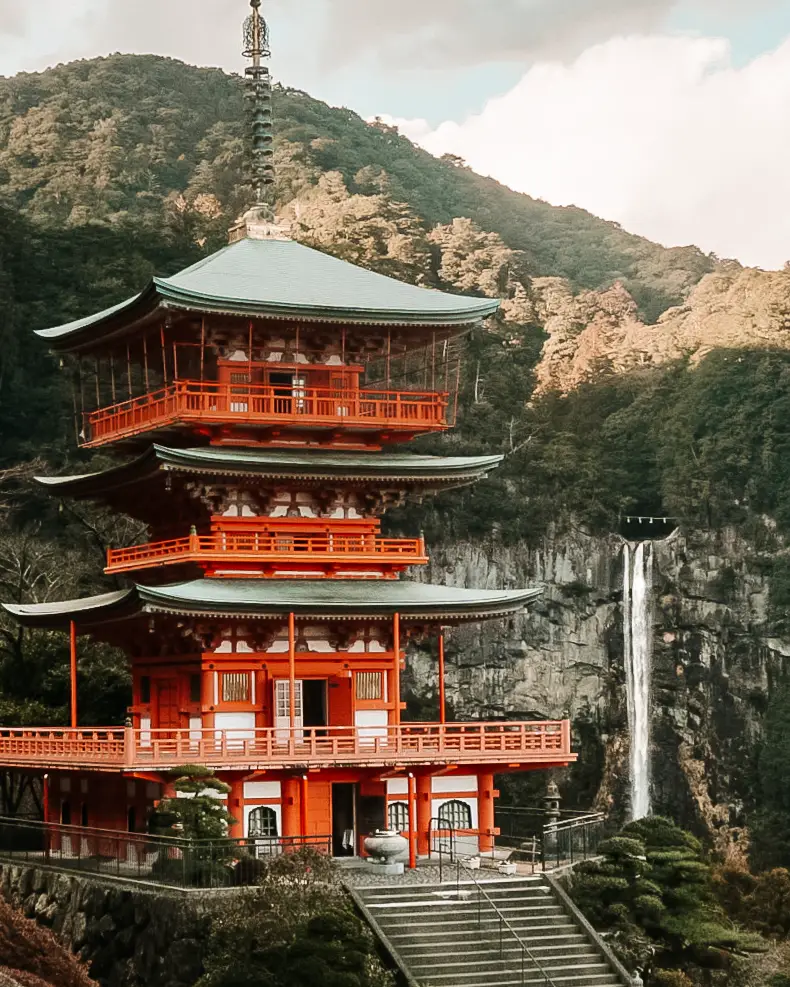 This is an ancient pilgrimage trail that can be done as a multi-day trek. Autumn is the best season to go because the weather is milder, but not as cold as winter. Along the trail you'll see plenty of temples, and autumn colors framing them.
And there you have it. A list of the best places in Kansai Japan in Autumn. Have you been to Japan? Let me know your favorites spots for my next visit!