Laugarvatn is a quintessentially Icelandic village that many visitors may have never heard of.
Characterized by quiet misty mornings, unparalleled lake views, and surrounded by the most stunning mountain scenery, Laugarvatn captures the best aspects of the rural Icelandic lifestyle.
With a convenient location right along the famous Golden Circle route, many travelers will pass right on through Laugarvatn during their trip without knowing that there are a ton of things to enjoy here.
I spend a lot of time in Laugarvatn since my boyfriend lives here. Over time, I can't help but feel like a lot of travelers are missing out on this fantastic place by just driving by.
In this article I'll spill all the details on why you should visit Laugarvatn as part of your Golden Circle itinerary, and the best things to do in Laugarvatn while here!
About Laugarvatn Town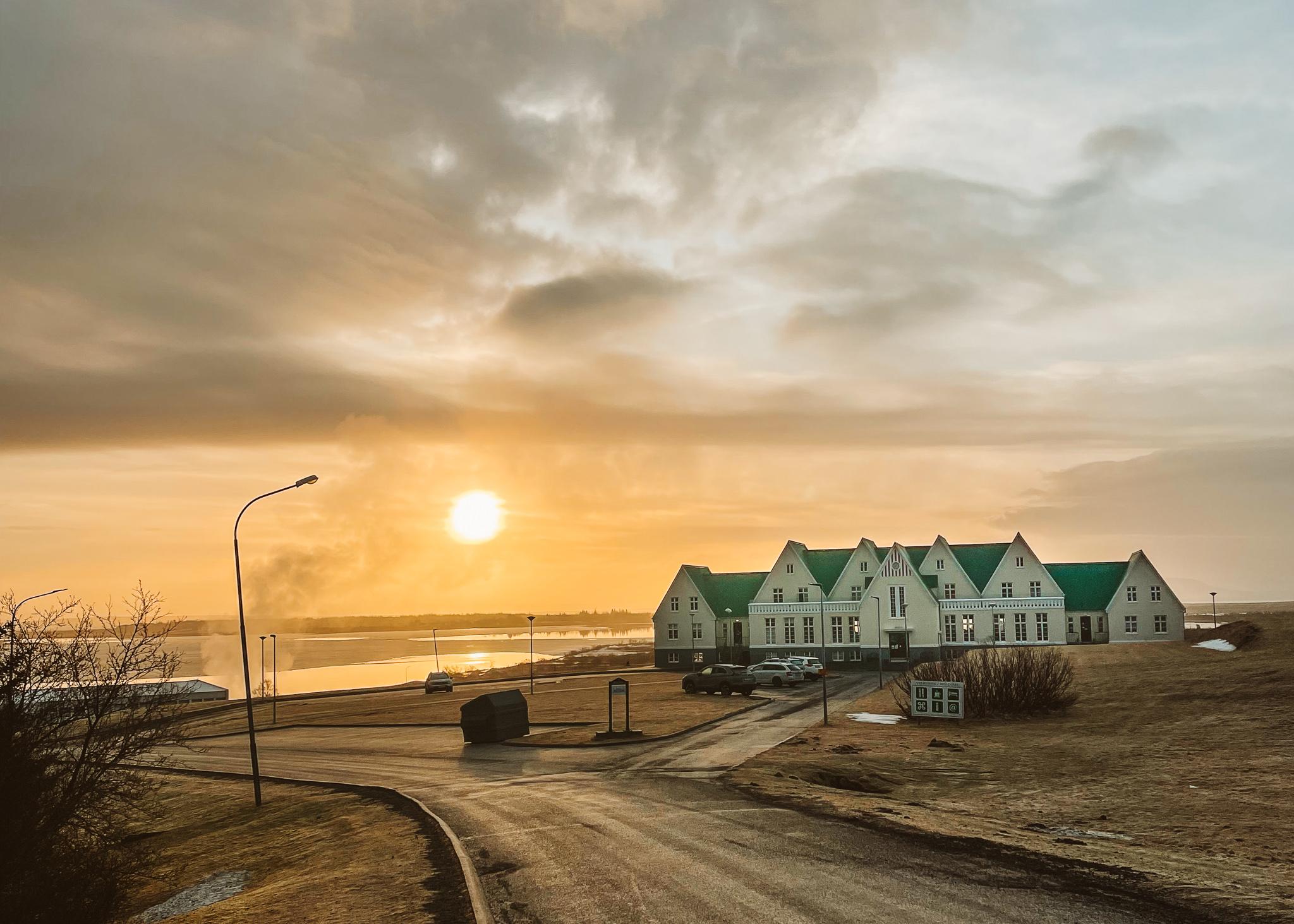 Laugarvatn is sometimes referred to as a town, but it is certainly more of a village, or even a very large hamlet by European standards.
With a permanent population of around 200 people, Laugarvatn is by no definition a bustling nor lively destination.
Instead, life here is still and peaceful. It forces you to slow down and observe the smaller things.
It's the kind of place where villagers know everyone by name. Where people don't even bother locking their doors as a result of the strong sense of community and trust.
According to the viking sagas, Laugarvatn was likely first settled in the 1000s. When Iceland first began its transition into Christianity, the hot pools of Laugarvatn became a site of baptism for people within the area.
It's ideal location right along the Laugarvatn Lake and its geothermal hot springs made it a perfect place for the earliest residents. Even now, the locals of Laugarvatn owe their livelihood and prosperity to the volcanic waters of Laugarvatn Lake.
From cooking, to sustaining a heat source through the harsh winters, as well as providing a major source of revenue for the village, the geothermal activity here sustains all facets of life in Laugarvatn.
Laugarvatn Fontana
Most Icelandic people know of Laugarvatn thanks to its geothermal bath, Fontana.
Fontana is a naturally sourced geothermal spa, located idyllically right at the lake's edge. On top of great facilities for a hot bath, it offers world class views of the lake and mountains all around.
On a clear day, you can see Hekla volcano in the distance right across the lake. When there is little wind, the lake reflects the sky and mountains like a mirror, a truly beautiful sight.
Fontana has all the amenities and features needed for an authentic Icelandic bath. It has several hot pools at varying temperatures, a sauna with lake views, and the cold waters of the lake for natural ice plunges.
The Icelandic traditions around hot spring bathing usually involve spending time in the sauna or a hot spring, then going for an ice cold plunge immediately after.
This act is done a few times in a single session. It is believed to boost immunity and speed up muscle recovery, all while promoting health and wellness overall.
Fontana can be enjoyed year round, but there seems to be an upswing in local visitors around winter time. If lucky, you just may be able to catch a northern lights show from the hot springs, a truly unforgettable winter experience.
Read More: An Honest Review on the Sky Lagoon in Iceland
Laugarvatn Bread
Something unique about Laugarvatn, is that they still practice a traditional way of baking bread.
Here, you can witness the age old Icelandic tradition of baking rye bread by burying it underground overnight, and allowing the geothermal heat to bake it over 24 hours.
Fontana spa does offer tours in the summer, which allow visitors to witness this bread baking tradition.
Of course, visitors may also choose to taste some of that unique Icelandic bread during their visit. It can be eaten plain, but is typically served with Icelandic butter, and sometimes eggs or locally caught Icelandic trout.
It's a very dense, and semi-sweet bread that is almost cake-like. Some love it, others not as much. You can decide for yourself what you think of it!
Best Things to do in Laugarvatn
Most visitors who make it to Laugarvatn will only go to Fontana which if you ask me, is a damn shame.
If you are already in Laugarvatn, I'd advise spending at least one full day and night here. Take the time to slow down and relax in the authentic Icelandic village vibes, all while immersing yourself in the awe-inspiring nature that's at your doorstep.
Here are the best things to do in Laugarvatn!
Laugarvatn Lake
The first thing you'll likely notice as you are driving into Laugarvatn, is the gorgeous lake in which the town was named after.
This lake is actually very shallow, with maximum depths of far less than one meter. The name Laugarvatn itself translates to "pools for bathing", likely in reference to the geothermal pools of water.
Interestingly, locals seemed not to take advantage of this precious resource right away, as the first sauna was not built here until the 1920s.
There is a short walking path that goes along the edge of the lake up to a certain point.
This short trail is one of the best places to spend a quiet morning taking in the views of the lake. You'll immediately feel a sense of tranquility and awe at the sheer stillness of the lake.
You have the most AMAZING sunrises here, as from Laugarvatn, you'll be facing the lake towards the east. I've seen the most vivid shades of pink, purple and orange here in the mornings, it's truly unbelievable.
Kayaking on the Lake
For travelers who wish to enjoy more of the lake, you may look into join a kayaking or paddleboarding tour.
Most kayaking tours take place in the warmer months around spring and summer. By getting on the water you are free to explore more of the lake, and enjoy the views from a different angle.
The lake itself is only about 2 kilometers across, so you can definitely see a lot of it by kayaking or paddleboarding. You may encounter some ducks floating alongside you, or even some trout glittering in the sun as they swim by in the water.
Laugarvatn Thermal Vents & Pools
The entire lake bed is riddled with geothermal hot springs, especially from the area around Fontana Spa.
In fact, you can actually see the geothermal vents spewing steam and smoke into the sky from the hot baths. Just be sure not to get too close, as it is very hot and will cause injury.
If you walk along the edge of the lake to the left of Fontana, you'll find more geothermal hot pools and streams. There is one in particular that is a perfect circle, known as the Vígðalaug.
This small pool was mentioned in the Kristni Saga, the medieval account of how Iceland was converted to Christianity. In the saga, it tells of how Bishop Jon Arason and his son were baptized here after suffering a gruesome death.
According to legends, the pool has healing properties, especially for disorders related to the eyes.
Laugarvatn Pool
If the weather is bad during your visit, you may be looking for an indoor activity while in Laugarvatn.
Luckily, Laugarvatn does have a gym and heated pool located very close to Fontana. It may not be a typical tourist activity, but I do see tourists in the gym from time to time.
The gym is pretty small, but the heated swimming pool is fairly enjoyable. It's set outdoors, but always at comfortable temperatures for swimming in any season.
From the pool, you have a direct view of Héraðsskólinn and the mountains beyond. There are also steam baths and hot pools for you to enjoy after your exercise session.
The gym hours vary from season to season, but usually it's open from the afternoon until around 9pm on weekdays, and closes at 6pm Friday – Sunday.
For the official gym opening hours and location, click here.
Hike Laugarvatn Mountain
If you are blessed with some good weather while in Laugarvatn, you may opt to head up the mountain just behind the village. There is a well marked hiking trail leading up the mountain from the main road.
This hike typically takes about 1 hour in each direction, as you'll probably go up and down the same way you came in.
The hike just goes up along the flanks of the mountain, meaning its totally exposed and without any breaks until the summit.
It is pretty steep, and the second half is characterized by loose gravel, making it a challenging cardio activity.
The reward however, is a panoramic view of Laugarvatn Lake, the village and the mountains beyond. It's a beautiful view and well worth the effort.
To find this hike head to this exact spot on Google maps.
From here, you'll find the trailhead, and you'll basically follow the yellow wooden markers all the way up the mountain.
You don't need specific gear, but waterproof, warm clothing is advised. You never know when the weather will change and become windy or rainy.
Historic Héraðsskólinn
Héraðsskólinn is easily Laugarvatn's most prominent structure, and a beautiful example of Icelandic history and architecture.
With it's iconic green roofs, and steep triangular structure set against the mountainous background, Héraðsskólinn is picture perfect.
It was constructed in 1928 by Iceland's most celebrated architect of all time, Guðjón Samúelsson. It served mostly as a school house for most of its existence, until being converted into a hostel and guesthouse in recent times.
Some of Iceland's most notable figures have stayed in the guesthouse throughout the years.
Halldór Kiljan Laxness was a famous Icelandic figure, who won a Nobel prize during his long career as a writer and poet.
He notoriously used to spend his summers in Laugarvatn in Héraðsskólinn, and his typewriter can still be found in the lobby, along with many other historic artifacts from the town.
Héraðsskólinn is a great place to have lunch or cozy up with a drink. While here, you can enjoy the amazing views from their dining room, and peruse the many historic items and photos on display throughout the hotel.
Eat Icelandic Cuisine
While many people may not think of food when they plan a trip to Iceland, there are definitely some unique dishes that people should try.
In Laugarvatn, there are 2 amazing restaurants that allow you to sample local cuisine. And both are 100% worth the stopover.
First there is Lindin, A charming restaurant set inside a rustic, homely establishment right along the lake's shores. The interior decor make you feel as though you may be dining in someone's home, and the lake views from the windows and terrace are perfection.
As for the food, you can try Icelandic specialties here such as an Icelandic char risotto, reindeer burger, steak from locally produced beef, and the iconic seafood soup.
If you'd like to try Icelandic dishes with a more modern twist, you can try Muninn. This restaurant is newly opened from 2023, and offers a unique menu that showcase the best of Icelandic recipes and tradition, but with contemporary aspects.
Here, you can indulge in classic Icelandic dishes such as Icelandic lamb or a buttery soft Icelandic char. They also offer more exotic dishes such as a slow-roasted ox tongue and a decadent skyr and white chocolate ganache, to name a few.
Visit Efstidalur Farm
Efstidalur is a family-owned and family ran farmhouse turned restaurant.
While it's actually located about 15 minutes from Laugarvatn, many visitors here will take the short detour to visit the farm. Apart from the chance to visit an Icelandic farm up close, the farm is also home to a fabulous restaurant and cafe.
This particular farm raises cattle, so you can sample fresh homemade ice cream, homegrown steak, and other dairy products here. They also produce their very own Skyr here, Iceland's most famous locally produced yogurt.
From the restaurant, you will be able to see the farm animals grazing around the property.
You can even book a horseback riding tour if you'd like to get closer to the animals. These tours take you around the area surrounding the farm, including to the beautiful icy blue Bruarfoss Waterfall.
Look for Northern Lights
Laugarvatn is a fantastic place to view the northern lights.
There is far less light pollution than from some of the bigger towns and cities. Plus, the wide open spaces around the lake make it perfect viewing panoramic aurora light shows, if you are lucky.
The northern lights are mostly visible in the winter months from November to March. You can get lucky outside this season, as all you really need is a dark and clear sky.
If you are interested in photographing the northern lights, I'd suggest going to the field outside of Heradskolin Guesthouse, somewhere along the lake, or slightly up the hill on Laugarvatn mountain.
These areas will all provide great views with few obstructions and fewer light sources in the way.
To check the current aurora forecast during your trip, click here.
Read more: How to See the Northern Lights in Iceland
Laugarvatn Hotels
There are not a whole lot of places to choose from when booking a hotel in Laugarvatn. As far as value goes, I'd say there are two main accommodations tourists should choose from.
Hotel Laugervatn is a hotel with an onsite restaurant, located conveniently right off the main highway.
The rooms offer fabulous views of the lake on a clear day, which you can enjoy while indulging in their generous breakfast of local goods, from locally caught salmon to skyr, and assorted meats and cheese.
Héraðsskólinn makes another great options for those seeking a hostel experience. The guesthouse offers both shared dorm rooms as well as private rooms to cater to all budgets.
Getting to Laugarvatn
Laugarvatn by Car
If you are coming from Reykjavik, it's a little over an hour of driving along a major highway to reach Laugarvatn.
You'll pass by Thingvellir National Park on the way, a major tourist site. This is where many travelers stop to see the Silfra Fissure, an underwater canyon between two tectonic plates.
Laugervatn by Bus
If you will be without a car during your stay in Iceland, it is possible to reach Laugarvatn by bus, in theory. However, I have never managed to catch the supposed bus that runs through the village, as it is either chronically late or simply does not exist.
But if you'd like to try your luck, try asking the tourism center in Reykjavik for up-to-date bus schedules to Laugarvatn. The typical route usually goes via Selfoss, and gets you to Lagarvatn in about 3 hours.
When to Visit Laugarvatn
Laugarvatn in Winter
Laugarvatn tends to see less tourists in winter, but it is a popular time for Icelandic visitors.
Many will come to enjoy Fontana, where if you are lucky, you just may see the northern lights while relaxing in the pools. It's definitely a bucket-list worthy experience not many can say they've had.
But like the rest of Iceland, the daylight hours are quite limited, and most outdoor activities will be less favorable.
If you are just passing through on your trip around the Golden Circle, it's probably worth spending a day here as a base to discover nearby attractions, but not more.
Laugarvatn in Summer
Summer is by far the busiest time in Laugarvatn. The sun refuses to set throughout the season, and the weather is perfect for all outdoor activities on offer.
In summer you can fully enjoy all activities on and around the lake and all hiking trails nearby.
With the few hotels available in the village, it can be hard to secure a booking last minute. Its always best to try and book your accommodation as far in advance as possible anywhere you go in Iceland during summer.
Best Restaurants in Laugarvatn
Lindin
The best restaurant in town for the longest time was easily Lindin. To be fair, it was the only proper stand-alone restaurant with virtually no competition (until recently).
The rustic interiors and stunning lake views make this a wonderful lunch spot where on a sunny day, you can even enjoy the views from the terrace.
They serve a small, core menu of Icelandic specialties such as Icelandic char risotto, reindeer burger, seafood soup, and locally sources beef steaks.
For those brave enough and wanting to try something a bit more exotic, they serve fermented shark with a side of Brennivin, an Icelandic liquor known locally as "black death".
Muninn
Muninn is the newest restaurant in Laugarvatn, and easily the The food here is a wonderful blend of traditional Icelandic recipes with a modern, contemporary upgrade.
You will find instagram worthy dishes here, offering unique dishes you can't find elsewhere. I'd recommend the slow-cooked ox tongue appetizers and the Icelandic skyr and white chocolate ganache for dessert.
Efstidalur Farm
For those that have a car, you can also opt to drive about 10 minutes away from Laugarvatn to Efstidalur farm.
This farm has been converted into a guesthouse with its own onsite restaurant. The menu is quite small, but they do great beef salads, steaks, and burgers.
Their beef is of great quality as it is sourced freshly from their own farm.
Even if you aren't super hungry, it's worth stopping by here to get a glimpse at Icelandic farm life and to grab some homemade ice cream to go.
Heradskollin
Heradskollin Guesthouse also offers some decent meals. The menu seems to change depending on staffing and season, but I've had great soup here, as well as meatballs and salmon.
If you are looking for something cheaper and more simple, you can grab a pizza here instead.
Things to do Around Laugarvatn
Some visitors coming to Laugarvatn are just passing through on their way around the Golden Circle. While it is possible to see Laugarvatn in a couple of hours, some travelers will opt to stay a few nights.
This is due to Laugarvatn's ideal location in regards to nearby sites. Here are of the best things to do nearby.
Thingvellir National Park
Thingvellir National Park is a part of the Atlantic Ocean ridge that runs through Iceland.
As the meeting places of two tectonic plates, many visitors come here to see the Silfra Fissure, an underwater canyon between the two tectonic plates.
A popular activity is to scuba dive between the two plates, as this diving site is known to have amongst the best visibility in the world.
Aside from the fissure, Thingvellir is a must-see on the Golden Circle route as it's also home to beautiful waterfalls, prehistoric caves, and remnants of historic Icelandic villages and churches.
Geysir
Geysir is Iceland's most famous geyser and another must-see on the Golden Circle route.
It's only about 20 minutes from Laugarvatn, and makes a great place to spend an hour or two admiring the geyser and the surrounding a volcanic area.
The waters inside the geyser are a very bright shade of blue, which is constantly bubbling and churning from the intense volcanic heat.
Every 7 minutes or so, the geyser will explode and expel water high into the air to relieve itself from the immense pressure from the heat. It's not as impressive as Yellowstone, but it's still worth a visit for sure!
Gulfoss
Gulfoss is the largest waterfall in Europe when it comes to total water volume. With about 1400 cubic meters of water falling every second, this waterfall is an incredibly powerful force of nature.
Instead of a single waterfall, Gulfoss is more of a vast networks of falls that cover a larger canyon area.
This waterfall will astound you by its massive size. Even before you see it, you will hear the deep rumbling from the sheer volume of water falling from the falls every second.
Bruarfoss
Bruarfoss Waterfall is located near Efstidalur Farm.
It can be reached on foot by embarking on a 2 hour round trip hike, or by joining a horseback riding tour. It may not be nearly as big as other waterfalls in Iceland, but is easily one of the most beautiful.
Its most notable characteristic is definitely its icy blue waters, a color that it maintains year round. Interestingly, its striking color has given it the unofficial title as Iceland's bluest waterfall.
The color derives from glacial waters flowing directly from the Langjökull Glacier. This glacial waters flow into the Hvita River, which feeds into the Bruarfoss falls.
Is Laugarvatn Worth Visiting?
And to wrap up this article, I would confidently tell all travelers that Laugarvatn is definitely worth visiting during your Golden Circle road trip.
Even if you are short on time, I recommend stopping by at least for a few hours. Even if that just allows for a quick dip at Fontana, a moment to try the local bread, or even a chance to indulge in one of the fantastic local restaurants.
If you are lucky enough to have more time available to you, a stay of 1 – 2 nights is perfect for enjoying everything this hidden gem has to offer.
What's your favorite place in Iceland so far? Drop me a line below or on Instagram, I'd love to hear from you!