No scene marks the start of summer in the North quite like lupines in Iceland.
Every June, Iceland's most iconic plant begins to bloom. From lining the side of roads for kilometers on end, to the vast fields of purple that seem to crop up all around the country, this wildflower seemingly takes over the country adding a splash of color to an otherwise barren landscape.
And while public opinions can be quite divided amongst locals regarding the lupine, most travelers visiting Iceland in summer are eager to spot the infamous purple wildflower.
I have been based in Iceland for a few years now, and after several summer seasons here chasing the lupines all around Iceland, I have compiled the information on when, where, and how visitors can best plan their trip to view the lupines in Iceland.
Here is a detailed guide on lupines in Iceland and where to see them!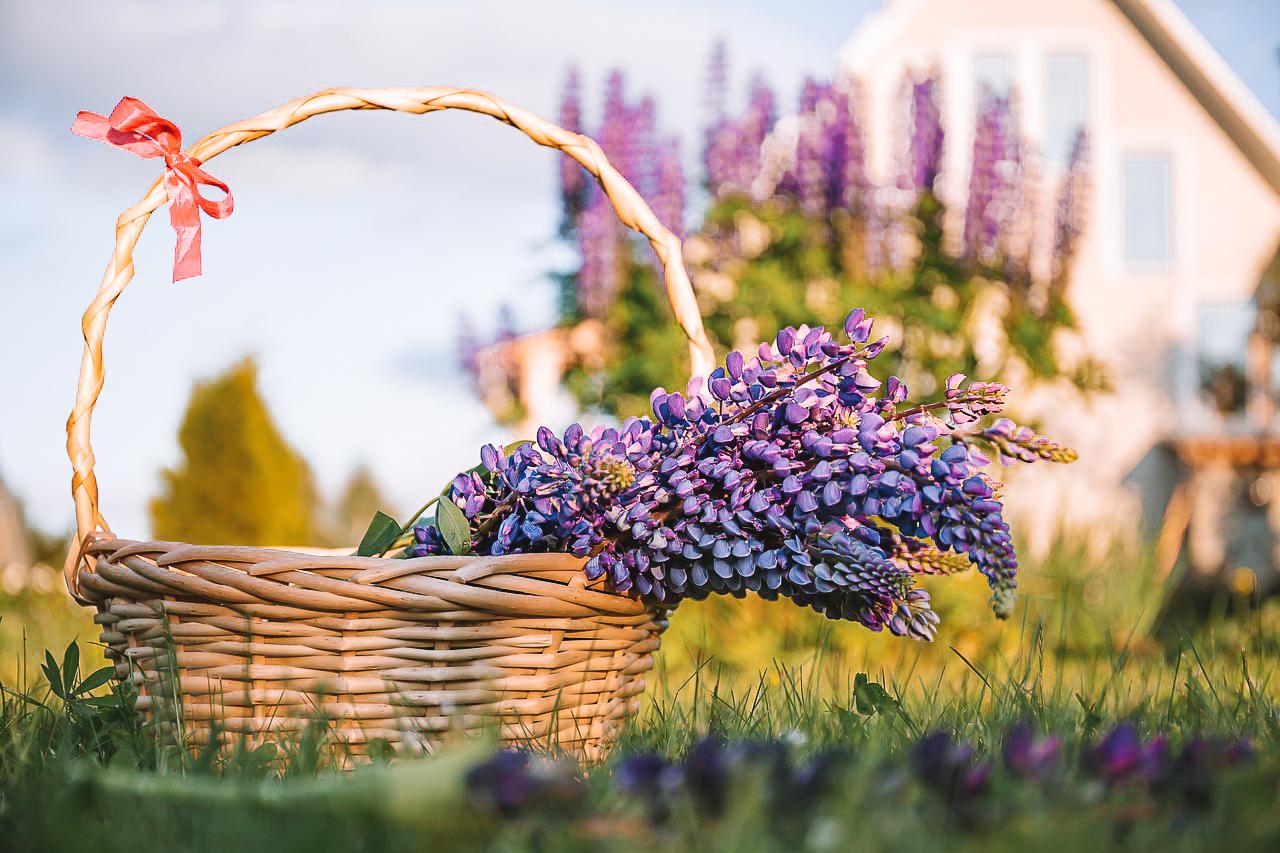 History of Icelandic Lupines
Many tourists may be shocked to learn that the lupine is actually not a native species in Iceland. In fact, the way it has spread across the country in vast numbers has made it considered a weed more than a flower.
The lupines actually originate from Alaska and were brought over to Iceland shortly after World War 2. Interestingly, the introduction and spread of lupines in Iceland was a conscious and deliberate intention carried out by the Icelandic government.
This was a desperate attempt at solving the severe erosion issues Iceland was facing at the time. Iceland is well known for extreme weather that includes intense wind and rain, both of which speed up the effects of erosion by blowing loose earth directly into the sea.
Lupines are known to have soil-enriching properties and deep, strong roots. This made it a viable solution for bolstering Iceland's loose soil and provide a solid preventative measure against erosion.
Lupines in Iceland: Problem-solver and Pest
From the beginning, the Alaskan lupines absolutely thrived in Iceland which lead to them being successfully introduced into the ecological environment. They quickly spread all throughout the country and succeeded in not only slowing down erosion, but by providing a number of other ecological benefits as well.
The success of the lupine shortly after turned into a disaster as the lupines have now spread on a scale that cannot be slowed down or controlled. As a result, they can be found all over the country from end-to-end, from cities to the most rural areas.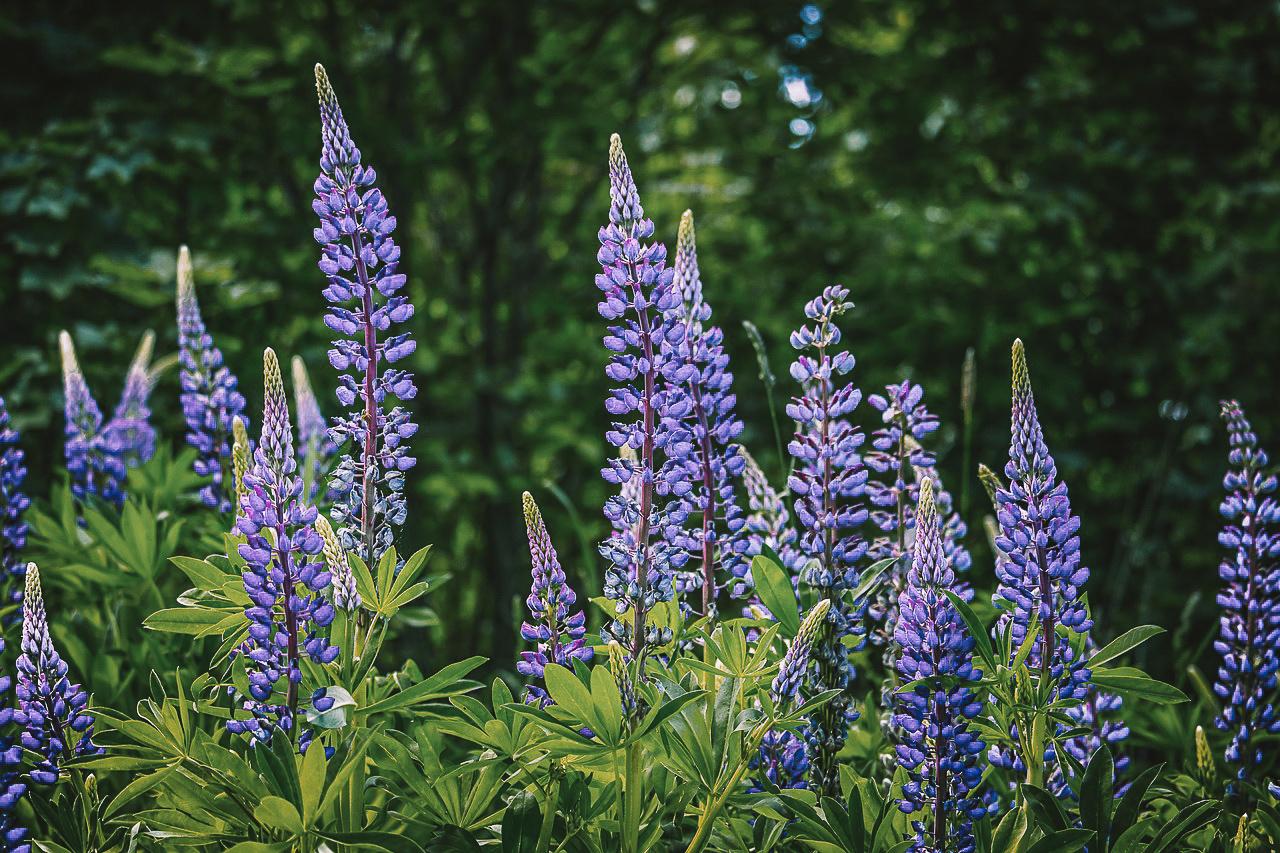 Why Lupines are Famous in Iceland
The lupines have become an iconic symbol of Icelandic summer and tourists often see them in pictures of Iceland long before they ever step foot onto the island. It's widely featured in photographs of Iceland's most famous landmarks as it provides a dramatically soft contrast to the otherwise harsh volcanic landscapes.
The lupines themselves are considered by many to be beautiful and many even wrongly assume it is Iceland's national flower. That title actually belongs to the Holtasoley flower, also known in English as the mountain avens.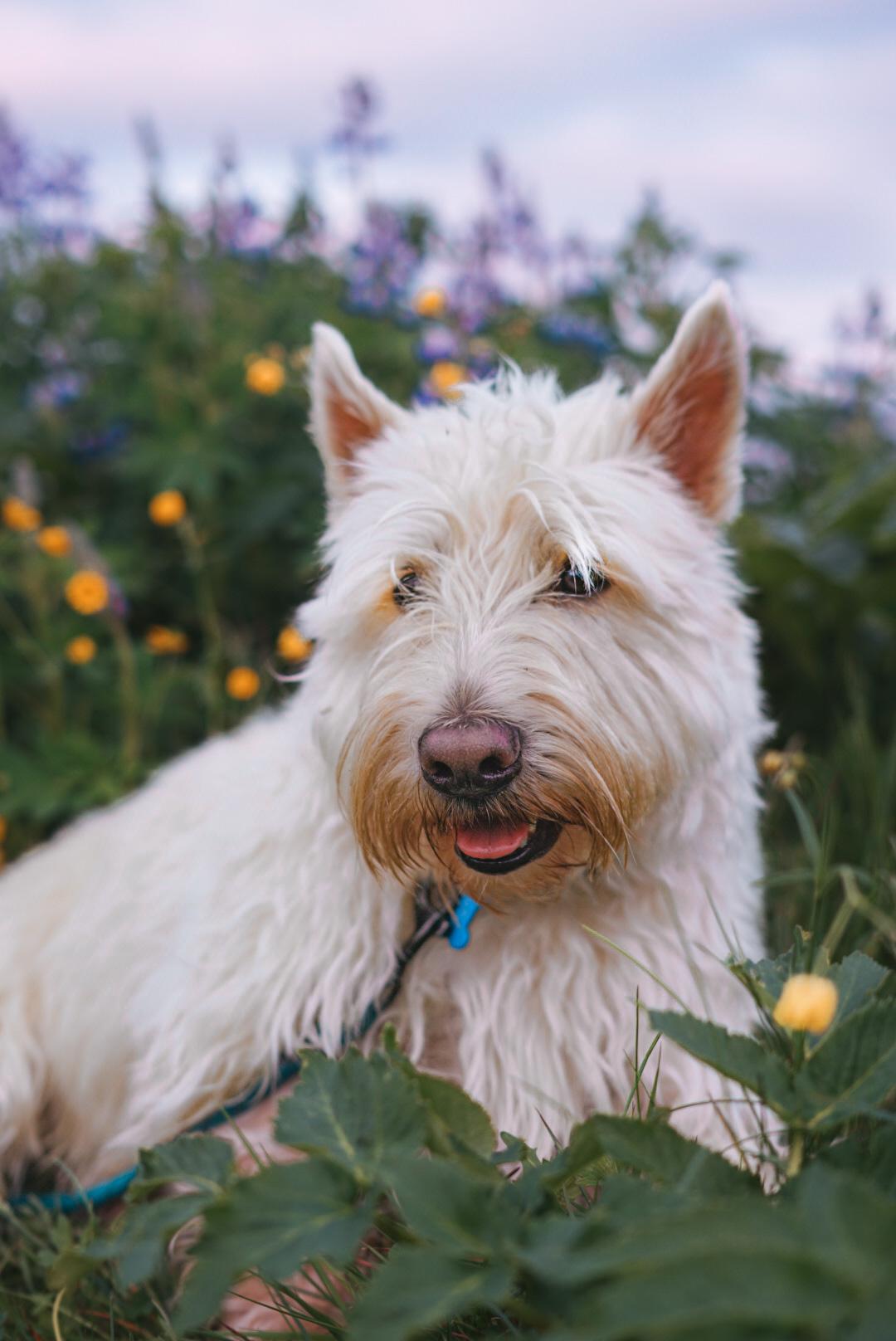 Best Time to See Lupines in Iceland
The lupines can start blooming any time from mid-May in certain areas to early June. The exact timing of the first blooms in Iceland varies each year depending on the weather.
In 2023, we had a particularly long and cold winter where we still saw snowfall in some areas as late as May. As a result, the lupines were delayed by a week or so compared to previous year.
Likewise, if summer presents itself early and the weather warms up faster, the lupines tend to bloom early.
For the best chances to view the lupines and in their fullest glory, plan a trip to Iceland around the end of June to the beginning of July.
Best Places to See Lupines in Iceland
The truth is, you don't really need to look very hard at all to spot lupines in Iceland. As long as you visit during peak season, you'll find these flowers everywhere.
From long stretches on the side of the road, to seemingly carpeting areas surrounding some of the most visited Icelandic sites and landmarks, you'll see lupines. Much like the Icelandic midges, you simply can't escape the lupines in summer.
But for those who love to plan ahead or are looking for the most scenic places to find lupines in Iceland, here are my top picks that can be found along popular tourist routes.
On the Ring Road Route
Vík i Myrdal Church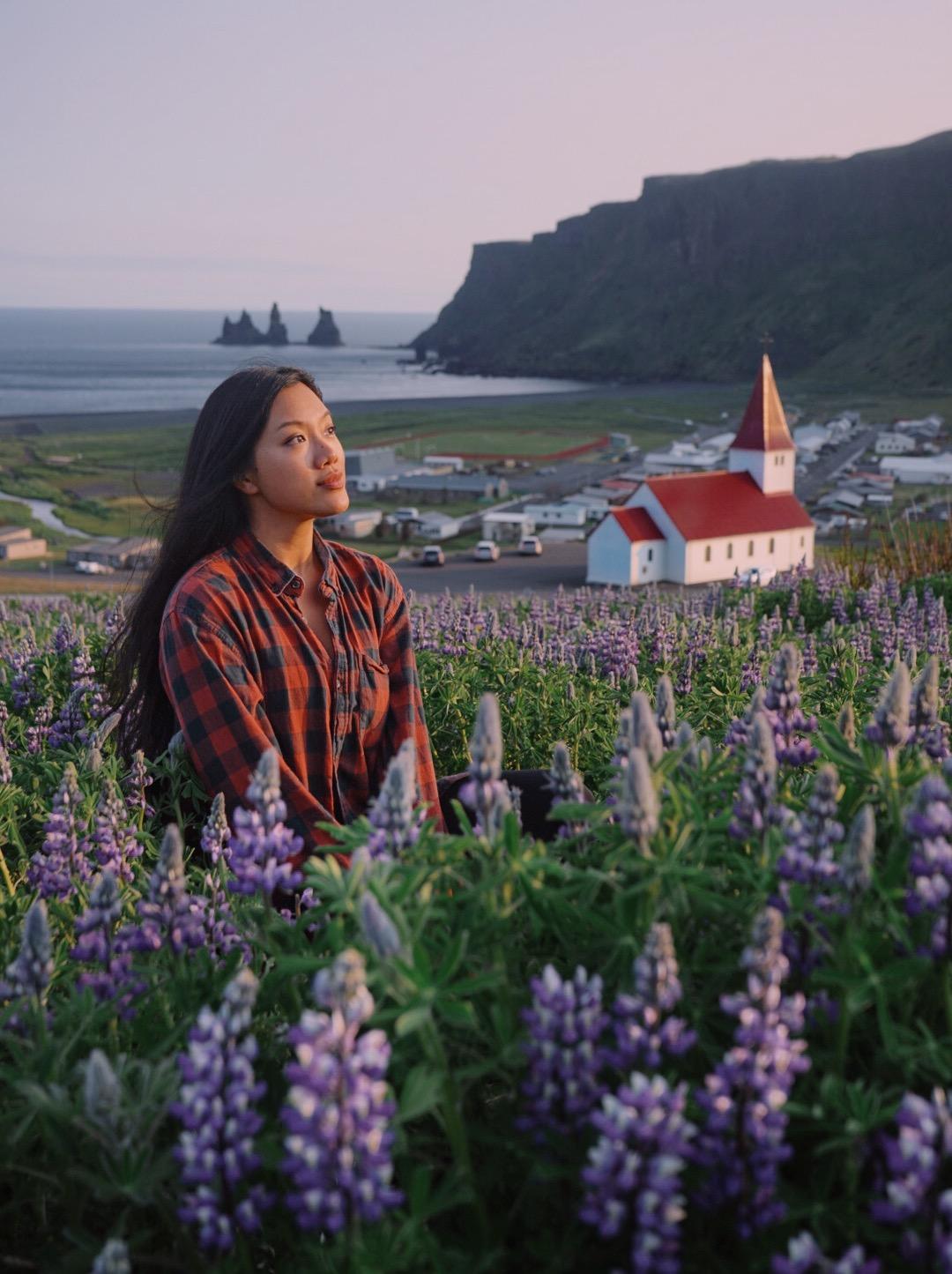 One of the most iconic places to see and photograph the lupines in Iceland is at this famous church in Vik.
Vik itself should be on everyones Iceland itinerary for multiple reasons, but if you are visiting in June or July, you will get to witness the wonderful lupine fields growing all around this church.
Most people choose to photograph the lupines from the base of the church and facing it from the front. My tip is to go up the hill behind the church and get a view of the church through the lupines with the ocean and Reynifjara (Black Beach) in the background.
Skógafoss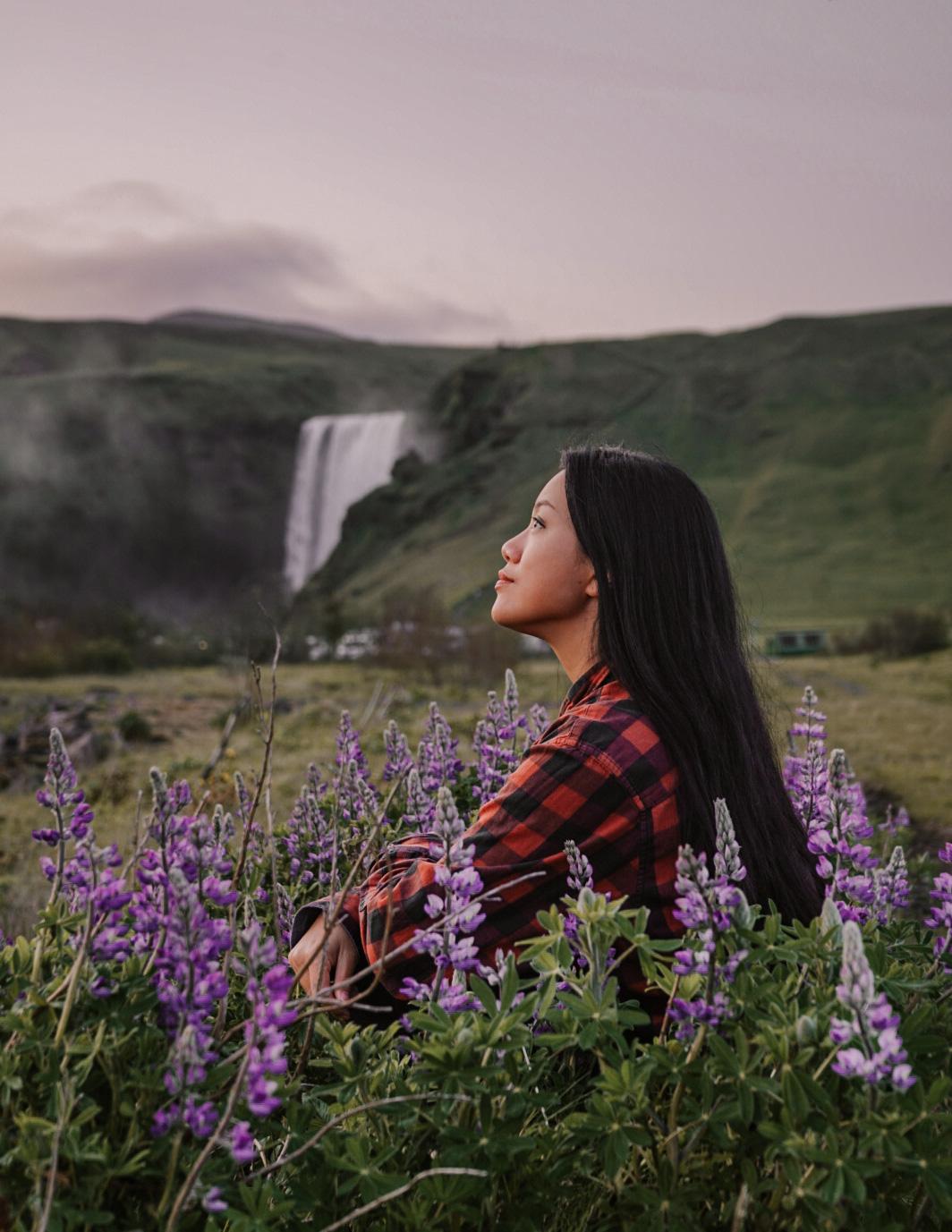 Just 15 minutes from Vik, is Skógafoss, another popular tourist site best known for the beautiful cascading falls easily accessible here.
In June, the vast fields located just in front of the waterfall come to life with endless fields of lupines. This location makes a great photo spot because you can capture the lupines with Skógafoss in the background!
Reykjanestá Lighthouse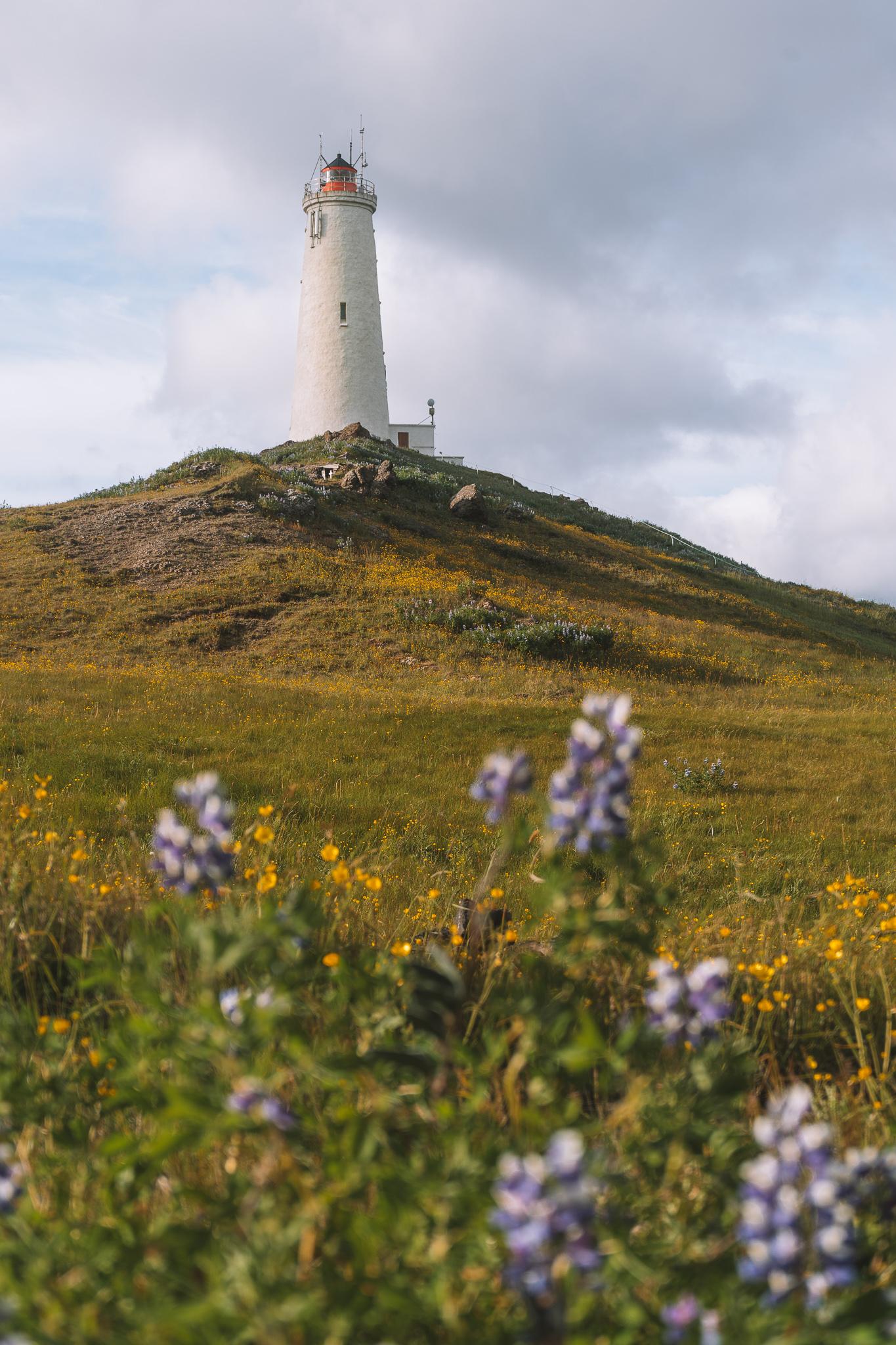 This lighthouse is very close to Keflavik Airport making it very easily accessible no mater how many days you have in Iceland. If you choose to visit the Reykjanesta cliffs, you'll pass by the Reykjanestá Lighthouse on the way.
This lighthouse is located up on a hill and not open to tourists. However, there are beautiful rows of lupines and other wildflowers and make this spot a gorgeous place for lupine spotting.
On the Golden Circle Route
Laugarvatn Lake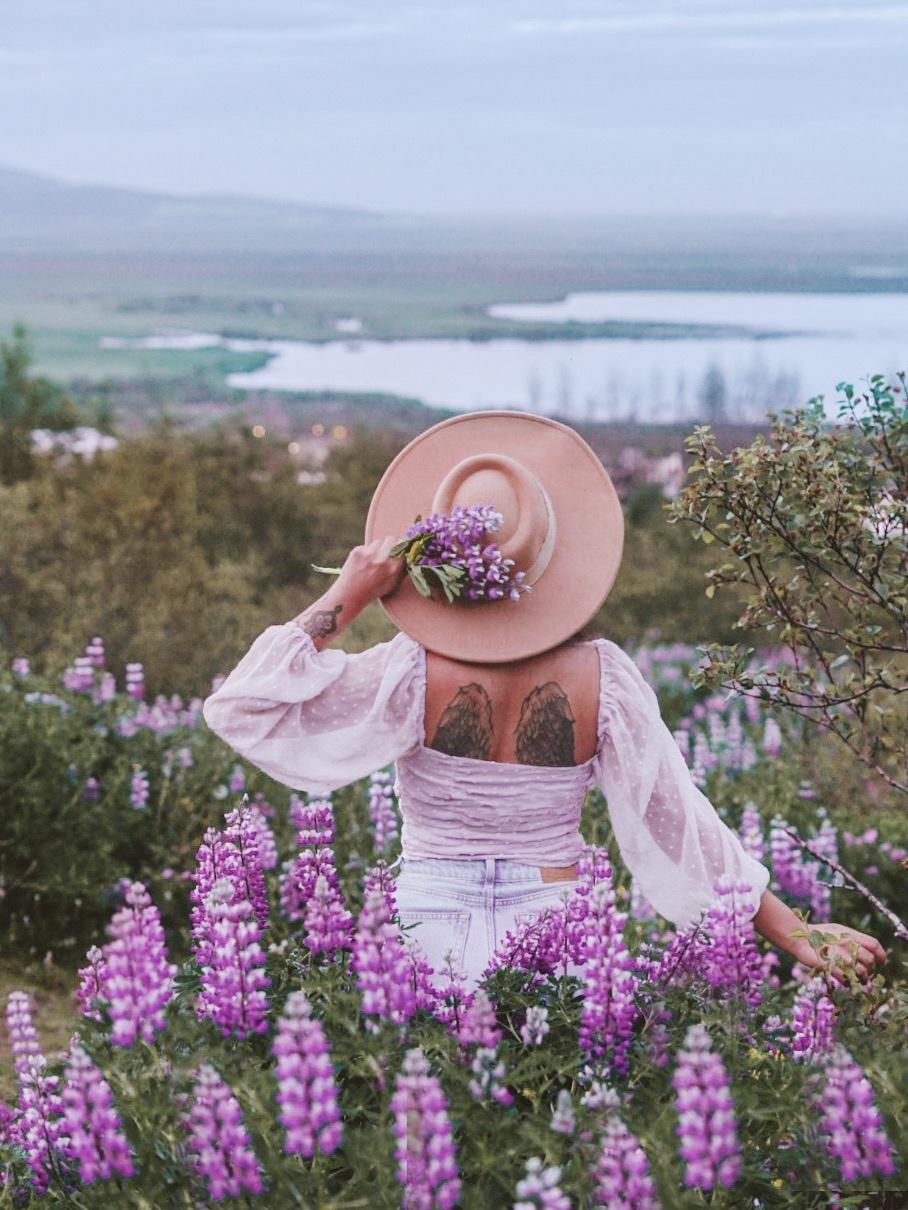 One of my top picks for places to see lupines in Iceland is in Laugarvatn. This little town is often overlooked by tourists simply because they don't know of it but a stop is well worth it even if just to look for the flowers.
All along the edges of Lake Laugarvatn you can find lupines, meadow buttercups, and caraways, making for the most colorful show of wildflowers.
But an even better viewpoint is located just a couple hundred meters up the small mountain in Laugarvatn. If you park your car at Krambudin (the gas station), and cross the street you'll find a small hiking path.
Go up this trail for about 5 minutes or so until you gain a little elevation. Up here you have plentiful rows of lupines lining the path with the beautiful view of the lake just beyond.
Faxifoss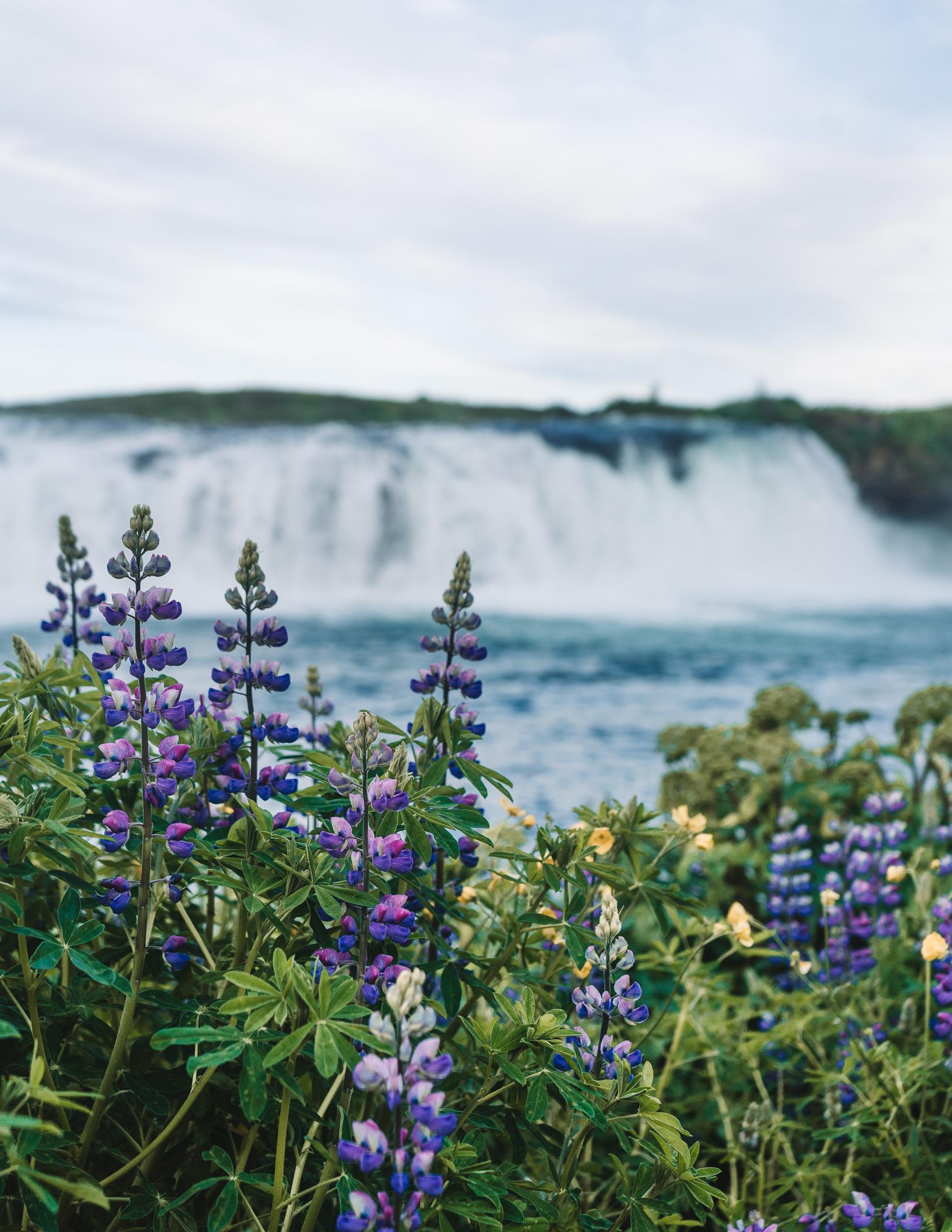 This waterfall is also less visited by tourists, but worth the pit stop. Here you'll find lupines lined up right along the edge of the river with the waterfall thundering away in the background.
Just be careful because it can get really muddy due to the waterfall nearby.
In the West Fjords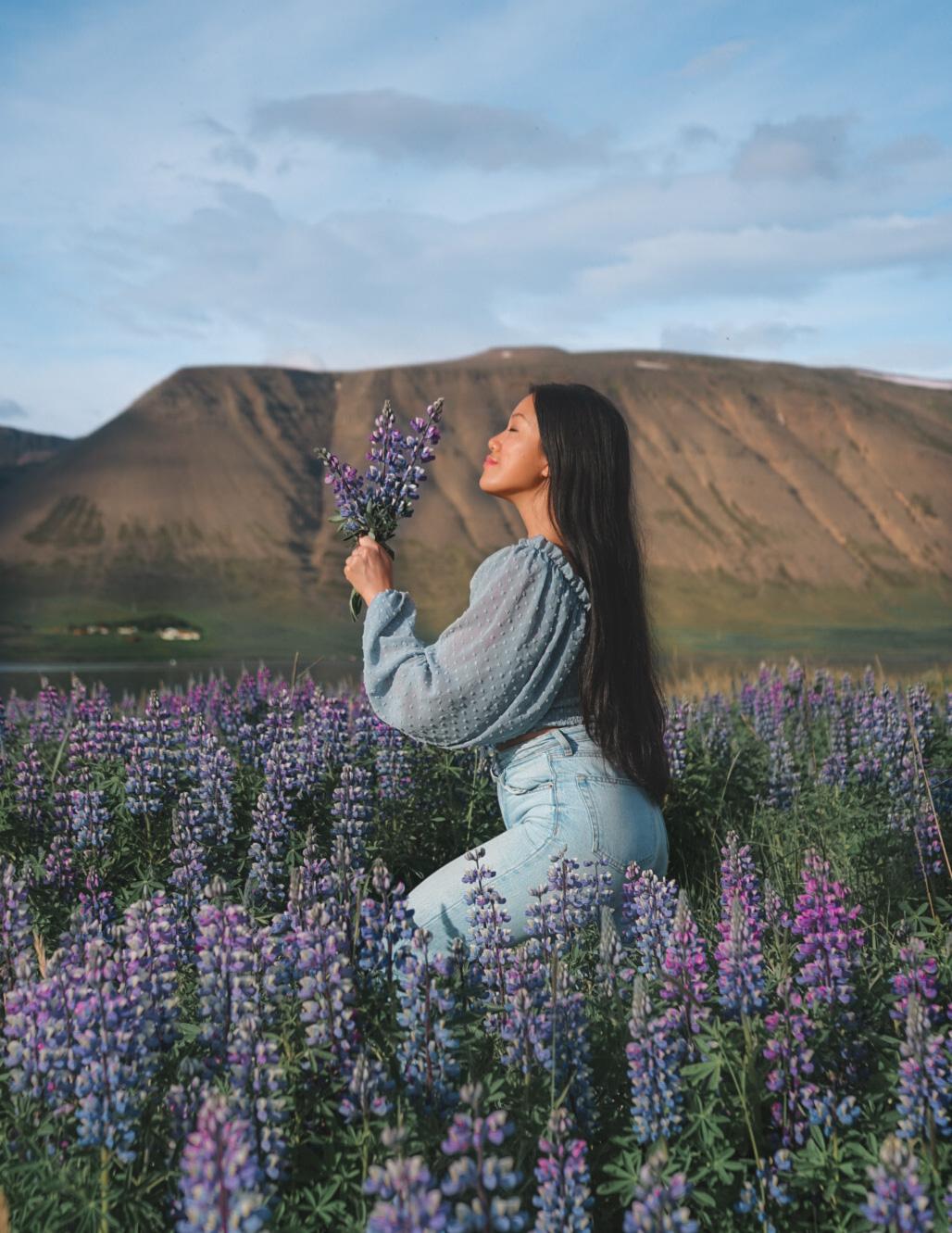 Viking Park – Þingeyri
Þingeyri is a quaint and charming Icelandic village that is visited by very few tourists. It's old Nordic charm and sweeping views of the mountains across the bay are reason enough to stop by, and you'll be pleasantly greeted by a large number of lupines and other colorful wildflowers.
The best place to view and photograph the lupines here would be at the Viking Park. This is a recreational area where locals have live reenactments of Viking events during local holidays, but otherwise it's a quiet and peaceful park located right along the sea.
Here, you can photograph lupines with the stunning mountains and sea in the background.
Tips for Photographing Lupines in Iceland
If you are hoping to capture some epic lupine photos, here are some things that may help you snap that dreamy shot.
Choose a Low Angle
Despite how some photos make it appear, lupines tend to grow very low to the ground. I was surprised when I finally saw them in person and realize that they usually grow in large shrubs that on average reach somewhere around the knee!
To achieve an aesthetically pleasing composition, I'd suggest shooting from a lower angle so the lupines are closer to eye level in the frame. This brings out more details from the flowers and just looks better in photos.
Shoot When it's Overcast
The ethereal cool tones of lupines comes out the most beautifully with an overcast sky. This is when the sun is high but the clouds block any harsh, warm lighting.
In sunny, midday lighting conditions when the sun is blasting the flowers, the colors tend to be too contrasted. I don't love the harsh greens against what should be a light purple either but maybe that's just me.
If not overcast, your next best bet is sunset lighting. In June and July the sun in Iceland never goes down, but taking photos any time after 10:30pm will still achieve dreamy, soft sunset lighting.
Look for an interesting background
Lupines are beautiful photography subjects on their own, but try to find an interesting background to juxtapose with these flowers for a more dynamic shot. Since they grow everywhere, this should be easy, just let your creativity flow!
I personally like the shot I took of the lupines with a church in the background best as it shows off more of what makes Iceland beautiful thus telling a greater story.
Use Lupines as props
Some of you may think picking wildflowers is a huge no-no, and in most cases you'd be right. However, if you've learned anything from this article, it's that the lupine is currently spreading uncontrollably in Iceland to the point where it is becoming a local pain in the ass.
Picking a few lupines here and there is harming no one, and locals do it too. It has no negative consequences because to be quite frank, this flower will have no problem bouncing back tenfold.
So if you are like me and never know what to do with your hands in photos, grab a few lupines and consider your problem solved!
Where can I see lupine in Iceland?
Lupines can be found all over Iceland. As a rule, the species tends to thrive in areas near water, so around lakes and other bodies of water are usually lined with lupines. Truthfully, they can be found everywhere, even in cities, along the sides of roads, and higher up mountains.
Why are there so many lupines in Iceland?
Lupines thrive in the Icelandic climate as it closely resembles that of where they come from – Alaska. Also, since there are no natural predators eating these plants here, they just continue to grow and increase in population with nothing stopping it.
When can you see lupines in Iceland?
Lupines tend to start popping up from the end of May until the end of July. for peak season, visiting in late June to early July is best.
Are lupines native to Iceland?
No, lupines were introduced to Iceland in 1945 and originate from Alaska. Nowadays, they are considered by some to be a pest and a weed due to the uncontrolled nature in which they spread across Iceland.